Disclaimer: I received the 2XU Hyoptik Compression Tights to review as part of being a BibRave Pro. Learn more about becoming a BibRave Pro (ambassador), and check out BibRave.com to review find and write race reviews!
Oh how I love compression gear, and wear my calf sleeves and compression socks several times a week for runs, during recovery times, and to help manage my POTS. I've often remarked to friends that I wish I could get a compression body suit since I love compression so much (I mostly get stares or eye rolls in response to this… haha), so getting to test out these 2XU compression tights was absolutely fantastic!
I wore them for the first time on Christmas day. My family spends our day through mid-afternoon in Christmas PJs, and then change as we head out on a family walk. I wanted to give these a try in some cold Minnesotan weather, so I put them on, and I'm so glad that I did. They were TRULY AMAZING, and I ended up not taking them off all night! Yes- in our family picture for Christmas day I am wearing these tights! haha. I also rang in the New Year wearing them!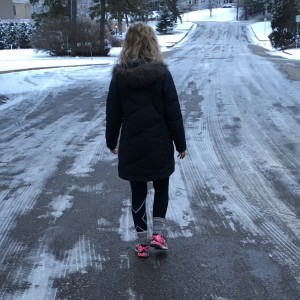 On a walk in Minnesota. I love the reflective lines that the tights have as well! 
I've worn them multiple times a week since then for all sorts of activities including running, walking, pilates, recovery, and a 4 hour car ride. I've also worn them outside when I shoveled six different times in a winter storm we had in Minnesota, and I was warm and toasty the entire time! They have been amazing no matter what the activity has been!
I honestly don't ever want to take these 2XU Compression tights off, and look forward to putting them on after my longer work outs! I definitely put them on after I set my new PDR on my bike trainer last week!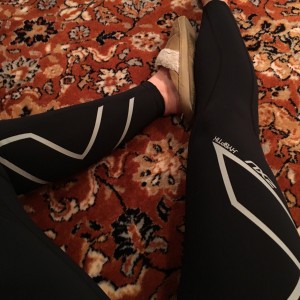 Recovery at its finest!
Some important information:
The website includes a sizing chart. I was pretty much exactly on the edge of the small and medium sizes, and decided to get a medium. This was the right call! The first time I put on the tights, I thought that they might not fit over my thighs and hips- they felt TIGHT! They weren't uncomfortable on the walk though, so I figured that they were just that way. They've definitely gotten a little easier to pull up, but I think it's mostly because I'm used to them now. Don't let that scare you away!
I think I need more pairs so I can wear them every day! I absolutely adore these pants, and can't believe I've lived for so many years without a pair!
Follow 2XU on Twitter @2xu_usa, #RunHyoptik, and #bibchat. You can find more products like this on the 2XU website!
Now it's your turn to share! Do you use compression gear during or after exercise?