Disclaimer: I received a Rudy Project Sterling Helmet to review as part of being a BibRave Pro. Learn more about becoming a BibRave Pro (ambassador), and check out BibRave.com to review find and write race reviews!
Bike safety is INCREDIBLY important to me. I don't think I've really ever talked about this on the blog before, but in college a friend of mine was killed while he was out biking. It really shook me up, and I think about him at some point almost every time I get on my bike. I absolutely love biking, but I recognize that it definitely comes with its risks.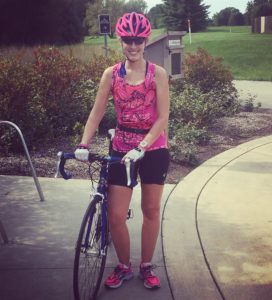 As I've partnered with Rudy Project the past few weeks while testing out their Sterling helmet, I've thought a bit more about the things I do on my bike to try to increase my level of safety, and I thought I'd share them all with you!
I wear my Road ID. In case something were to happen to me, my road ID ensures that people/the hospital knows my name, age, the fact that I have POTS, and has contact information for three people in my life. You can actually see it connected to my left shoe in the picture above!
Bring plenty of food and water. You don't want to get dehydrated on a ride, especially if it leads to you feeling dizzy or light headed. I also "prepare for the worst" and if I needed to walk a few miles to someone, I'd want to make sure I had enough food and water to do that.
I only have one headphone in at any time. When I'm out biking, if I am listening to something, I only have one ear bud on my headphones in at a time. I make sure that my left ear doesn't have anything in it so I can still be attentive to people, dogs, and cars around me.
I bring a pepper gun. I try to bike in areas where there are plenty of other people, but occasionally I go a few miles without seeing people. Having pepper spray or a pepper gun helps me feel a bit more safe.
Wear bright clothing! I tend to wear a bright yellow or bright pink biking jersey, and for cooler weather I have a bright yellow biking jacket. I want to be as visible as possible on the road! My new Rudy Project Helmet is definitely helping with this too!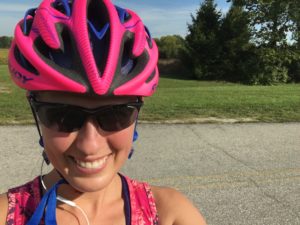 One of my favorite things about the Rudy Project Sterling Helmet is that the colors are so bright that you won't blend in to your surroundings. On a bike, you want to stand out, and this helmet helps with that!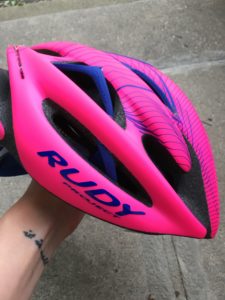 I can't say enough good things about this helmet. There is a mesh vent on the inside so my head didn't get hot while riding, which I loved! You can see it through the vents in the picture below!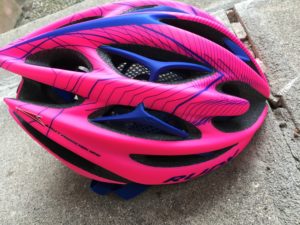 There's also an adjustable band along the back that you can tighten, making the fit absolutely perfect!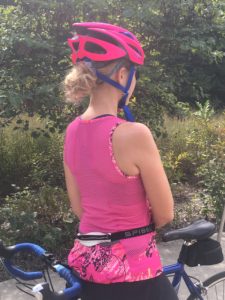 The Rudy Project Sterling Helmet has a removable visor and bug net which make the helmet and biking experience that much more comfortable!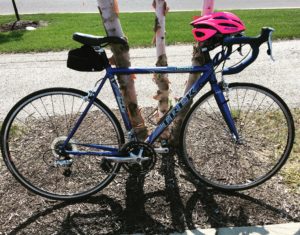 I can't believe that I've never heard of this helmet before, but I'm now a HUGE fan! Safety when you're on the road is so important, and I'm glad that companies like Rudy Project exist to help us all stay safe. If you're a biker, please check out this company… and please make sure you are safe on the road!
Here's their website, their twitter, and their instagram!
Now it's your turn to share! What are some ways that you stay safe while biking or running?