Disclaimer: I received a pair of  oofos flip flops to review as part of being a BibRave Pro. Learn more about becoming a BibRave Pro (ambassador), and check out BibRave.com to review find and write race reviews! 
Having feet that are in rough shape is nothing new to me. I grew up dancing, and have you ever seen the feet of someone who does pointe? YIKES! And now I run and bike and definitely get sore and achy muscles. I've spent the second half of my life searching for things that'll help my muscles and feet feel better and spring back so I can have another solid work out.
When I first heard of Oofos flip flops last summer, I knew I had to try them, so when I had the option of doing so this month, I jumped on the chance to do so.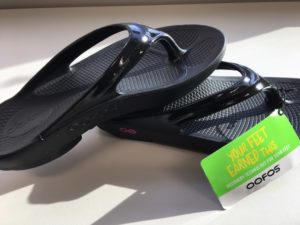 And then I hurt my knee. Cue very little walking and absolutely no biking or running for me. So, I can't tell you how oofos works after intense work outs.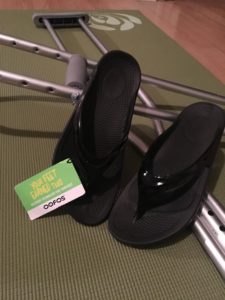 crutches and flip flops. Seems like a good combo, right?
Here's what I can tell you: My feet still feel tired right now, especially my left foot as it is bearing way more weight than it usually does (my right knee is the injured one!). Each night I get home from work I just want to be done walking around, but I obviously can't, and oofos has been amazing.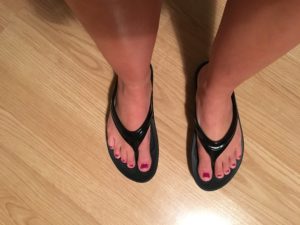 The first thing I noticed is the thickness of the sole. Look at it compared to my normal flip flop!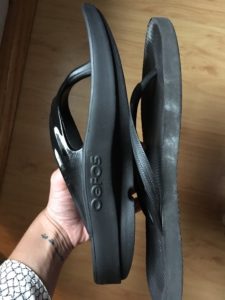 It's a big difference, isn't it?
When I put them on, I felt like my feet were getting hugged and like I was walking a bit on a cloud. I loved it! As I started walking around, I first noticed the great arch support that they have. I can guarantee that these guys are going to feel absolutely amazing to put on after runs (whenever I can get back to running!).
They have flip flops, sandals, and clogs that can all help with sore feet and recovery after runs. They also have the new "project pink" line of items. When items from this line (including my flip flops) are purchased, the company donates $10 to breast cancer research! I love buying products that also contribute to research, so the Project Pink line feels extra exciting to me!
You can learn more about oofos and their products here.