Disclaimer: I received a pair of Rudy Project Fotonyk Sunglasses  to review as part of being a BibRave Pro. Learn more about becoming a BibRave Pro (ambassador), and check out BibRave.com to review find and write race reviews!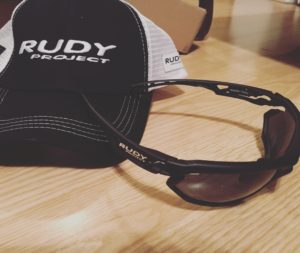 Reviewing products in the winter feels so different than the summer, as my daily habits change so much. My bike rides move exclusively to the trainer (or occasionally a stationary bike at the gym), my runs are occasionally indoors, and mowing and gardening gets pushed aside for shoveling and scraping ice.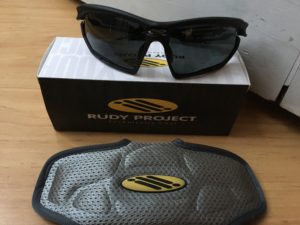 (The silver case in the bottom is what the fotonyk sunglasses came in, and they can be stored in it. It Velcros at the top.)
Let me tell you a bit about Rudy Project's fotonyk sunglasses! These glasses feel incredibly durable yet flexible enough to move with me as I'm active, which is a huge plus! I hate when my work out clothes or accessories get in the way, and these glasses don't!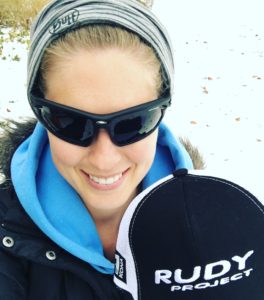 One thing I think makes these glasses stand above the others I've tried is the little vent controls at the top of the glasses allow for good air flow so that your vision isn't blurred! I hate when I'm working out in the heat and my glasses fog up, so I'm especially excited to wear these sunglasses while biking this summer (and also wearing my Rudy Project helmet!).
The sunglasses come with an adjustable nose piece (which is great for people like me who have narrow noses at the top!), as well as interchangeable colored lenses and bumpers for your glasses too! I love mixing things up a bit, so this allows for a cheap way to do that 🙂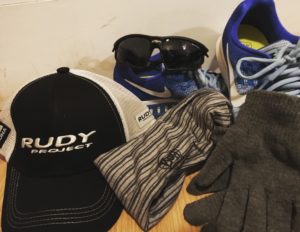 Items set out for a run.
The most outdoor activity I've gotten the past few weeks is shoveling and scrapping ice off my car and the sidewalk, and I was interested to see how the sunglasses held up! In the winter, the sun's glare off the snow can feel really intense, and these glasses made the shoveling experience a lot more comfortable! The glasses didn't feel cold against my face despite the feels like temperature being below zero, and they didn't fog at all! They didn't slide around awkwardly as I moved, which was great!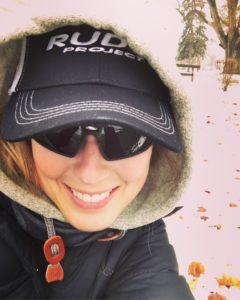 Overall I've really enjoyed trying out Rudy Project's fotonyk sunglasses. I'm especially looking forward to the warmer weather so that I can try them out in different activities.
Want to read more about the sunglasses (or other products by Rudy Project)? Check out their website here. 
Now it's your turn to share! What activities do you wear sunglasses for in the winter? Have you gotten snow or ice this past week?