I've been holding out on a secret from the summer, and I'm finally ready to talk about it! This past July (July 10th to be exact) I got my first tattoo, and I'm still so thrilled about it! This wasn't a hasty decision by any means, as I've been mulling it over for the last 9 years. Even as I debated it that day (it wasn't that I wasn't confident with my decision, it's just that I just really take a LONG time to make decisions), my parents and brothers kept texting saying "just do it already", so I took the leap.
I went with Melissa to Carmel Ink & Tattoo. I was shaking so badly and told the tattoo artist over and over "I can't feel my hands. My hands are numb". He was really good about speaking calmly and assuring me that it would be just fine.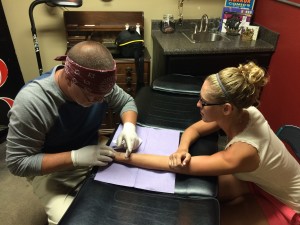 The entire tattoo took about 2 minutes and 17 seconds, so it was over quickly. It also wasn't painful- I've had mosquito bites hurt worse! Melissa asked me part way through which was worse- this tattoo or running the speedway at the Indy Mini Marathon. I immediately said the speedway was more painful; what can I say- I really hate that speedway. And then it was over in a flash.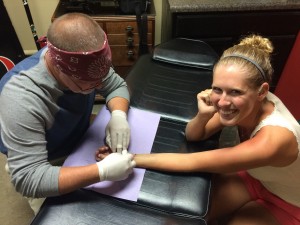 And see, it wasn't too bad at all. I was clearly still pretty happy about the entire thing. So what did I get?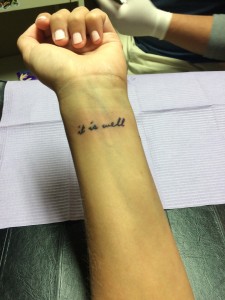 "It Is Well"
So why the phrase "It Is Well"? It comes from the hymn "it is well", written by Horatio Spafford after a series of traumatic events in his life. First, his oldest son died from Scarlet Fever, and the year after the Great Chicago Fire ruined him financially. Two years after this, he sent his daughters and wife to Europe (he was supposed to go with them, but something with his business came up, so he was planning to meet them a bit later), and while sailing across the Atlantic, the boat hit a sea vessel and sank. He lost all four of his daughters, although his wife survived. As he was sailing to meet his wife in Europe, he sailed past the place where his daughters died, and he was inspired to write the lyrics to the now popular song "It Is Well". This man knows deep and unrelenting pain, yet he penned the following words:
"When peace like a river, attendeth my way,
when sorrow like sea billows roll;
whatever my lot, Thou hast taught me to say,
It Is well, it is well, with my soul."
In college I lost three friends in a very traumatic car accident, and one of my close friends and mentors who helped me through the loss died less than a year later of stomach cancer. Immediately after these events, I knew I wanted something that would honor them, as these two circumstances changed my life deeply in many ways. Because of these situations, along with many others in my life, this song and phrase has been a constant in my life. To me "it is well" is one of the most calming, peaceful, and grounding phrases I've ever found. To know that, no matter what the circumstance I'm going through, no matter how painful, the bigger story is that it IS well with my soul. I love the message behind the phrase, and I love how much it encompasses both my professional life as a counselor, as well as my personal story. As a counselor, so much of what I do is walk alongside someone in the depths of their pain. It is well. I love that.
If you're interested in listening to the entire song, here's the link: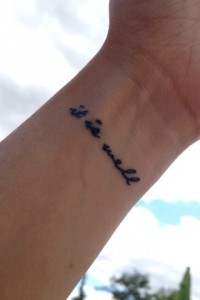 The tattoo still in the healing process…
I'm so thankful for the hope and promises that I can cling to in life. I'm thankful that, through the pain and hardships and loss, it is still well.