I'm not sure how I first heard about It Ends With Us by Colleen Hoover, but I remember immediately putting it on my holds list (I had to wait over a month for it!) at the library. It finally arrived right before Thanksgiving, so this was one of the books that I read over Thanksgiving break.
It Ends With Us follows Lily Bloom as she processes her dad's death (and therefore her history and parents marriage as a result) and thinks about what that means for her life and her future in relationships. On the night of her dad's funeral, she meets Ryle, but doesn't think much of it. She runs into him a few more times before deciding to explore the relationship a bit more.
What comes next was shocking and unexpected, and taps into her past history. I don't want to share too much about what happens moving forward, but it made my heart ache. I think that It Ends With Us is an important story about the issues in life that, from the outside might appear black-and-white, but when you're in them are deeply complex and confusing.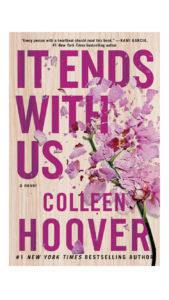 I felt drawn into the characters' stories right from the start. I felt their feelings, I felt the pain in their hearts, and I simply couldn't put the book down. The book explores important topics, and I think it's valuable to read. I wish I could give it to clients. It's haunting, it's beautiful, it's emotional.
Here are a few quotes that stood out to me from the story:
"All humans make mistakes. What determines a person's character aren't the mistakes we make. It's how we take those mistakes and turn them into lessons rather than excuses."
"There is no such thing as bad people. We're all just people who sometimes do bad things."
"Cycles exist because they are excruciating to break. It takes an astronomical amount of pain and courage to disrupt a familiar pattern. Sometimes it seems easier to just keep running in the same familiar circles, rather than facing the fear of jumping and possibly not landing on your feet."
I wish I could share with you my favorite paragraph from the book (towards the very end of it!) but it would give it away. I'll just say this- It Ends With Us pierced my heart and now, almost a week later as I type this, I can't let those sentences go. I've read and re-read them. It's powerful, and one of my favorites from 2016.
Now it's your turn to read! What's one book you've read in life that continues to stand out to you?