Each year when I type up my "year in running" posts and think back to my best runs of the year, at least one seven miler is included. For some reason, my body just really loves that distance, and my 7 mile runs consistently leave me smiling. This weekend's long run was no different!
I ended up doing my weekend long run on Friday early evening, right after work. For lunch I'd eaten a bunch of appetizers at a gathering (artichoke dip, cookie, veggies and dip, etc…), so I was curious as to how I'd feel running just a few short hours later. I usually do my long runs in the morning or very early afternoon, so it felt weird to be gearing up for so many miles after a full day at work.
My body lately has felt particularly rough at the start of my runs, and for the first hour especially my legs felt pretty heavy with a tough turn over. Somewhere around mile 1.2 I started loosening up just a little bit which definitely helped.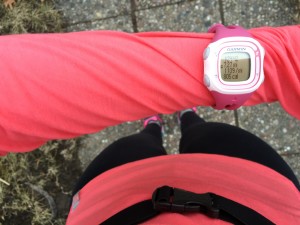 The first few miles definitely passed in a blur as I listened to a recent Jillian Michael's podcast. I ran part of a route that I haven't been on since I biked outside in the fall, so that was really fun!
Again, around mile 3-3.5 I felt my body loosening up, and I tried to pick up the pace as I've tried to negative split my run. Somewhere around mile 5 I remember thinking "why isn't this feeling any easier" before I realized that I had definitely picked up the speed.
My last few miles were fast (for me!), and I was definitely fully focused on my breathing, while also really enjoying the run. The day wasn't beautiful- it was in the mid-30's and gray (better than the wind advisory from last week!), but it felt excellent for a run! I finished the run with a huge smile on my face- and a little bit gasping for air! This run felt really solid, and definitely helped boost my confidence for race day! I'm really happy with my splits!
Mile 1: 12:00
Mile 2: 12:06
Mile 3: 11:58
Mile 4: 11:03
Mile 5: 11:32
Mile 6: 11:07
Mile 7: 10:58
I ended at 7.35 miles.
(Disclaimer: I received the Merino Wool Buff to review as part of being a BibRavePro Ambassador). I especially loved getting the chance to wear my wool buff on a run (and love how it went with my running shirt- it's the little things, right?). I'll be reviewing it tomorrow!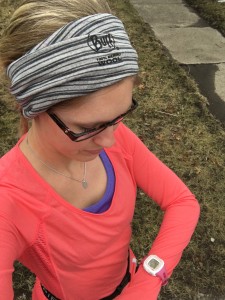 There are runs that, when I finish, I feel overwhelmingly thankful for the ability to run and breathe and move. This was one of those runs. Gosh- I love my 7 mile runs 🙂
Now it's your turn to share! What's your favorite running distance? What makes a run "good" for you?