Disclaimer: I received coupons for free luvo meals to review as part of being a BibRave Pro. Learn more about becoming a BibRave Pro (ambassador), and check out BibRave.com to review find and write race reviews! 
My life could be defined as a bit unpredictable. I mean, I have a set schedule each week, but I'm on call all the time, so at any minute I drop what I'm doing to respond (I absolutely love my job and it feels like an honor to get to do it)! Sometimes I unexpectedly get home at 10 or 11 pm and haven't eaten dinner, and other times I get woken up by a phone ringing at 1 am and don't get to sleep again that night- because of that, things with meals can be a bit tough. That's where quick frozen meals come in to play.
But, a lot of freezer meals aren't that healthy or balanced, so I've tried to avoid them as much as possible… until now. Enter Luvo meals.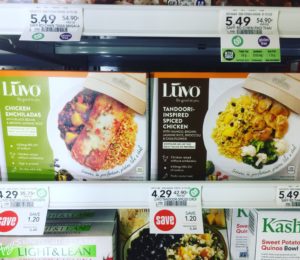 These meals are healthy and include a protein, grain, and are delicious. Here's a bit from their website: A full serving of fruits and veggies. Appropriate levels of sodium and sugar. High in fiber. Whole grains. Meats raised without antibiotics. That's the kind of talk that gets us excited. Meals made with ingredients your body needs and flavors your taste buds will marvel over.
Now that's something that I can get behind.
The meal that most stood out to me at the grocery store was the chicken mango meal that included whole grains, broccoli, and kale.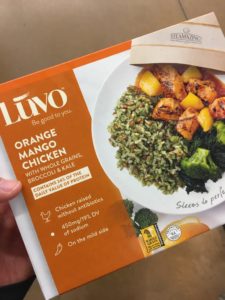 I opened the box up and found a pouch, which I put in the mircrowave for just over 5 minutes. After letting it sit for a minute I opened it up and slid the food out onto my plate! Easy!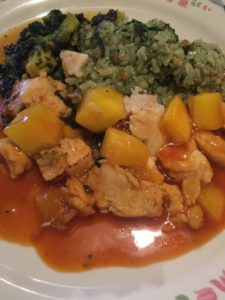 IT. WAS. DELICIOUS. I would be happy with that quality of meal if I had purchased it from a restaurant, so having it in the comfort of my own home (and the microwave) feels like a luxury! I will 100% be purchasing more of this meal in particular- a favorite!
Another meal that I really enjoyed was the Tandoori-inspired spiced chicken, which included mango, brown and jasmine rice, broccoli, and cauliflower – and 19g of protein! It kept me full for several hours which is fantastic.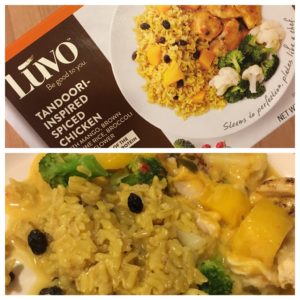 Some of the meals have milk in them, so with that I just take a lactose pill (if I haven't had much other lactose in the week).
The meals are $4.29. For everything you're getting, I feel like that's a pretty good deal, but I wouldn't do it every day. However, I will definitely be keeping these on hand for the last minute changes in my schedule or the nights I'm too tired to make dinner!
You can read more about Luvo and their products here.