Happy Friday! I hope you all had a great past week 🙂 Like every Friday, I'll start with my nail polish of the week:  I chose to do the same color as last week , midnight cami (dark blue, by Essie). I've been looking forward to the color for so long, so I was certainly not done with it after only a week. To go with the winter theme, I added some chunky glitter to it, which reminded me of snowflakes against the dark sky (one of my favorite things about winter in the town I grew up in). I chose OPI's "You Pink Too Much":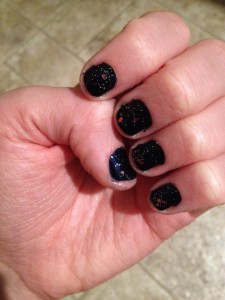 indoor lighting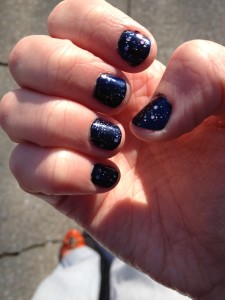 Outdoor lighting (I wore my orange flats that day- and I love them! 😀 )
It's pretty, right? It looks like winter in nail polish form 🙂 This blue was a bit of a hassle to get off last weekend, as the blue color seemed to get ALL over my fingers as it was coming off! Does anyone have good hints to deal with this? It's also more difficult for me to clean up my nails as I want them when it's blue (i.e. the few specks that are on my cuticles). Even with that though, I just love this color.
Ok, now onto some random Friday Facts:
1. I watched my first episode of "Friday Night Lights" the day before my half marathon in November (the one I set an awesome new PR at!), and have been slowly making my way through the show since then (I took most of the Christmas season off of… everything, pretty much, except for Christmas movies). I just started the third season on Thursday, and am loving the show!
2. I watched the movie "Gone Girl" this past weekend (I read the book this past summer and really enjoyed it), and thought they did a great job with it! I forgot just how twisted it was, and felt myself getting anxious, even though I knew the story-line. Have any of you seen it yet? Thoughts?
3. I've been on a reading kick since the start of the year, and just finished my 6th book of 2015! I know the next few months are going to be really really busy, with very little time for reading, so I'm trying to enjoy the time while I can!
4. I took my outdoor porch lights down last weekend since it got up into the 40s and the snow melted off of it, but I've been really dragging my feet at the indoor lights. I love turning on the white lights when I'm in my living room- they make it nice and cozy!
5. I finally took down my Christmas tree and the final Christmas decorations still up in my living room yesterday. I was going to do it the previous weekend, but it just didn't feel like quite the right time to do it. I did leave one strand of white lights up in the living room to enjoy in the evenings (it just makes everything feel much warmer). I try to leave my tree and lights up a bit longer than normal to help ease the transition into the long weeks of winter ahead 😀 The room definitely feels a bit empty now.
Now it's your turn to share! Tell me a random fact from your week! When do you take down your Christmas tree and/or Christmas decorations?