DO you remember when I used to do my weekly nail polish and friday facts posts each Friday? When I went back to search on my blog it appears the last time I did one was March of 2016! For whatever reason I just felt like doing one this week, so here goes!
This week I'm wearing a new-to-me color: Essie's baguette me not. (I put Essie's set in stones glitter on top– because life is better with sparkle)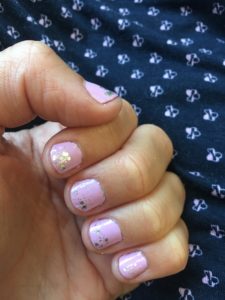 It's a nice lavender color. It went on really smoothly, and 2 coats was sufficient to cover it up. It's such a fun spring and summer color! And I realized that I accidentally matched my dress and nails this week- oops!
Ok- here are some Friday facts for the week!
My knee has been injured for 22 weeks now (UGH), but I'm finally to the point where I can swim comfortably. I need to write a full post on this but… I swam a mile earlier this week! It felt great to be able to get in a "longer workout" again, especially since the water feels so good on my knee.
I've added a few new plants to my yard this year, including these sunflowers and hydragenas. I can't stop with the flowers… and I don't want to. They feel good for my soul.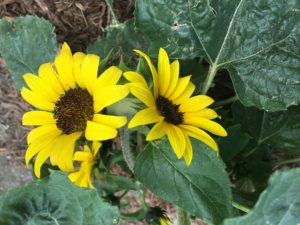 In mid-May I finally bought a Hydro Flask for myself, and I have been loving it all summer! It's super easy to take with me (and I'm a firm believer of keeping water on me most of the time, especially in the summer), and because it's insulated it keeps water cold for hours (seriously- the other night around 5 pm I put a bunch of ice and water in it, took it to a friend's house, came home and went to bed, and there was still ice in it in the morning!). I've been loving it!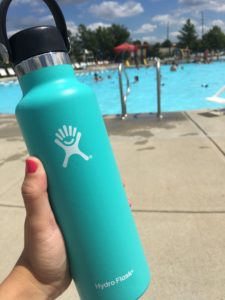 The key lime oreos that are out this summer- pure deliciousness!
I went into a meeting yesterday at work (it was 4 hours long), so I came prepared with snacks and all the fluids to stay hydrated. I may have been laughed at by almost everyone around the table… 🙂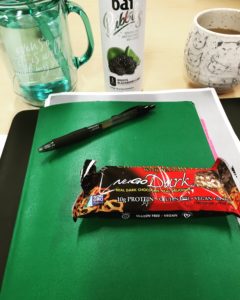 Now it's your turn to share! What's one fun fact from your week?