Disclaimer: I received a container of Earth's Care pain relieving ointment to review as part of being a BibRave Pro. Learn more about becoming a BibRave Pro (ambassador), and check out BibRave.com to review find and write race reviews! 
I have major problems with my muscles aching and with increased injuries (I can thank POTS for that!), so I have gathered up a good supply of items that help with managing and decreasing various types of pain. Earth's Care's care pain relieving ointment is now part of that that supply!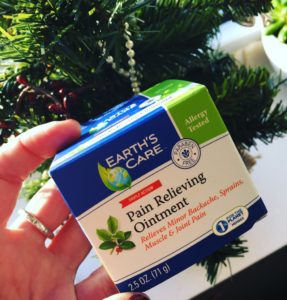 Earth's Care is a company that believes in creating products with primarily natural ingredients, have no artificial colors or fragrances, no parabens, and isn't tested on animals. I have really sensitive skin, especially in the winter, so this feels important to me.
This is the description the company gives for the pain relieving ointment: " It features Camphor, Menthol and Wintergreen oil that work together as an effective analgesic. This soothing formula brings fast temporary relief from sore muscles, joint pain, backache, and arthritis."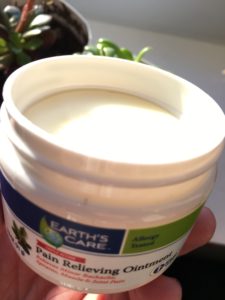 The first thing I noticed when I opened up my container of ointment is the smell! Some Pro's have said that it is a little too strong for them, but it really doesn't bother me at all. It feels minty and fresh. It leaves a tiny bit of residue behind, but it's not really greasy or anything like that.
I was sort of expecting a tingly feeling like Icy hot or Biofreeze, but there wasn't any of that. It just felt- normal, and maybe just a little warm.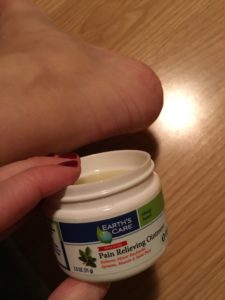 I've used the ointment on my left foot/heel where I have tendinitis, as well as my neck and shoulders, and have really enjoyed the product. I also love how natural it is. It makes me feel better about putting it on me to be absorbed!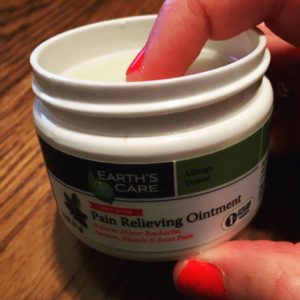 As a side note about the company. I actually first heard of them while testing out Bulu Box almost a year ago. I got the dry and cracked skin balm in that box, and really enjoyed it. I still have it in my drawer at work and just pulled it out a few weeks ago once it got cold again. So, that being said, I do actually use products from this company in my everyday life!
If you are interested in looking into other products by Earths Care, you can check out their website here.
Now it's your turn to share! What's one of your go to pain relieving products?