Welcome to my first "What I Read" for 2017! Once again, I started the year off strong with a total of 19 books for the month, and I really enjoyed a lot of the books I've read. Make sure to check out the bottom of the post where I list the "must reads" from the month!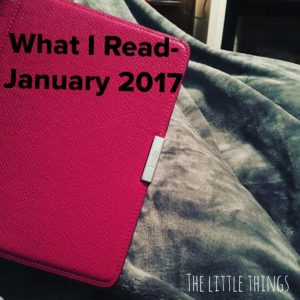 Here's what I read this month:
'Tis The Season, Wild Man Creek, Harvest Moon,  and Bring Me Home for Christmas (Robyn Carr): Through the last few months of 2016 I started the Virgin River series by Robyn Carr, and these books are part of that series as well.
This is Where You Belong: The Art and Science of Loving the Place You Live (Melody Warnick): This audiobook was a fantastic book about what makes a place a home, as well as how to engage meaningfully with a community in order to better love the place that you live. I really enjoyed this  one.
Frostbite (Richelle Mead): This is the 2nd book in the Vampire Academy Series. It's a fun, lighthearted series about vampires.
Winter Street and Winter Stroll (Elin Hilderbrand): These first two books in a series take place on two consecutive Christmases on Nantucket. The story follows a family who owns an inn on the island, and shares the trials and struggles of each extended family. I've loved the series so far!
Pondering Privilege: Toward a deeper understanding of whiteness, race, and faith (Jody Fernando): I absolutely loved this quick read. While the book was short and sweet, the author does an excellent job of discussing the idea of privilege, giving the reader lots of examples, as well as questions to ponder. She does a great job of presenting things in a manner that creates an openness to thinking about privilege instead of creating a defensiveness in the reader. I really enjoyed this one.
Losing Hope (Colleen Hoover): I read the book Hopeless in December, and this book is basically the same story as Hopeless except told from a different character's perspective. Of course there were some new details included that only that character would know, but the general story line was the same. Absolutely loved it!
Love Warrior (Glennon Doyle Melton): This book was a memoir by the author about her self-discovery and journey of love after a deeply difficult and painful moment in her marriage. In a very Brene Brown-esque style, the author challenges herself to be vulnerable and open as she tasks risks for love and relationship. The book felt very raw and very real, and I loved it.
Eligible: A Modern Retelling of Pride and Prejudice (Curtis Sittenfeld): There was a whole lot of pride and lot of prejudice in this modern version of the story! I laughed out loud several times listening to this audiobook.
The Sun Is Also a Star (Nicola Yoon): This story is about a young woman whose family is facing a status change with their immigration. As things change, she meets a boy… This is a story of love, of people from other countries, and of the desire to live dreams.
Becoming Wise: An Inquiry into the Mystery and Art of Living (Krista Tippett): The author hosts a show, On Being, on NPR (I listen to it via her podcast), so when I saw that she had a book, I immediately put it on hold. She interviews a series of people on the art of living in different realms. It was fascinating, and I learned a good amount!
Day (Elie Wiesel): This was the third book in the author's Night series. I enjoyed Night most of all, but enjoyed this third book a good bit too. He deals a bit with the nature of suffering, and how suffering in the past impacts our living in the present.
The Princess Diarist (Carrie Fisher): I put a hold in for this book on the day that Fisher passed away in 2016, and was quite excited to get the audiobook. Fisher read it, and it definitely felt a bit sad. I enjoyed all the stories she told about her time filming Star Wars, but wish she had talked a bit less about her relationship with Harrison Ford and a little more about some of the other aspects of filming.
Courage to Soar: A Body in Motion, a Life in Balance (Simone Biles): This autobiography by Biles (Olympic Gymnast) shares stories from growing up, how she came to live with her grandparents, and her journey to Rio. I loved it!
Strong Is the New Beautiful: Embrace your Natural Body, Eat Clean, and Harness Your Power (Linsey Vonn): This book is written by Olympic skiier Lindsey Vonn, and in it she not only shares all sorts of stories about becoming a skiier, her series of injuries, and winning Olympic medals, but also tells her journey of nutrition and balanced eating. I listened to this audiobook during a few workouts, and I enjoyed some of the stories within. It was quick  and I enjoyed it for what it was.
The Gifts of Imperfection: Let Go of Who You Think You're Supposed to Be and Embrace Who You Are (Brene Brown): This book was one of my absolute favorites this month. Brene Brown also wrote the book Daring Greatly, and has such beautiful and truthful words to speak. This book she focuses on the idea of wholehearted living, and writes about several guideposts that people who live wholeheartedly share in common. Her books are written based off the research she has done, but she writes in such a beautiful way.
If you read anything from the month: The Gifts of Imperfection, Love Warrior, and Pondering Privilege. 
Now it's your turn to share! What're you looking forward to reading in the next few weeks?