Another year and another month in reading. January is typically a really strong month of reading for me, as I tend to have just a bit more free time in my work schedule (less evening commitments). However, this month was a bit of a struggle to get a lot read (no idea why- I read every day but just read less than usual), so I clocked in with 12 books for the month.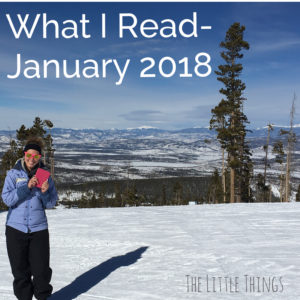 Here's what I read:
Why I Hate Green Beans (Ray):I wrote a post about this book here.  I laughed and repeatedly read sections aloud to my family members as I went through the book. 4/5 stars
Taking My Life Back: My Story of Faith, Determination, and Surviving the Boston Marathon Bombing (Gregory): I enjoyed this audiobook. I appreciate people who are willing to share moments of vulnerability and resiliency in their lives- I think we can learn something from each of them. This was great in audiobook form. 3/5 stars
Comfort & Joy (Hannah): Didn't hate it, but didn't love it- sort of weird. Too many storylines which were skimmed only on the surface for me. I love Hannah as an author, but this was my least favorite of her books I've read so far. 3/5 stars
Harry Potter & the Goblet of Fire (Rowling): This one (and book 7) is in my top two favorite books in this series, and I LOVED reading it again. There are so many great details not included in the movie. 5/5 stars
Winter Solstice (Winter #4) (Hilderbrand): I'd read the first three books last January, and enjoyed the final book in this series. The lives of the family members included in this series were fleshed out well in this book, and I may have cried a little bit as the book closed. I had a wide range of emotions and it looked me from the start. 4/5 stars
The Sound of Gravel: A Memoir (Wariner): This true autobiography was about a girl who great up in a community that engaged in polygamy. Time and time again abuse and heartache entered her life, and this story, was absolutely heartbreaking.The anguish that the author went through broke my heart, and the triumphs she had among the way were beautiful. 4/5 stars
Standing Strong (Giudice): This book was about Giudice's life post-prison, and about the life she is now leading as her husband serves his sentence in prison (in case you aren't aware of the Guidice's and their story- she is on the Real Housewives of New Jersey). It was interesting, but certainly not a great book. I enjoyed it though and didn't regret reading it. 2.5/5 stars
The Seven Husbands of Evelyn Hugo (Reid): Obsessed. This book hooked me from the start, and the writing constantly kept me wondering how it would end. I can't say enough about it. The characters were well written and developed, the story line was intriguing, and the last 10% was… quite surprising. I definitely recommend this one! 5/5 stars
Grace, Not Perfection: Embracing Simplicity, Celebrating Joy (Ley): Not too much to say about this- I liked it and found it to be relatable. 3/5 stars
And Then There Were None (Christie): My first Agatha Christie book! I'm not sure how it took so long for me to read one, but I found that I absolutely loved this one! There was a solid mystery involved (of course!), and the book kept me guessing the entire time (I never guessed who it was or why exactly what happened was happening- a mark of a good book!).
The Royal We (Cocks): I loved this book, which was basically a sort of fan fiction on Kate and William… and the Royal family. It was a fun read all about the monarchy and how it impacts relationships, and was hooked the entire way! 4/5 stars
The Crown: The Official Companion, Volume 1 (Lacey): I've loved watching The Crown on Netflix, and I enjoyed this companion book that went episode by episode. It talked through some of the differences between the netflix version and what occurred in reality, and gave some extra historical context. I appreciated it. 4/5 stars
If you read anything this month, check out the following: The Royal We and The Seven Husbands of Evelyn Hugo
Now it's your turn to share: What book are you most excited to read in the next few weeks?