August already?! SLOW DOWN SUMMER! This month I felt like I was *barely* reading anything, but I ended up reading 12 books this month. That brings my total for the year to 88 books.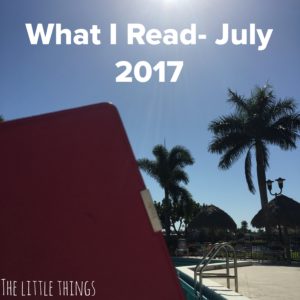 The Hopefuls (Jennifer Close): A book about 20-somethings engaging in the political process, both in D.C. and in Texas.
A Little Thing Called Life (Linda Thompson): Ok- this was so interesting. Thompson is Caitlyn (Bruce) Jenner's  (she refers to him as Bruce to delineate before and after transition) former wife. She also dated Elvis for several years, and I found those years of particular interest. This made for a great audiobook.
Wishful Drinking (Carrie Fisher): I've enjoyed listening to Fisher's audiobooks to learn more about her life. 3.5/5 stars
Luckiest Girl Alive (Jessica Knoll): This was really interesting. I actually started reading this book in the Fall of 2015, but that was a hectic time of my life so I set it aside. A bit of a mystery/very tame thriller, and it kept me hooked. 3.5/5 stars
Option B (Sheryl Sandberg): This is Sanberg's recent book, written after the sudden death of her husband. This book is about living meaningful in the option B, when it's not possible to have option A. When people talk about their grief journey and processing I feel like it's beneficial, and she did a great job in being vulnerable about what her journey was like. 4/5 stars
Between Heaven and The Real World (Steven Curtis Chapman): I listened to Chapman's music growing up, so I really enjoyed learning more about Chapman as a person. I especially appreciated the honesty and vulnerability expressed about his daughter's death.
Kris Jenner… and All Things Kardashian (Kris Jenner): haha- I sort of wish I didn't need to admit that I read this. That being said, Jenner's perspective on OJ's trial, as well as her friendship with Nicole, were fairly interesting. 3/5 stars
Healing the Fragmented Selves of Trauma Survivors (Janina Fisher): I read this slowly over the past 2 months, and I deeply enjoyed it. As a counselor, I'm consistently trying to read and explore new ways of doing things. I found this book fascinating and so helpful.
The Road Back to You (Ian Cron & Suzanne Stabile): I could write a whole post about this. This book is about the Enneagram, a 9 type personality that is rich with history. They talk through each of the types, and include steps for growth towards health for each type. I find that there is so much understanding and empathy that comes from understanding these 9 types!
The is How it Always Is (Laurie Frankel): A story about family secrets and the lengths that families go to hide them. I appreciated the "behind the scenes" wrestling the parents did about what was right in the "situation" (the secret), and I found the book well written. I enjoyed this.
Being White: The title of this book is slightly misleading, as this book is more about the privileges that come with being white, as well as the healthy process to get outside of one's self and engage with other cultures and races. Parts of it were pretty good, although this isn't the first book I'd recommend regarding race or privilege.
To Kill A  Mockingbird (Harper Lee): I've read this book twice before (once in middle school and once in high school), so I thought it was also time to read it again. I forgot just how good this book is, and I will definitely read it a 4th time…
If you are going to read anything from this month, I'd suggest the following: To Kill A Mockingbird, The Road Back to You, and Option B.
Now it's your turn to share! What's one book on your "to read" list?