I love summer for so many reasons, including some extra time I have to read (and the time I have to read outdoors!). This month I read 14 books (I was at 62 books at the end of May), and have read 76 books so far for the year.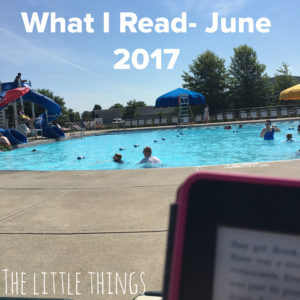 Here's what I read this month:
A Gentleman in Moscow (Towles): I was really excited to read this book book, and I was a bit disappointed. I wonder if reading this particular book would've been better than listening to the audiobook. I just felt sort of… bored… throughout it. However, there were some really beautifully written passages though. 3/5 stars
My Name is Lucy Barton (Strout): I really enjoyed this book. This is written as an autobiography but it's a fictional character, and I thought it was brilliantly done. This was a very quick read. 4/5 stars
10% Happier: How I Tamed the Voice in My Head, Reduced Stress Without Losing My Edge, and Found Self-Help That Actually Works (Harris): This book is written by a reporter who had a panic attack on Good Morning America. This story is his journey to find a sense of inner calm and joy in the middle of a fast paced and hectic career. 4/5 stars
Everything, Everything (Yoon): A book about a teenage girl who is allergic to almost everything, and is therefore stuck in her house. A family moves in next door, and she's confronted with life outside her house. Again, a quick read, and I really enjoyed it. 4/5 stars
Hidden Figures: The American Dream and the Untold Story of the Black Women Mathematicians Who Helped Win the Space Race (Shetterly): I have been REALLY really excited to read this book. I actually started reading this in April, but just couldn't get hooked. I felt like there was way too much unnecessary detail given that made it drag on a bit. So, I returned the book and requested the audiobook, and that definitely helped. Can you find yourself both inspired and bored by the same book? There were parts I found so absolutely fascinating and inspiring and interesting. It was a very interesting story before, and one I previously knew nothing about. 3.5/5 stars
Tears We Cannot Stop: A Sermon to White America (Dyson): The title is pretty self-explanatory. This book discusses various aspects of racism and inequality, and the author shares some of his own personal stories as well. Many good reflections, challenges, and truths throughout the book. I value his vulnerability in sharing parts of his own story throughout.
Pride Over Pity (Lowry): Written by a person who was on 16 and Pregnant is on Teen Mom 2. I thought her story was interesting, especially some of the things that happened that the show didn't show (or happened before she was on the show). 3/5 stars
The Year of Living Danishly: My Twelve Months Unearthing the Secrets of the World's Happiest Country (Russell): The author moves to Denmark for her husband's job, and this book is her account, month by month, of differences she notices and lessons she's learned about how the people in the "world's happiest country" lives. It was interesting… 3.5/5 stars
Measure of a Man: From Auschwitz Survivor to Presidents' Tailor (Greenfield): The title pretty well explains the book. I love stories of courage and resilience. It was inspiring how he took the horror he lived through and lived meaningfully afterwards. I listened to the audiobook and it was great. 4/5 stars
A Grace Revealed: How God Redeems the Story of Your Life (Sittser): Sittser lost his mom, wife, and daughter in a car accident, and wrote his story in his book A Grace Disguised (I really love that book). In this sort of "follow up" book, he talks through the aspects of a good story, overlaying that with his own life experiences. 4/5 stars
Gossip Girl #1 (Ziegesar):  I watched Gossip Girl two summers ago, and I had a real desire to watch it again this summer. But then I found that there was a Gossip Girl book series and jumped right in. I'm not sure how I would've liked the book without seeing the show first, but I enjoyed it.
Barefoot (Hilderbrand): I actually had started this book last summer and then abandoned it within the first twenty pages because I felt a bit bored by it. I decided to try again this summer, and I'm glad I did. This was a fun and quick read taking place on Nantucket, following the lives of two sisters and one of their friends. Their summer takes some unexpected turns, and the trio of girls has to do their best to deal with all that has unfolded. 3/5 stars
Love and First Sight (Sundquist): I listened to this on audiobook, and I couldn't force myself to stop listening. This follows the story of a high school boy who is blind and starts at a new school. It follows him as he confronts questions about his lack of ability to see, how he thinks about relationships, and what he wants out of his life. 4/5 stars
You Know You Love Me (Gossip Girl #2) (Ziegesar): This is the 2nd book from the gossip girl series. Fun and quick to listen to.
So that's what I read for the month. If you're going to read anything from this list, here's what I would suggest: Love and First Sight and Everything, Everything.
Now it's your turn to share! What book are you most looking forward to reading this summer?