After two solid months of reading, March was a slow down month for me. I was out of town for 17 days of the month, and the days that I was there were either prepping for a trip, unpacking, or working extra to make up for the times I'm gone. All that to say, reading got set aside, especially for the 9 days I was out of the country. In March, I read 8 books (total for the year is 39 books). Here's what I read: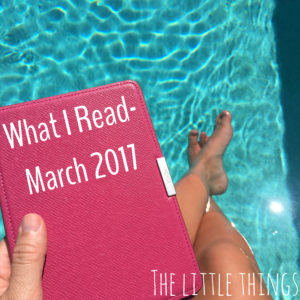 7: An Experimental Mutiny Against Excess (Jen Hatmaker): wow- this book feels really tough to write anything about because it was just so thought provoking. Hatmaker writes about her journey with excess, as she chose seven areas of life to address, each for one month (including food and clothing). It felt convicting and motivating.
The Mothers (Brit Bennett): I gave it 4 stars. It was well written, and spanned the lives of two friends over many years. The reader gets the inside look at how a secret impacts friendship and community of the span of years. It was great!
Ender's Game (Orson Scott Card): My family read this book out loud when we got together at the start of last month. This is a book about Ender (just a child) who goes to a military type school and learns to play computer simulated war games. Through twists and turns he learns that he is to play a much bigger role in the world…
The Memory Book (Lara Avery): This story is about a young girl who as a disease that is making her lose her memory. Because of this, she chooses to start writing a book of things to remember for herself. This book confronts questions of living well when faced with a devastating diagnosis, and looks at how this impacts family and friends. I loved it.
The Magicians (Lev Grossman): I watched the first season on Netflix, so I decided to read the series! I enjoyed this first book, but was glad that I had watched the series first, as it made the book feel easier to follow. It's like Hogwarts… except crazier.
The Subtle Art of Not Giving a F*ck: A Counterintuitive Approach to Living a Good Life (Mark Manson): This was interesting, and he definitely had some good stuff to say throughout.
Relentless Spirit: The Unconventional Raising of a Champion (Missy Franklin): I listened to the audiobook and really enjoyed it. There were multiple things I learned about Franklin's life, and especially appreciated how she talked about the disappointments and life lessons learned from Rio.
Redwood Bend (Virgin River Series: Robyn Carr): I'm still slowly making my way through the series- I think I'm close to being done. I hope I am! I want to finish the series but I'm starting to get bored with the books.
Now it's your turn to share! What are you looking forward to reading this month?