Happy summer time! May signals a change to my summer schedule (the last week of the month), so I'm enjoying a slower rhythm, more nights chilling on my back porch, and more time to read! I also spent the last week of the month in Florida (I had a work thing down there), so I had some extra time to read around the pool and on the beach! In May I read 15 books, bringing my total to 62 books this year (for interests sake, I went to see when I hit 62 books last year- I did on July 18th). At the end of the post I'll share my must read books from the month.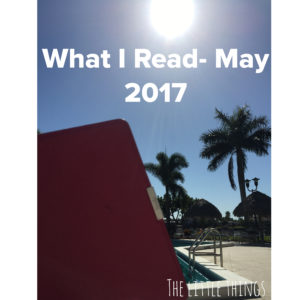 Here's what I read in May:
Somewhere Inside: One Sister's Captivity in North Korea and the Other's Fight to Bring Her Home (Laura & Lisa Ling): Last month I read a book by the other reporter who was imprisoned in North Korea, so this month I decided to read about the situation from the Ling sisters' perspectives. It was incredibly interesting, and was a really quick read.
At Home in the World: Reflections on Belonging While Wandering the Globe (Tsh Oxenreider): I really loved this book. The author's family packed up and went on an almost year long tour around the world, living in various countries. This was a delightful book, and I so enjoyed not only reading about various parts of the world, but also the lessons the author learned about herself along the way. 4/5 stars.
I Got This: To Gold and Beyond (Laurie Hernandez): This book was written by one of the gymnasts from the 2016 women's gymnastics team in Rio. This was an interesting, quick, and fun read, and I loved reading about her experiences in Rio and on Dancing With the Stars.
The Magician's Land (Lev Grossman): The third book in the Magician's series. It was interesting, and I appreciated some of the ways that he tied up the storylines.
The Best Yes: Making Wise Decisions in the Midst of Endless Demands (Lysa TerKeurst): I actually didn't even write anything about this book on goodreads, although I did give it 3/5 stars. There were some good takeaways sprinkled throughout.
This is How You Lose Her (Junot Diaz): I didn't prefer the style of writing within this series of short stories. Quite honestly, I also didn't love the main character at all, so it was hard for me to desire to know what came next for him or to root for him. 2/5 stars
Chasing Slow: Courage to Journey Off the Beaten Path (Erin Loechner): I listened to this via audiobook, and I enjoyed it. The author was open about her journey to "slow" and more intentional living, and I appreciated the ways that she acknowledged how she was changing without making it "all or nothing". 3.75/5 stars
Uninvited: Living Loved When You Feel Less Than, Left Out, and Lonely (Lysa TerKeurst): Again, she makes several good points throughout the book, but I still found myself a bit internally torn without words to put to why I was feeling that way. 3/5 stars
The Secrets of My Life (Caitlyn Jenner): This book was absolutely fascinating. I really enjoyed hearing more about her life growing up, the interactions with OJ Simpson (and how the whole trial played out within the family), his time with the Kardashians, and the candidness in talking about the transition.
Born A Crime: Stories From A South African Childhood (Trevor Noah): I didn't know anything about the author before I read this book, and I found his story to be incredibly interesting. I found myself feeling thankful for his vulnerability and what he shared. I also appreciated the moments he stepped away from his story and gave a few pages of history and context for what was happening within apartheid, and then placed his story in that context. A must read. 4.5/5 stars
Writings to Young Women from Laura Ingalls Wilder: On Wisdom and Virtues (Laura Ingalls Wilder): This was a random choice in books, but I really loved The Little House on the Prairie series. I wouldn't read it again, but there were moments that were slightly interesting.
Firefly Lane #1 (Kristin Hannah): i had a bit of a hard time initially getting into this book, but by about 30% through I couldn't put it down. There were a few moments that dragged, but otherwise I was hooked. I may have even cried a little bit at the end, which was especially awkward since I was reading it on the plane. 4/5 stars.
The Silver Chair (Chronicles of Narnia) (C.S. Lewis): I'm slowly making my way through the Chronicles of Narnia (I started in the late winter/early spring of 2014), and this is the 2nd to last one. I've still struggled with the fact that the entire series doesn't revolve around the 4 siblings, so every book has been a slight disappointment because of that.
What We Find (Sullivan's Crossing #1) (Robyn Carr): This story takes place out west, based at a family's store on a hiking trail. It was a fun story about careers, love and family.
The Rumor (Elin Hilderbrand): On vacation I love to read at least one book that takes place at a beach, and this trip this was the book! This book takes place on Nantucket, and actually has a quick reference to a book I read two years ago over Memorial Day (The Castaways). It was a fun, quick read.
Here are my "must reads" for the month: At Home In The World, Born a Crime, and Firefly Lane. All three are very different, so there's a nice balance there!
Now it's your turn to share! What book are you looking forward to reading this summer?