Wow- it's officially December and all things Christmas! November was a fairly solid month for reading! This month I read 10  books, bringing my total for the year to 129. Here's what I read in November: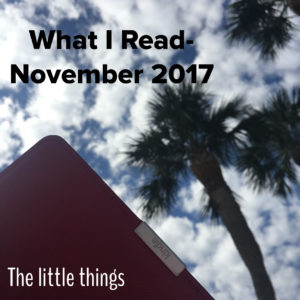 Eleanor Oliphant is Completely Fine (Honeyman): Eleanor Oliphant is a bit of an odd duck. She becomes friends with two individuals in an odd twist, and these friendships begin to shake up her rigid schedule. With this she starts to observe life differently, eventually putting together a greater understanding of her life. It started a bit slow but I was intrigued from the start. The journey of Eleanor is fantastically beautiful, and I loved the therapy storyline throughout the book. 4.5 stars
Down the Rabbit Hole: Curious Adventures and Cautionary Tales of a Former Playboy Bunny (Madison): I had been wanting to read this book for awhile, but I finally put a hold in for this book the day that Hefner passed away. Madison not only shares a good amount from her life before and after her life at the playboy mansion, but also shares a whole lot about her time in the mansion. It was pretty interesting. 3 stars
The Bright Hour: A Memoir of Living and Dying (Riggs): I appreciate anyone who gives such an open and vulnerable view of the most painful moments of life. The author beautifully shares her story. 4.5 stars
All I want is Everything- Gossip Girl #3 (von Ziegesar): Nothing notable here- just chugging away through the series while I'm waiting for other holds to come in.
Fitness Junkie (Sykes): This book follows one woman's journey to regain her career through increasingly ridiculous means. Eventually, through this process, she finds her true self after confronting the core of who she was. This was a fun book. Somewhere between 3 and 3.5 stars.
Mockingjay- The Hunger Games #3 (Collins): While this is my least favorite book in the series, I still love it.
Young Jane Young (Zevin): I love a good redemption story, a story where we get to watch the main character struggle and fight for what they need or believe in. 3 stars
The Sisters Chase (Healy): I love a good story that takes me on all sorts of twists and turns, and The Sisters Chase did just that! I felt ok about the ending but wanted a bit more from it than we got. A solid 3 stars.
A Man Called Ove (Backman): I was so excited to read this one, as I've heard SO so much about this since the spring. This story follows Ove, a curmudgeon. The book bounces back and forth between present day and Ove's past, and the reader gets to know layer after layer of Ove's story. There was a warmth and beauty in seeing his story unfold. A solid 4 stars.
Big Questions, Worthy Dreams: Mentoring Emerging Adults in Their Search for Meaning, Purpose, and Faith (Parks):  Overall I really enjoyed this book, although there were some parts that felt a bit dry. I've heard the author speak, and she is fantastic. If you don't spend much time with emerging adults, you'd likely not connect to this book, but if you are around emerging adults and/or mentoring positions or communities, this book holds great wisdom.  
If you read anything from this month, read A Man Called Ove and The Bright Hour.
Now it's your turn to share! What book did have you most enjoyed recently?