Happy October! Welcome to the month of plaid scarves, boots, and all things pumpkin 🙂 So- real talk here. September I think was the worst month of reading I've had since I started tracking month by month. With Hurricane Irma at the start of the month, it seemed to consume almost two weeks of my time, and my focus has felt scattered in the evenings since that time. Thankfully there's audiobooks, so I've been able to get a small amount of reading done through that means. This month I've only read 4 books, bringing my total to 107 books for the year.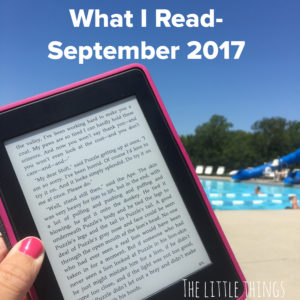 Here's what I read this month:
Red Rising (Brown): People rave about this, and even as I read it I felt like it was a bit of a mix between Harry Potter, Hunger Games, and Ender's Game- all books I love. However, I felt pretty ho-hum overall with this book, and gave it 3.5 out of 5 stars.
Who Thought This Was a Good Idea?: And Other Questions You Should Have Answers to When You Work in the White House (Mastromonaco): This book was written by someone who worked for President Obama for 10 years, following him from his time as a Senator into the White House. I found this book absolutely fascinating, and I really enjoyed reading it. I gave it 4/5 stars.
Harry Potter and the Chamber of Secrets (Rowling): This is the 2nd book in the Harry Potter Series, and I very much enjoyed listening to it.
The Little Book of Hygge: The Danish Way to Live Well (Wiking): I felt that this book could've been condensed into maybe a 15 minute audiobook, as it sort of repeated the aspects of Hygge over and over. That being said, there are some good ideas throughout.
So, hopefully next month is going to be a bit better for reading.