I've heard a lot about the author Sarah Dessen, so when someone suggested her book Saint Anything, I knew I needed to read it! Saint Anything follows Sydney, a high schooler who's life has been dramatically changed due to the choices of her brother. She is left to pick up the pieces in her own life, understanding that she has to live with his consequences. Underneath this is her own feelings of hurt, betrayal, fear, and guilt.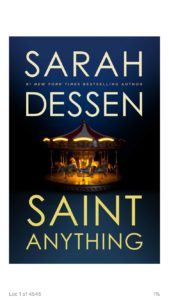 As a counselor, I loved some of the psychological processing that we get to see as Sydney and her parents walk through the results of her brother's choices. Things were a little slow at the beginning, but I was solidly hooked by about 40 or 50%, and I would definitely say that the book is worth reading.
Here are a few of my favorite quotes from the book:
"You only really fall apart in front of the people you know can piece you back together." 
"It didn't matter that I'd done none of those things. With shame, like horseshoes, proximity counts." 
"As I spoke, I realized I'd held these words in for so long and so tightly that I felt the space they left empty once released. It was vast enough that I could think of nothing to follow them."
"It was one thing to let these thoughts haunt the dark spaces of my mind, but another entirely to put them into the light, making them real."
Saint Anything is definitely worth a read, especially as you think through some of the things you might be holding onto in life. 4/5 stars.
*For other book reviews, check out my books/book reviews page.
Now it's your turn to share! Have you read anything by Sarah Dessen?