So  there's been a total lack of running talk on this blog since my 8 hilly miles post in the middle of March. That training run was most ideal, and all I needed to do after that run was go to Mexico and do a few short runs and I was set for the Carmel Half Marathon in April. Obviously things didn't go as planned.
I felt great after that run, and really felt great for the next 12 days. I was doing a lot of physical work in Mexico, on my feet all day, and everything felt fine, until Thursday of that week.
I was in the squatting position for several hours that day as I was weeding outside, and I remember feeling sore that day. I also got attacked by ants, so that didn't help as both my feet swelled up a bit. The next day I was out walking, and ended up having to sit down several times in the street because my foot hurt to bad. Not ideal.
I came back and figured that if I rested for the week I could get a run in that weekend, but by that Saturday morning I figured that I needed to just rest it and I'd be fine. Not so, my friends. I obvious DNS'd the half marathon, which was aggravating as I completed the full training cycle.
I did the whole R.I.C.E thing for about 6 weeks, and it was still aggravating me, so I finally got myself to a physical therapist. My suspicions were confirmed- I have Achilles tendinitis- boooo! As I started compensating for that, my posterior tibial tendinitis that flared back in 2013 flared up a bit again too. NO FUN!
I've been doing PT exercises for the past few weeks, and that seems to have helped! I walked 2.75 miles this Saturday (with KTape on), and had no pain while walking or after walking. The morning was beautiful in downtown Indy.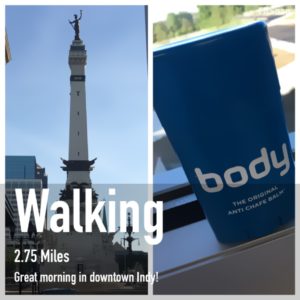 (Disclaimer: I received this body glide for free to review as part of being a BibRavePro Ambassador)
The body glide came just in time for my morning walk. As a sidenote- I walked to a Dunkin Donuts for coffee (1.1 miles there) only to discover it didn't open for another hour. Booo! I was really looking forward to that iced coffee!
Anyways- back to the topic at hand. I haven't run since the middle of March, and it's the longest I've gone without running ever… well, at least since I started running in 2011. It was pretty sad at first, and while there are days that I miss it, my schedule has also gotten used to extra free time. I am eager to run again, and am hoping that I'll be able to run by my birthday. For now, I continue to ice massage, use KTape while exercising, and do my PT exercises regularly.
Fingers crossed I'll be running a bit by August!