Happy New Year! I'm so happy with my year in reading, and ended the year with 140 books for the year (up from 80 last year!). I previously shared my Top 10 Books of 2016, and today I want to share the books I read in December. At the bottom I include my recommendations for books you need to read from the month!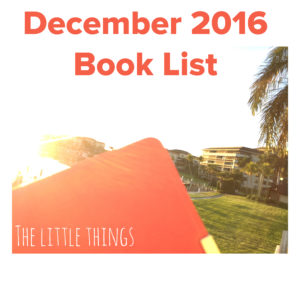 In December I read 13 books:
The Last Anniversary (Liane Moriarty): This was my final Moriarty book I had left to read, so I felt both excited and sad when I sat down to read. I wanted to like the book much more than I did. I couldn't get into it and felt like it dragged along- I gave it 3 out of 5 stars.
Under the Christmas Tree (Robyn Carr): I've been reading through the Virgin River Series, and this was a little Christmas novella that she had in the series. It was fun but nothing special.
Talking As Fast As I Can (Lauren Graham): I listened to this book as an audiobook, and loved hearing Graham's voice tell her stories. I wanted to hear so much more about Gilmore Girls and Parenthood, and was a little disappointed at the level of details she shared. That being said, it was a fun read- i gave it a 4 out of 5 stars.
Scrappy Little Nobody (Anna Kendrick): I felt very similar about this book as I did with Graham's book. Fun, filled with interesting facts, but I wanted more.
Mother, Can You Not? (Kate Friedman-Siegel): This book is based on the instagram account @CrazyJewishMom . The author details "Crazy" texts and conversations that she has with her mom as she talks through life. It is clear there is a deep love between mother and daughter, and some of the texts had me laughing out loud. This was a good audiobook. 3 out of 5 stars
Moonlight Road and Promise Canyon (Robyn Carr): Two other Virgin River Series books.
This Is Where It Ends (Marieke Nijkamp): This book is about a school shooting and the complex relationships that play out. I felt pretty torn about this book in general, but I don't feel like it was a waste of time to read.
Dawn (Elie Wiesel): Last month I read the book Night by Wiesel, which I had read before, but I had never read Dawn or Day. Dawn wasn't what I was expecting, as it wasn't a story about his personal life. That being said, it was an interesting story.
Small Great Things (Jodi Picoult): I really enjoyed Picoult's new book, and gave it a 4 out of 5 stars. This book was excellent, both in the actual story line as well as the challenge personally to the reader that comes with the continued racism in the country. This story follows a labor and delivery nurse who is working when an infant dies. What unfolds highlights some of the saddest parts of our society. I couldn't put this down.
Orbiting The Giant Hairball: A Corporate Fool's Guide to Surviving with Grace (Gordon MacKenzie): My dad handed this to me when I was with him over Christmas, and it was a quick read. MacKenzie worked at Hallmark, and wrote this book based on lessons he learned there. He has a metaphor of an orbit allowing for creativity and a different perspective. I want to write a whole blog post on the book, because i took lots of pictures of pages along the way. It gave me lots of courage to continue to make changes at work and to be creative.
Hopeless (Colleen Hoover): Sometimes I have a hard time even writing a few sentences about a book without giving away a plot line. Sky is a 17 year old high schooler who meets another student named Holden. Her life changes in dramatic ways because of him, and I loved the story. I couldn't put it down and was sucked in.
Skipping Christmas (John Grisham): I was looking for a book about Christmas, and this one intrigued me simply because of the author. It was a quick read. Nothing particularly amazing, but an interesting idea regarding the Christmas season. It had me thinking.
So these are the books I read to close out my year. If you are going to read anything from this list, here's what I'd encourage you to read: Talking As Fast As I Can (again- the audiobook is especially fun!), Orbiting the Giant Hairball (to spark some thinking for different types of decisions in the work place), and Hopeless if you are just looking for a fun story to read.
Now it's your turn to share! What's your favorite Christmas season or winter book?