In recent blog and instagram posts I've mentioned that I injured my knee. (it's been just over 4 weeks now) So- I was outside "jogging" (I was not out on a run, but moving quickly on a side walk) and when my right foot hit the ground, I instantly felt a hot stabbing pain in what I described as inside my knee. I halted immediately for a second and then started to walk on. Something felt a little off, but it wasn't painful to walk so I figured I just had a weird little tweak.
Over the course of the next several hours it got a bit more sore, and by that evening I was slightly limping. By the next afternoon I had it wrapped in an ace bandage and definitely had a limp, and by the next morning it was getting swollen and I had a weird little bruise on my knee cap.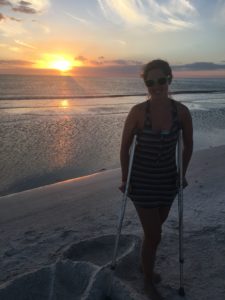 Since then my knee has gotten even more swollen and it's tough to put it straight or at a 90 degree angle. I was limping so badly that I finally gave in and got crutches (and now have to ask co-workers to get me things like water or coffee, which I don't prefer to do!).
Anyways- I finally succumbed to getting an MRI, and it turns out that I partially tore my petallar tendon (no surgery needed, and it looks like it's healing pretty well) and now have bursitis.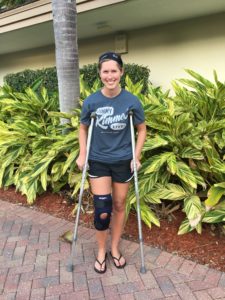 I'd heard of bursitis before but didn't know what it was. Apparently we have little fluid filled sacs in our joints called bursa, so bursitis is an inflammation of that fluid sac. And it is painful and definitely limits my mobility.
I'm doing PT exercises to work on my range of motion, but am also in a brace that helps to compress and reduce some of my knee swelling, as well as being on crutches. So, it turns out the little "tweak" is having all sorts of impact on me. Gross.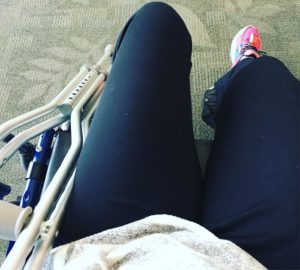 I'm feeling pretty frustrated. I got achilles tendinitis just over a year ago, so while I've had many good runs at 4 miles and under, I'm pretty frustrated that I can't seem to get above it right now. And, honestly, even more than that, I'm frustrated that I can't even walk normally or without pain.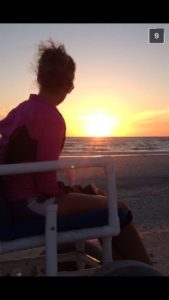 beach wheel chair and sunset
I'm thankful that I was able to go see my family for a week and really focus on resting it. I'm thankful they were able to get a wheel chair from a friend of theirs so I could still long distances at parks with them (we love our walks!) and I'm thankful that the beach had beach wheel chairs to rent (I tried using crutches on the beach and it just didn't work so well at all!). And I'm thankful that I don't need surgery!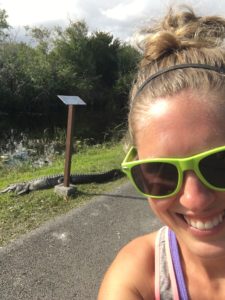 Oh- I'm also thankful I still got to hang out with the alligators in the wild 🙂