As I mentioned back in January, my word for 2016 is "Simplify". I thought I'd give an update on what I've been doing to embrace that word.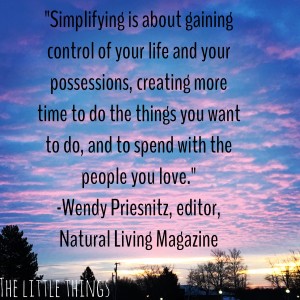 I decided to do a "Decluttering Project" in which I got rid of one item a day. I didn't specify the duration of this project (I didn't set it to last the entire year), but I've still be doing it. I have gotten rid of (either thrown away or donated) one item each day this year, and it's going well. Getting rid of things still feels pretty difficult to me, but I'm doing it, and that's what counts. 
I read Joshua Becker's book "Simplify" back in February, and I'm currently reading his new book that just came out, titled "The More of Less: Finding the Life You Want Under Everything You Own". These books have caused me to think a little more about why I value "stuff", and has helped me to release some of the things.
I signed up for Joshua Becker's online eclass  titled "Uncluttered". I'm so excited to focus on simplifying for the next 12 weeks as I continue to challenge myself.
Since the start of 2016 I've been listening to the weekly podcast by "The Minimalists". I absolutely love the way that they talk about minimalism, making it applicable to each person, no matter what they want their personal type of minimalism to look like. I'd definitely encourage you to check it out!
So that's where I'm at. I've thought through my values and am trying to create a life that lines up more intentionally with the values that I currently have. I'm trying to learn to release my possessions, knowing that stuff isn't what I value or makes me happy.
Now it's your turn to share! What would you like to do to "simplify" your life?