This past weekend I went on my yearly bike trip to Mackinac Island in Michigan with work! It's such a fun way to get to know new employees, as well as catching up and having fun with other work friends and colleagues! (You can read about my Bike trip year one and year two here!)
While it's been beautiful the past two years, this year there was a high chance to rain on our bike day, along with our day on the island- Boo! We were told we would be riding either way, and I definitely felt a bit anxious about that because I hate biking in the rain- it freaks me out!
I woke up early the day of the bike ride, after sleeping only a few hours (we have a long drive to the starting point in Michigan). They delivered Starbucks to us, and then we were off! My legs have been so tired the first 15-20 miles on a lot of bike rides this summer, which has been annoying. This ride was no different.
After about 5 miles we pull through the cutest little "beach town" (is it lake town?) with gorgeous, huge houses, and the views are just stellar! Right around mile 11 or 12 there's a long, steady hill that is ROUGH! My heavy legs, along with my lack of hills I've biked this summer, made the hill feel particularly difficult. I MADE IT WITHOUT WALKING THOUGH, and felt like that was a solid accomplishment 🙂
We have a pit stop at the top of that hill which is so lovely, and I enjoyed a banana there. While it's a 55 mile ride, and that's not an entirely uncommon distance for me to ride (although I've only biked up to 42 this summer– bummer!), the pace is a lot slower since not many people who go are bikers (and I'm SO impressed that people who don't bike go that distance- woah!), and that makes it a bit more tough for me.
It looked like it was going to rain after that, but it didn't- the humidity was INTENSE though! We stopped around mile 26 for lunch, and enjoyed a picnic in an open field overlooking one of the great lakes. It's gorgeous!
The rest of the ride went smoothly, and I enjoyed lots of good conversation and time on the beach.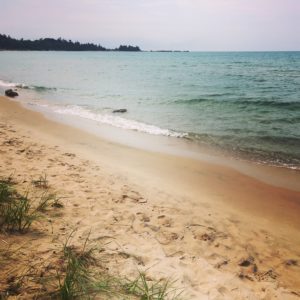 We arrived in Mackinaw City and enjoyed a night walking around the town before crashing.
The next day we headed to Mackinac Island. Normally I bike about 12 miles that day, but I went an extra time around the island. So, after biking 55 miles the day before, I biked 20 miles on the island and did a bit of hiking! It was beautiful.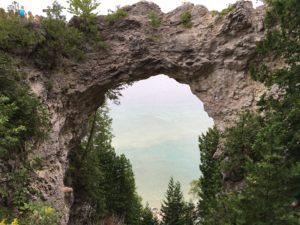 Arch Rock. I'd never noticed this before!
In the afternoon it poured for a little over an hour, so we ran into a cute coffee shop and enjoyed hot coffee, time to read, and the roses out in the rain.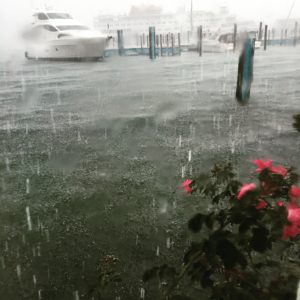 Then it was fudge time, where we sampled all sorts of fudge on the island! Joann's is my favorite every year 🙂 The fudge is SO creamy and delicious- I get my fudge there each year.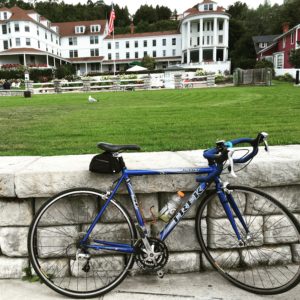 It was a LONG drive home that night, and I slept about two hours. I'm not too tired or sore from the experience, but biking that far and then sitting in a cramped bus is certainly not the best.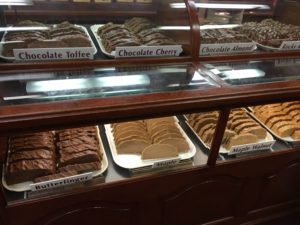 I'm thankful to work at a place that not only values physical activity, but also gives us time to connect each year.
Now it's your turn to share! Have you ever visited Mackinac Island? What's your favorite flavor of fudge (mine is maple!)?
Last year when I was out hiking in South Dakota (the Black Hills area), I knew that I wanted to come back and do most of the hikes I had done again. The area is absolutely gorgeous, and I desperately wish that I could live closer to enjoy the nature and hiking! This year my brother suggested that we head out to Sunday Gulch, which is a 4 mile loop trail located in Custer State Park! It feels different than a lot of the other hikes I did out in Custer, although there were a few parts that felt similar to Lover's Leap (we hiked Lover's Leap last year and had hiked it a few days previously to this hike as well).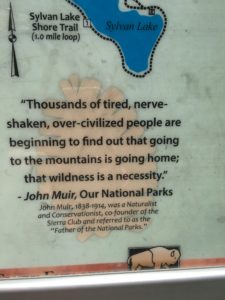 Loved this quote I found on a sign on the trail.
There is a huge lake (Sylvan Lake- it's beautiful and there are beaches so you can swim and boat rental options as well!) and convenience store near the trail-head, so you can park right there!
As I mentioned, the Sunday Gulch trail is a loop (if I remember, it's labeled a moderate/strenuous hike), so you can hike either way around it. I would suggest going clockwise. The end of the clock wise circle has you hiking up these somewhat slippery boulders (water going downhill)- there are railings and I never felt unsafe, but I wouldn't want to be walking down them. Most people I saw were going the same direction.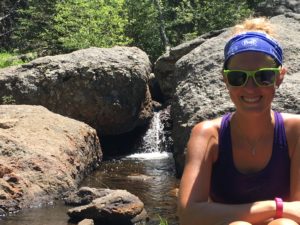 This was towards the end of the hike, right before the incline with the water and boulders.
There are beautiful rock formations around Sylvan Lake and the start/end of the trail, but once you get past this, you'll be walking up and down the hills and through the forest. It's absolutely beautiful!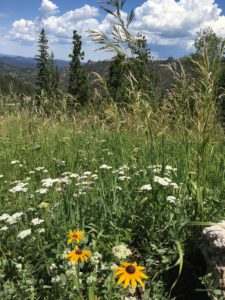 Make sure you bring enough water! I can't tell you the number of people I see hiking with only 16 ounces of water, and that's not nearly enough, especially since Custer is up at elevation. Make sure you bring several water bottles! I brought a Camelbak with me, and that was incredibly helpful!
If you want to add on a mile or so to your hike, once you close the loop of Sunday Gulch, you can walk the loop around Sylvan Lake. It was the perfect cool down, and the views are gorgeous!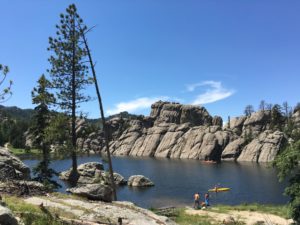 Sunday Gulch was definitely towards the top of my list in terms of hikes that we did this year, and I would definitely suggest checking the trail out! If you want more information on Sunday Gulch Trail, click here.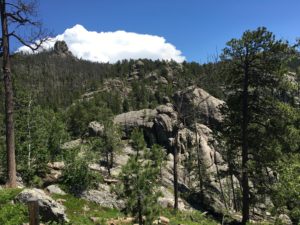 Now it's your turn to share! What do you look for in a hiking trail?
I first started seeing The Nightingale on Goodreads, and after reading the description, I added it to my "to reads" list, and went to put a hold on it at the library! I do a little happy dance every time a book becomes available, especially one that I was looking forward to!
The Nightingale is set in WWII France, with a few moments flashing forward to modern day. The story primarily follows two sisters: one who has a child and sends her husband off to war, and her sister who is reckless, but looking for a way to help with the war. The story looks at what it takes to survive, and to thrive, during war times, and the ways that those at home helped fight against the Nazis. Both sisters engaged in dangerous activities, albeit very different from one another. The story looks at family bonds, at love, at passion, at purpose.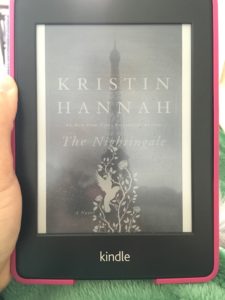 Here are a few quotes from the book:
"Men tell stories. Women get on with it. For us it was a shadow war. There were no parades for us when it was over, no medals or mentions in history books. We did what we had to during the war, and when it was over, we picked up the pieces and started our lives over."
"I know that grief, like regret, settles into our DNA and remains forever a part of us."
"She was crying for it all at last–for the pain and loss and fear and anger, for the war and what it had done to her and to all of them, for the knowledge of evil she could never shake, for the horror of where she'd been and what she'd done to survive."
In short, The Nightingale was one of the best books I've read in 2016. I cried several times, connecting so deeply to the characters that I felt that I could feel their emotions as they encountered various situations. I was inspired by their bravery, their passion, their pursuit of what they felt called to. I gave it 5 out of 5 stars on goodreads.
For more book reviews, check out my book reviews page or my goodreads.
Now it's your turn to share! Have you read The Nightingale yet? If so, what were your thoughts?
This past weekend was my birthday, and I'm still feeling so surprised and happy about all the fun that I had. I have to start by saying that Melissa far outdid herself in planning a full 60 hours of Birthday fun and surprises, and I'm so thankful for all that she did- it was far more than I could have ever dreamed for the day!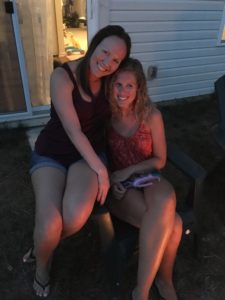 She made a snapchat filter for me for the weekend, which was so much fun!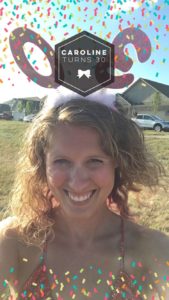 She also told me she made a picture slideshow of us the past two years, and we started to watch it. Then it switched into videos that my family had sent to her wishing me a happy birthday (since all my family members live in different parts of the country/world, they weren't with me for my birthday). I cried watching it, and it was the sweetest thing. She also made my favorite cake- angel food cake!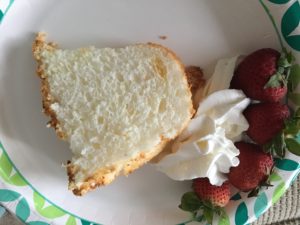 She, along with another friend, planned a surprise party for me the day after my Birthday. I was so surprised, and I loved having so many dear friends in the same room. It felt overwhelming and full of love.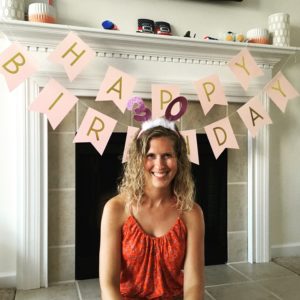 When I arrived on Friday, after we went to get our nails done, I saw that she had decorated her house with pink streamers and balloons, which was so fun! We enjoyed the Olympic opening ceremony- what a great start to Birthday weekend!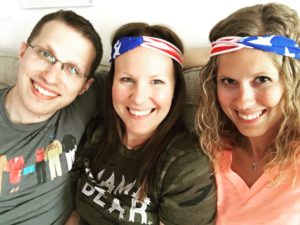 Saturday morning I woke up and did my 6th annual Birthday run- so fun!! I ran while the sun was rising, and reflected on the year. I took time to thank God for giving me such a fantastic year of life, and prayed for the year ahead.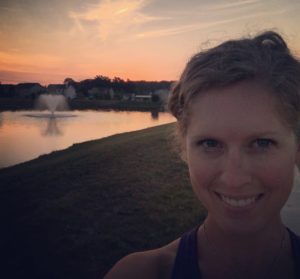 Then it was time for a day full of plans with Melissa! We drove all over Indy eating, going to a water park where we enjoyed playing on water slides and floating on a lazy river, drinking iced coffee, and reading a bit while watching the Olympics!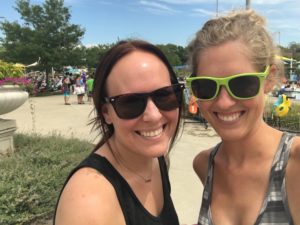 A big group of us went out for Mexican for dinner, and then came back to her house to enjoy my new birthday gift- a fire pit! I'm so excited to be able to have fires! We made s'mores and watched the sun set as we closed out the day!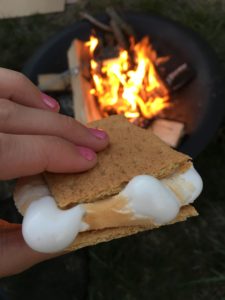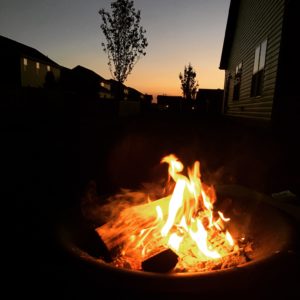 The day after my birthday we enjoyed a day of Starbucks, going on a walk, and enjoying more of the Olympics (swimming! gymnastics!).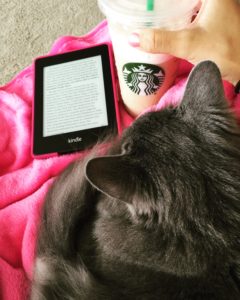 Then she told me she needed to run to Old Navy for something, and wanted me to come with her. Ok! When we arrived home I was greeted with a group of people screaming "surprise!" and enjoyed my surprise party.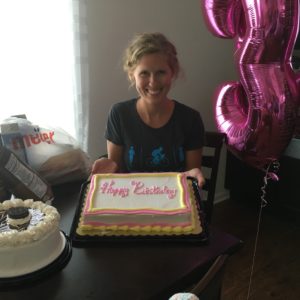 Seriously- what a most excellent birthday! My 16th birthday was absolutely wonderful, and that has been my favorite birthday so far, but this birthday absolutely beat that! 

I'm so thankful to be given another year of life. I'm thankful for all the sweet tweets, texts, phone calls, comments on instagram, etc… wishing me a happy birthday. I'm so thankful for all the love that I've received. I'm thankful for all that I've been given, and to have a job that I absolutely love.
What an amazing birthday!
July was a great reading month for me, and I'm excited to share some of my favorite reads with you. I read 13 books this month, bringing my total for the year to 69! So, here's my book list for last month: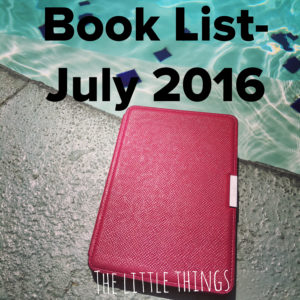 Mindset: I wrote an entire blog post on the book Mindset a few weeks ago. It was excellent, and I think everyone would benefit from reading it. I definitely intend to read it again.
The Nightingale: I have a blog post coming soon about this book. It was most excellent, and probably one of my favorite books of the month! This is a book set in WWII France.
Daring Greatly: This book, written by Brene Brown (check out her TED talks!), is a must read for everyone as well! It's all about shame and vulnerability, and I loved it!
The Homecoming, One Wish, and A New Hope: Books number 6, 7, and 8 of the Thunder Point Series. One book to go. The series is fun and lighthearted.
Amish Grace: A book written by three professors on the grace and forgiveness expressed by the Amish community and families involved in the shooting at the school house several years ago. It was an incredibly quick read.
Primates of Park Avenue: This book bored me at first, but the end got really real and raw, and I enjoyed it quite a bit! This is one woman's story of life in New York City.
99 Days: A story about a teen stuck in a love triangle, and is at home for 99 days. The book was written with each "Chapter" as a day. I enjoyed the format and the book.
The Never List: If you like thrillers/suspense, then this book is for you! Melissa had read it and decided that I needed to read it, so I plowed through it one weekend at her house. It was definitely a bit scary, but it held my attention the entire time.
Storm Front: This is book one of The Dresden Files. I've heard that the series gets better as it goes along, so I'll definitely keep reading.
The Vacationers: A Novel: Meh. I just didn't care for this book. I didn't feel connected to the characters, and felt the story drag most of the time.
Conviction: The Untold Story of Putting Jodi Arias Behind Bars: I hadn't heard anything about this book, but randomly found it on my library's website and decided to give it a go. I found the book fascinating, and loved finding out more about the process of prepping for a huge trial such as this one.
Now it's your turn to share! What was your favorite read this past month? What should I read next?
At least once a year I try to go to Indianapolis and do a long bike ride on the Monon there. The trail isn't quite as convenient for biking as the one I typically ride on, but I really enjoy the Monon and enjoy mixing it up from time to time!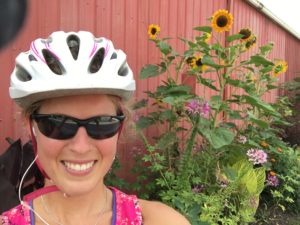 Last week I decided to head out early in the morning for a Monon ride, looking forward to sunshine and nature! I decided to start off in Broadripple, knowing that there are lots of restrooms and restaurants nearby if needed! I took a departure from my typical audiobook listening, and decided to catch up on Jillian Michaels' podcast (I think I might have listened to 5 episodes?).
The morning was crisp (well- in comparison to the 100 degree days we had had the few days previously!) as I headed off, and my legs felt SO HEAVY. My turn over was rough, and my legs ached. Almost every part of me wanted to quit, and I was grinding out miles at 5:30 per mile. UGH. Since I took so much time off for my injury, it feels like it's taking me a bit more time to warm up while biking. Ironically, I went up a hill around mile 6 or 7, and that was what loosened my legs up enough to get moving! RELIEF!
The monon crosses several streets along the way, and sometimes those are bigger intersections (with lights to stop at), and others you can just dart across. In between are stretches of trail surrounded by woods, and it is beautiful.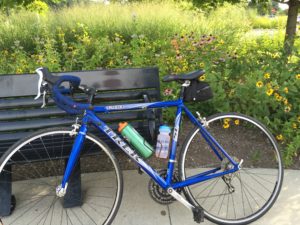 Around mile 11 I stopped to snap this picture with some beautiful flowers at an entry point to the trail! I turned around at mile 12.5 and headed back towards Broadripple, going past my car to head south towards the fair grounds. The trail opens up more here, with less woods, and it's sort of a nice change of pace. I enjoyed watching all the people out catching pokemon, as the miles around Broadripple are filled with Pokestops. Haha!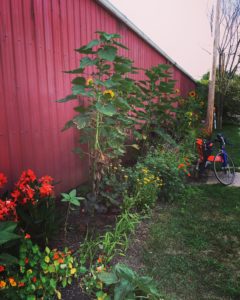 My legs stayed pretty loose the rest of the ride, and my pace picked up about a mile a minute which felt really nice. The sun came out and the heat of the day really kicked in, but the nice thing about biking is that the natural breeze created while riding keeps me a lot more cool! I hit 40.5 miles for the day and decided that that was good enough! I am so happy to be back into some long rides (now that my ability for long summer rides in winding down- boo!) but am happy to have gotten some in already for the summer!
I feel like my hydration and fueling game has been good this year so far. Here's what I did:
Mile 8: 3 shot bloks (Margarita: 2x the sodium)
Mile 17: 1 honey stinger waffle
Mile 29: 3 shot bloks
Hydration: 50 ounces of nuun ( 30 ounces were Nuun Plus in addition to a nuun tablet)
Normally I eat a bit more during long rides, but I just wasn't feeling it this ride, which was fine!
Now it's your turn to share! What do you enjoy most about biking in the summer? Are you playing Pokemon Go?
One of my favorite things about summer biking is going out on beautiful trails and country roads. I love all the beautiful wild flowers on the sides of the road, and I love the sunshine as it goes across the fields. Summer biking feels immensely peaceful and life-giving to me, and that's what made my lack of biking in June feel so difficult.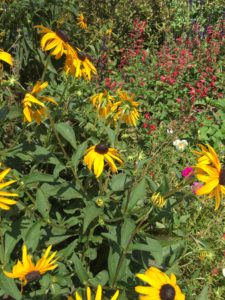 Last week I headed out for a 30 mile ride after work, eager to get off the trail and head to some country roads. My legs felt incredibly heavy the first 9 or 10 miles of my ride- annoying! The first part of my ride is slightly uphill, and often against the wind a bit, so aching legs certainly don't help.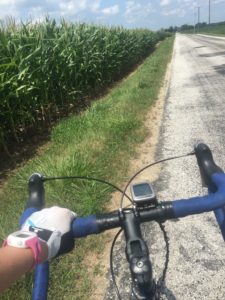 There was also a heat advisory out that day, and the feels like was in the upper 90s as I was biking. With running, I couldn't exercise in that temperature, but with the natural wind that biking creates, it definitely helps with my comfort level. That being said, I drank 50 ounces of Nuun in the 30 miles I biked, and definitely would've enjoyed another 10ish ounces.
Around mile 11 I stopped briefly to change what I was listening to on my phone, and realized that there were several teenagers in the area playing Pokemon. I snapped a picture quick of the flowers nearby as I watched them run around yelling about catching a bull. So funny!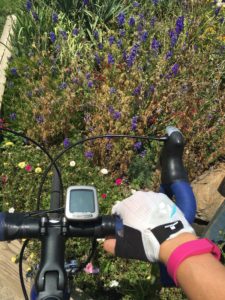 I'm back to listening to audiobooks as I ride, but the book I was listening to during the ride wasn't completely holding my attention- I kept zoning in and out.
I'm sticking to my same fueling and hydrating plan as previous summers, and did this during the ride:
Mile 8: 3 shot bloks
Mile 17: 1 honey stinger waffle
Mile 26: 3 shot bloks
Hydration: 50 ounces of nuun. 30 of those ounces also had a nuun plus tablet in it.
My pace was slower than I would've liked, and my legs felt heavier than I would have preferred, but I'm so thankful to get some summer biking in, and rode with a smile on my face!
Disclaimer: I received one tube of Body Glide to review as part of being a BibRave Pro. Learn more about becoming a BibRave Pro (ambassador), and check out BibRave.com to review find and write race reviews!
I remember the first long run I did where I experienced chaffing. I didn't know what was happening, but several miles in a spot on my rib cage started bothering me, right on the bottom band of my sports bra. I got home and immediately went to see what was wrong, and sure enough, I had what looked like an inch and a half long burn. My first experience with chaffing. I don't even want to talk about how that shower felt… ugh.
Fast forward to a few weeks ago when I went out to South Dakota and Wyoming to go hiking with my family (you might remember that I went out last summer and hiked there as well!). I had just received a Body Glide in the mail, and it was one of the first things that I packed. With all the sweating, hiking every day, and the camelback that I wore (but don't normally wear), I knew that I would need it!
The first day I rubbed it around my rib cage and shoulders before we hiked Little Devil's Tower.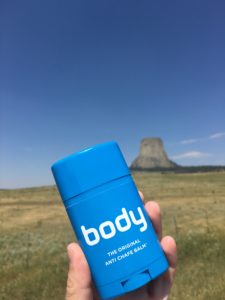 It's gorgeous out there, and I didn't want chaffing to get in the way, and I'm glad to say that it didn't! I didn't even feel the body glide on me as I hiked and enjoyed the views (and seriously- how cool does the Tower look)?
While it can seem a little greasy going on, it doesn't make clothes greasy at all, which is excellent, and it comes off easily in the water!
I wore it hiking at lots of other places too- all over Custer State Park, Harney Peak, Sylvan Lake, and the Badlands!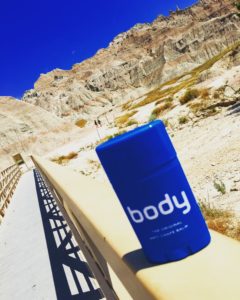 Body Glide is really ideal for hiking, and the container is great to stick in a hiking backpack and bring with you. It also provides some great protection against blisters! I've also worn it walking.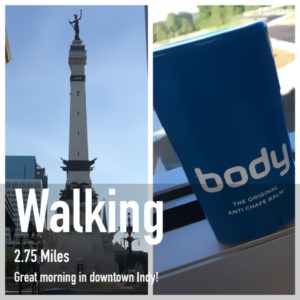 Another favorite way for me to use Body Glide is on my thighs when I'm biking. Bike shorts are tight, and after lots of miles, it can begin to rub and cause some pain. Body glide is perfect for that as well.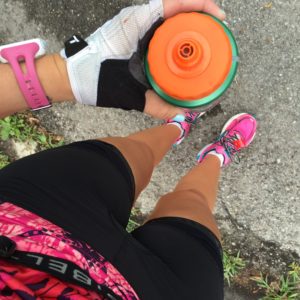 Comfy legs after a bike ride! No chaffing here 🙂
To me, body glide is essential for longer workouts, especially if you want to avoid pain while showering!
Packing a few summer workout essentials before a bike ride!
Now it's your turn to share! What're some of your "long workout essentials"?
A few weeks ago I wrote a post about the Achilles tendinitis that has taken me out of running since the middle of March. I got some physical therapy exercises, and those seemed to help quite a bit, getting me through hiking 3-12 miles every day for a week out in South Dakota! I was told that once I could walk a few miles without pain, I could slowly get into running. That time has finally come!
Two weekends ago I went on a long walk (a little over 6 miles!), and decided that I was ready to try running. I did my typical run: walk 3:1 minute style, and ran 0.75 of a mile. That's not much at all, but I definitely didn't want to push it. I ran up to Melissa who was out walking with me, and yelled "it was so magical!". It really felt that way. Being apart from something I love so much for the last 4 months has certainly had its tough moments, so it was really exciting!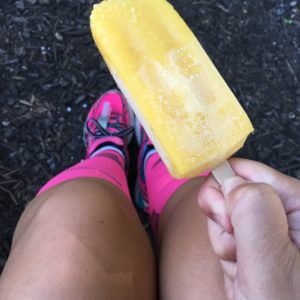 We celebrated with some Nicey Treat!
The next day I got fitted for a different pair of running shoes, and ended up with Nikes- we'll see how they are once I start increasing my mileage a little bit. This past weekend I went on a 1.3 mile run, and it was really great as well!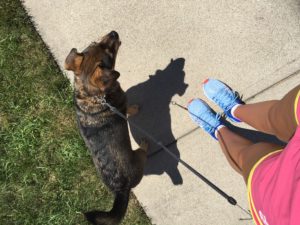 I enjoyed running with my friend's dog (they let me borrow her whenever I want to run or walk with, which is fun for me… and for her!), and we had a great run in the sunshine. I didn't have pain after either run which is great. I'm hoping it'll last.
Getting back to running after injury makes me a little nervous, as I don't want to make the injury flare up again. I'm hoping that I've found a good mix of things that'll help keep it at bay!
So- there's the up-to-date information on my running! I'm glad I am getting a bit of running in this summer. I was a little worried I was going to end up missing all the nice months!
I first heard about the book Mindset from a friend who told me that I needed to read it asap. Unfortunately, it took a few months to get it from the library, but a few weeks ago I finally listened to it via audiobook. I loved it, and part way through I knew that I needed to share about it to all of you.
Mindset is written by a Standford University psychologist (Dweck), and shares a wealth of wisdom on how to develop a growth mindset (compared to maintaining a fixed mindset). Amazon says the following: "A fixed mindset is one in which you view your talents and abilities as… well, fixed. In other words, you are who you are, your intelligence and talents are fixed, and your fate is to go through life avoiding challenge and failure. A growth mindset, on the other hand, is one in which you see yourself as fluid, a work in progress. Your fate is one of growth and opportunity. Which mindset do you possess? Dweck provides a checklist to assess yourself and shows how a particular mindset can affect all areas of your life, from business to sports and love. The good news, says Dweck, is that mindsets are not set: at any time, you can learn to use a growth mindset to achieve success and happiness. This is a serious, practical book. Dweck's overall assertion that rigid thinking benefits no one, least of all yourself, and that a change of mind is always possible, is welcome." And I agree. The author shares practical advice on how to develop a growth mindset, which leads to a greater success in work, relationships, and life. That's what we want…. right?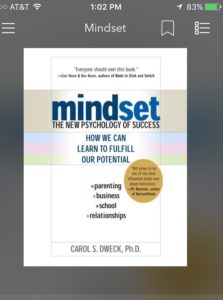 While listening to Mindset there were so many moments I wished I owned my own copy so I could mark it up. Here are a few great bits of wisdom from the book:
"Picture your brain forming new connections as you meet the challenge and learn. Keep on going."