Disclaimer: I received six Generation UCan Snack Bars to review as part of being a BibRave Pro. Learn more about becoming a BibRave Pro (ambassador), and check out BibRave.com to review find and write race reviews!
Hunting for healthy snacks and bars to eat before my morning workouts can be tough, especially because I'm lactose intolerant and try to avoid dairy. I've heard great things about the company Generation UCan from several runner friends, so I was interested in trying their snack bars!
I loved the flavors that came in the pack: coffee, a cinnamon roll flavor, dark chocolate, and a peach one. I don't even know which one was my favorite!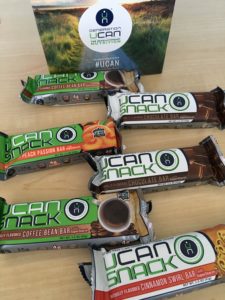 One thing I was curious about was what made this bar different than your run of the mill protein bar. The UCAN snack bars are "steady energy bars", and not protein bars! The bars are made with a SuperStarch protein with lots of extra protein, fiber, and fat. The mix of protein, fiber, and carbohydrates allow it to be a steady energy bar, which I love!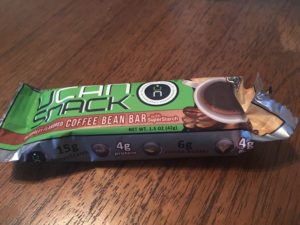 look at all that good stuff!
When I opened it, I was a little surprised by the look of the bar. I'm not sure what I was thinking it was going to be, but the look below was unexpected.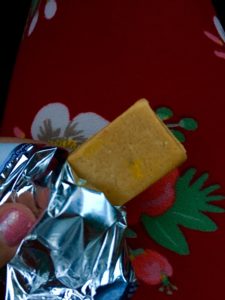 I was a little worried that it would have the chalky or powdery taste that some protein bars have, but I was pleasantly surprised to find that that was not the case at all. The texture was in no way an issue for me. Another pro who was testing it said that she warmed the bar on her hand a bit and that helped her with the texture.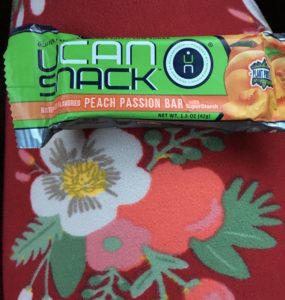 I had the peach passion flavor as an afternoon snack, and ended up feeling so full that I wasn't hungry for dinner for about three and a half hours! It was delicious!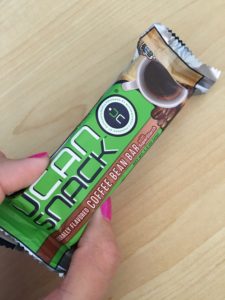 I also enjoyed the coffee flavored snack bar before an early morning run, and was happy to find that it settled well in my stomach! I only let it sit about 15 minutes before heading out, but I didn't get the heavy/undigested feeling that I occasionally get when I eat before runs. It sat wonderfully and fueled me well throughout my run.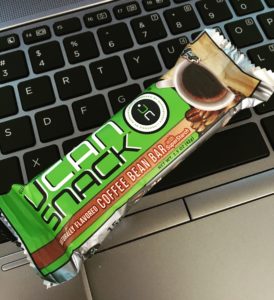 I also kept a few bars in my drawer at work for moments where I might end up having to miss lunch. This bar kept me full and helped me get through my afternoon. Not something I would want to do regularly, but having a good bar like this for those emergency moments is so valuable!
You can purchase GenUCan products on their website! Code BIBRAVE gets you 15% off any product! And with that, I'm off to purchase more snack bars!
Now it's your turn to share! What do you look for in a snack bar or a pre-run fuel?
This past weekend was so wonderful, but I'm going to specifically talk about Sunday afternoon and evening. I don't have many friends who bike, but one of my couple friends just got bikes, and got a trailer for their little one so she can join in too. Naturally, I'm enjoying having some friends to bike with, especially as my season is winding down (and my pace/distance doesn't matter so much). This past Sunday we went biking on the Monon in Indianapolis, and it was awesome!
I love all the flowers and weeds that come out in the fall (my allergies don't like it so much though…), so getting time on a trail this fall has felt important. We set off just after noon, and the sun was shining and birds were chirping. The weather was really ideal (not too humid and in the 70s!) and the trail wasn't too crowded (meaning we could easily pass walkers and runners without having to slow down too often).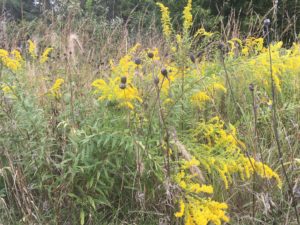 I'm currently reviewing the Rudy Project Helmet as part of my partnership with BibRave, and this was the first ride I had in the helmet. The helmet was SO comfortable right from the start, and I feel like all the bright pink can't hurt anything either 🙂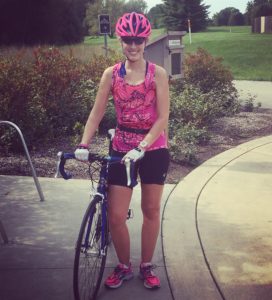 After the 12.5 mile ride, we met went out to lunch. If you're in the Carmel area and you enjoy Chinese food, check out Mandarin House! They had a delicious buffet and I loaded a plate (and then went back for seconds… and thirds…) with all my favorites!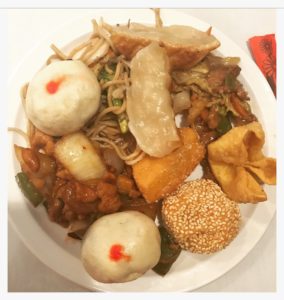 The evening ended with dinner and s'mores around the fire at my friend's house (my portable fire pit I got for my birthday has been AMAZING! I'm trying to take advantage of all the beautiful outdoor weather I can get before the days get more and more chilly (and rainy… and windy…), and Sunday felt like a great day to do it!
Now it's your turn to share! What're you doing to enjoy the last few weeks of really gorgeous, warm weather?
Disclaimer: I received a pair of Ampla Sports Ampla Fly Shoe to review as part of being a BibRave Pro. Learn more about becoming a BibRave Pro (ambassador), and check out BibRave.com to review find and write race reviews!
Finding the right shoe to wear while exercising is tricky business, especially because our needs are different for different sorts of exercise. Since I got Achilles tendinitis back in March, I've been on the hunt for a new pair of shoes to run in, so I was especially interested to try out the Ampla Fly shoes!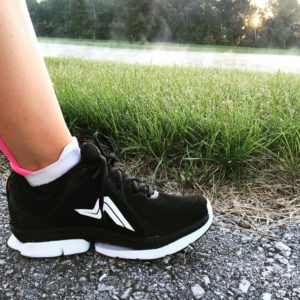 When I first got my Ampla Fly shoes, I immediately noticed the bottom of the shoe, as it looks SO different than other brands.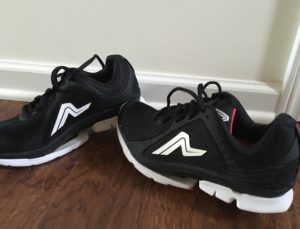 The bottom of the shoe has a carbon plate that attaches to the sole, and gives feedback to the runner. The feedback helps the runner fix their form, and this correction helps to avoid heel striking. Cool, isn't it? This video explains more about the technology that went into creating the Ampla Fly shoe!
So how did it feel? My first work out in the shoes was a 45 minute walk. The springy-ness of the shoes was definitely weird at first, but part way through the walk I had mostly adjusted.
My second workout was a 1.75 mile run. I wondered how it would feel when I was hitting the ground harder than a walk, and I have to say that the bottom of the shoe felt pretty comfortable. I've worn them on three or four other runs as well, and each of those runs felt great!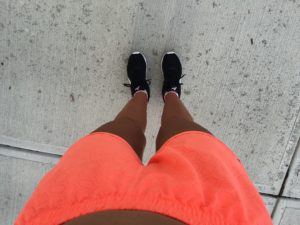 These shoes are meant to be for shorter runs (i.e. not a weekend long run) and speed work. I have only been able to test them on short runs because I'm trying to slowly come back from achilles tendinitis, so I can't say how I would feel on a longer run.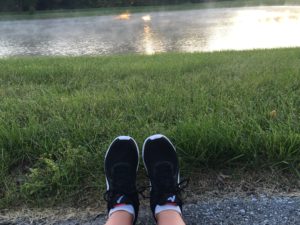 Mid run break to enjoy the fog on the pond!
I have enjoyed lots of walks in the Ampla Fly shoes as well, and I'm loving them for walking. I feel light on my feet, and my feet feel good when I'm done! This little puppy is sure loving all the walks as well!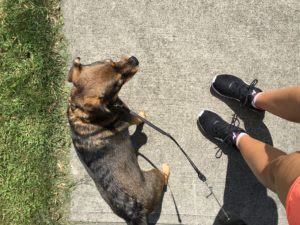 Ampla is working on creating specific shoes for other types of runs as well, and I'm excited to see what they come up with!
I wasn't sure what to expect about the Ampla Fly shoes. However, I absolutely think these shoes are fantastic! I'm going to continue to incorporate these shoes in my training as I build back after my injury this spring!
Now it's your turn to share! What do you look for in a running shoe?
Well- I've officially closed out my summer of reading. I went back and counted and last summer I read around 25 books. This summer I've read 47 books, and can definitely tell that I've gotten much faster at reading the past few months. August held lots of great books, so here's what I read the past month: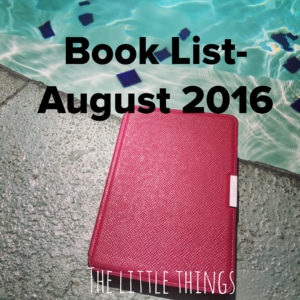 A Mother's Reckoning: Living in the Aftermath of Tragedy. I keep meaning to write a full review of this book because I thought it was incredible. This is written by the mom of Columbine shooter Dylan Klebold, and shares her story through that tragedy.
Wildest Dreams: This was the final book of the Thunder Point series that I started over Memorial Day. These 9 books by Robyn Carr were such fun reads for the summer!
Spark Joy: This is Marie Kondo's follow up book to the Magical Art of Tidying Up. I didn't enjoy it as much as the first book, but if you want to know how to fold clothes and best store items, this book is for you.
I Said Yes: My Story of Heartbreak, Redemption, and True Love: This was written by Bachelorette Emily Maynard, and was her story of losing her fiance, and how she ended up on the Bachelor. I love behind the scenes stories, so I enjoyed it overall.
Turning the Tables: From Housewife to Inmate and Back Again. See the above statement about behind the scenes stories. This was written by a Real Housewife of New Jersey who went to prison for a year. Some parts were interesting, but overall I thought it was pretty "blah".
The Boys in the Boat: Nine Americans and Their Epic Quest for Gold at the 1936 Berlin Olympics: I loved listening to this audiobook during the Rio Olympics, and really enjoyed learning more about a true story. I heard about this on a reading podcast that I listen to, and it didn't disappoint!
Truly Madly Guilty: I am such a fan of Liane Moriarty's, so I looked forward to her new book for months. Honestly, I have to say that I was a bit disappointed, as I felt that the beginning was one of the slowest starts to a book that I can recall. It only got good the last 15% or so.
It's Not Okay: Turning Heartbreak into Happily Never After. This was written by another Bachelorette. Honestly, she sounded so bitter that it made the book fairly unenjoyable to read.
Frayed: This book was a mystery, and it kept me guessing the entire time. It was a quickly but great read, and I really enjoyed it!
Year of Yes: How to Dance It Out, Stand in the Sun and Be Your Own Person. I listened to this audiobook by Shonda Rhimes, and thought that the audiobook was the way to go! She actually had real audio of some of the talks that she gave along the way, and I loved how real the story felt. I love Shonda Rhimes' shows as well, so it was fun to hear a bit more about Grey's Anatomy and Scandal.
Never Never (Part 1, 2, and 3): YES YES. These were fantastic and were filled with suspense. They follow a high school boy and girl who lose all memories of their lives and have to begin to sort everything out. It was great!
Strong Looks Better Naked: This is Khloe Kardashians' book. Again, apparently this month I really wanted to read books by people I see on TV. This book felt pretty "meh" overall honestly.
Hunger Games: I read these books every year- it's my reward as I close out the summer. I listened to the first audiobook at the end of this month.
Favorite Books This Month: Never Never, Frayed, The Boys In The Boat, and A Mother's Reckoning.
Now it's your turn to share! What's your favorite book you've read recently? What should I add onto my "to read list" for the next few months?
Disclaimer: I received an Original Buff to review as part of being a BibRave Pro. Learn more about becoming a BibRave Pro (ambassador), and check out BibRave.com to review find and write race reviews!
I've waxed poetic on this blog about my love for Buff and their products, and have done several posts on them before (check out links for those reviews at the bottom of this post!). So, today I thought that I'd do something a little different.
Dear Diary,
  I've had a fun last few weeks at my new home, so I thought I'd write about it. When I arrived at my new house, my new owner was so excited that she squealed and began taking pictures of me. Isn't that funny? Here's my first picture in my new home: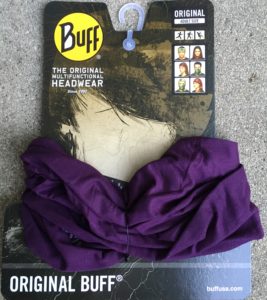 Isn't that color gorgeous?
I've done all sorts of fun things with Caroline (the girl I live with now), and wanted to write it all down so I didn't forget. It seems like Caroline is active and loves the outdoors, so I get to spend a lot of time there!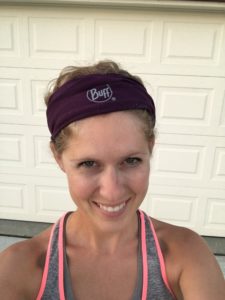 Caroline seems to love to mow, water her flowers, and deadhead daily, and I get brought along many times a week for that! I love being out in the beating sunshine, and I love being able to help keep Caroline a bit more cool as she pushes the lawn mower.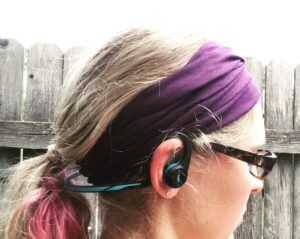 I've also heard Caroline say that she is just getting back into running after an injury, and I'm happy to be along on the journey as she runs again. We got to run past a beautiful little lake last weekend, and I loved the views!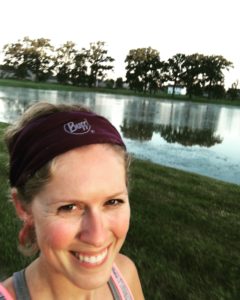 While I spend a lot of time with Caroline while working out, she seems to love to take me other places as well. This past weekend I even got to go to the farmer's market and help her pick out some fresh flowers- and got to be with her for her first pumpkin drink of the season.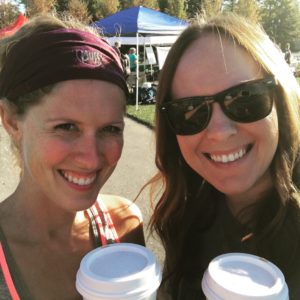 Overall, diary, I've had a great first few weeks, and am excited to get to spend more time as she runs and bikes throughout the fall! 
So really, I can't say enough good things about Buff and ALL of the products that I've tried out for them. I bring a buff on any trip I go on, I bring them hiking, I wear them while running, biking, walking, and doing yard work- basically I have one with me almost all the time!
If you are interested in some of the other thoughts I have about the company and their products, check out the following: UV half buff, In the Buff, Buff Thermal Hoodie, and the Merino Wool Buff.
You can connect with them on Twitter and Instagram, and check out their website!
Once again we've reached the end summer, and I'm back to my regular work schedule. I still worked 4o hours a week over the summer, but had a lot of flexibility in my schedule, with totally different tasks than the other 9 months of the year. I've so appreciated the months of summer (they're my absolute favorite), so I thought I'd do a bit of a photo dump post for the summer!
This summer's exercise looked totally different due to achilles tendinitis and my inner ear injury at the start of summer. I even had my first ambulance ride (that cost me roughly $1,000 🙁 )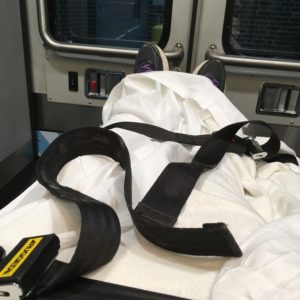 That being said, I still had some wonderful bike rides, like my bike trip to Mackinac Island, a wonderful 40 miler in Indianapolis, and a fun 30 miler on country roads. I also had a great bike ride with alligators- I still need to write a post on that!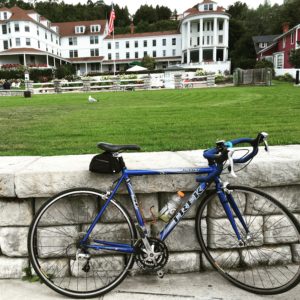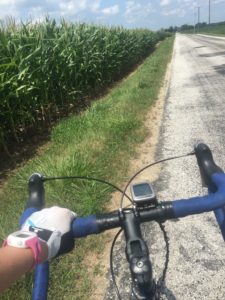 After taking 4 months off I slowly started running again (my longest run since March has been 3.1 miles on my birthday). I didn't get to run any races this summer which was a bummer!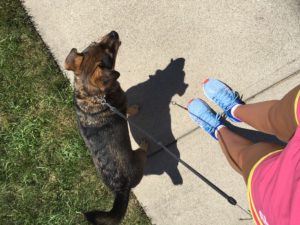 I read all sorts of wonderful books (about 45 of them in fact!). Some of my favorites include Nightingale, Mindset, Daring Greatly, The Body Keeps The Score, Never Never, and Essentialism.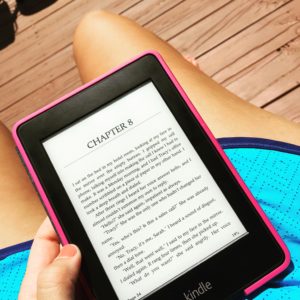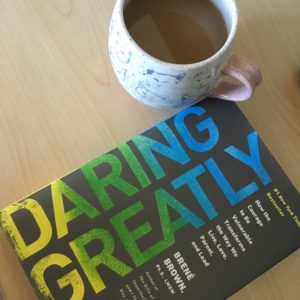 I had a wonderful trip out to South Dakota (The Black Hills) with my brother to hike again, which I really loved!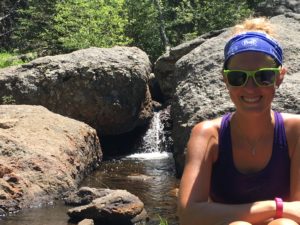 Other trips included a trip to Florida and a trip to Kansas!
I spent a lot of time in backyard this summer mowing, deadheading, and watering all the flowers that I planted!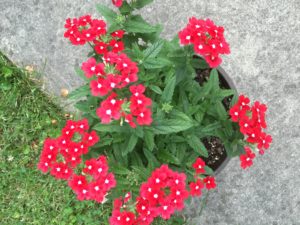 I got patio furniture so I eat dinner outside a lot, and spend time reading out there at night as well. It's hard not to take advantage of my backyard when I have a new fire pit!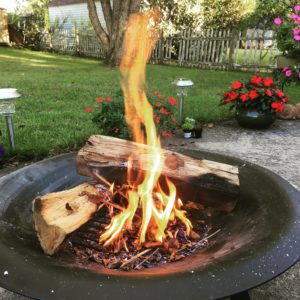 And I have a new cat friend! This cat walks around the neighborhood but spends several evenings a week hanging out in my backyard. He'll sit on the chair next to me when I eat dinner which is pretty funny!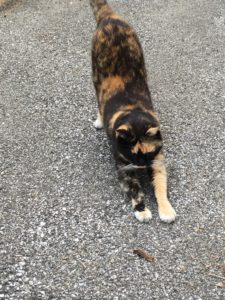 And of course there was my birthday weekend full of celebrating, cake, pink, and a surprise birthday party!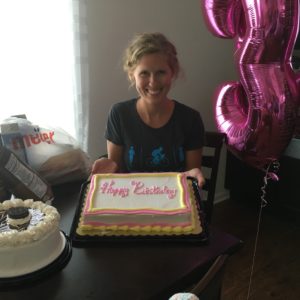 This summer also lead to hours of watching Olympics Trials and Olympics coverage! What was your favorite sport to watch?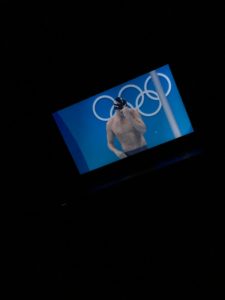 This summer was full of all sorts of excitement, but also full of normal moments. There were beautiful sunsets, rain storms, moments I stood and watched the lighting bugs, and times I watched the fog roll in. I washed dishes and did laundry and went to work. I spent endless hours with friends, laughing and playing games. I went to farmer's markets and I grilled. I went swimming in pools and lakes and oceans. I find joy in each of these moments.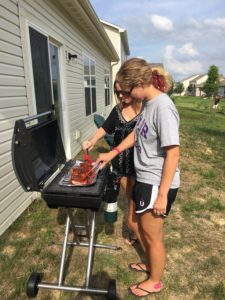 To live in summer is a beautiful thing.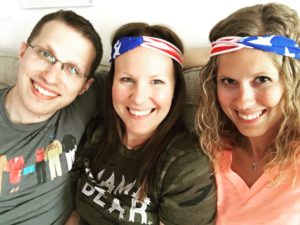 Now here's to another year of work!
Now it's your turn to share! What were some of your summer highlights?
This past weekend I went on my yearly bike trip to Mackinac Island in Michigan with work! It's such a fun way to get to know new employees, as well as catching up and having fun with other work friends and colleagues! (You can read about my Bike trip year one and year two here!)
While it's been beautiful the past two years, this year there was a high chance to rain on our bike day, along with our day on the island- Boo! We were told we would be riding either way, and I definitely felt a bit anxious about that because I hate biking in the rain- it freaks me out!
I woke up early the day of the bike ride, after sleeping only a few hours (we have a long drive to the starting point in Michigan). They delivered Starbucks to us, and then we were off! My legs have been so tired the first 15-20 miles on a lot of bike rides this summer, which has been annoying. This ride was no different.
After about 5 miles we pull through the cutest little "beach town" (is it lake town?) with gorgeous, huge houses, and the views are just stellar! Right around mile 11 or 12 there's a long, steady hill that is ROUGH! My heavy legs, along with my lack of hills I've biked this summer, made the hill feel particularly difficult. I MADE IT WITHOUT WALKING THOUGH, and felt like that was a solid accomplishment 🙂
We have a pit stop at the top of that hill which is so lovely, and I enjoyed a banana there. While it's a 55 mile ride, and that's not an entirely uncommon distance for me to ride (although I've only biked up to 42 this summer– bummer!), the pace is a lot slower since not many people who go are bikers (and I'm SO impressed that people who don't bike go that distance- woah!), and that makes it a bit more tough for me.
It looked like it was going to rain after that, but it didn't- the humidity was INTENSE though! We stopped around mile 26 for lunch, and enjoyed a picnic in an open field overlooking one of the great lakes. It's gorgeous!
The rest of the ride went smoothly, and I enjoyed lots of good conversation and time on the beach.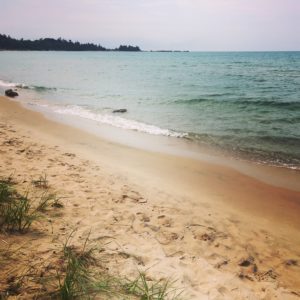 We arrived in Mackinaw City and enjoyed a night walking around the town before crashing.
The next day we headed to Mackinac Island. Normally I bike about 12 miles that day, but I went an extra time around the island. So, after biking 55 miles the day before, I biked 20 miles on the island and did a bit of hiking! It was beautiful.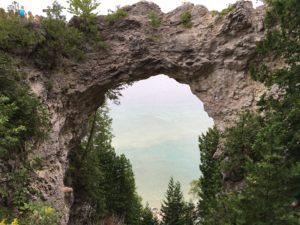 Arch Rock. I'd never noticed this before!
In the afternoon it poured for a little over an hour, so we ran into a cute coffee shop and enjoyed hot coffee, time to read, and the roses out in the rain.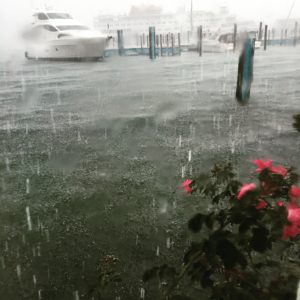 Then it was fudge time, where we sampled all sorts of fudge on the island! Joann's is my favorite every year 🙂 The fudge is SO creamy and delicious- I get my fudge there each year.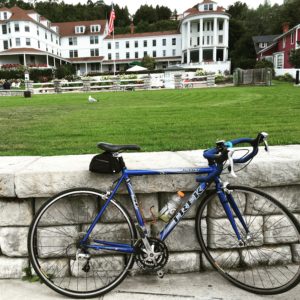 It was a LONG drive home that night, and I slept about two hours. I'm not too tired or sore from the experience, but biking that far and then sitting in a cramped bus is certainly not the best.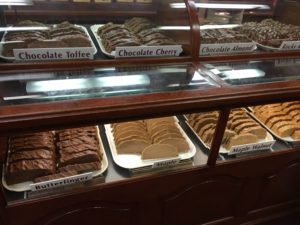 I'm thankful to work at a place that not only values physical activity, but also gives us time to connect each year.
Now it's your turn to share! Have you ever visited Mackinac Island? What's your favorite flavor of fudge (mine is maple!)?
Last year when I was out hiking in South Dakota (the Black Hills area), I knew that I wanted to come back and do most of the hikes I had done again. The area is absolutely gorgeous, and I desperately wish that I could live closer to enjoy the nature and hiking! This year my brother suggested that we head out to Sunday Gulch, which is a 4 mile loop trail located in Custer State Park! It feels different than a lot of the other hikes I did out in Custer, although there were a few parts that felt similar to Lover's Leap (we hiked Lover's Leap last year and had hiked it a few days previously to this hike as well).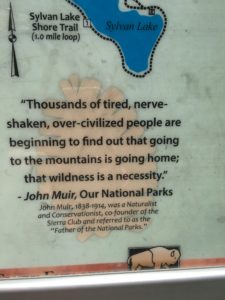 Loved this quote I found on a sign on the trail.
There is a huge lake (Sylvan Lake- it's beautiful and there are beaches so you can swim and boat rental options as well!) and convenience store near the trail-head, so you can park right there!
As I mentioned, the Sunday Gulch trail is a loop (if I remember, it's labeled a moderate/strenuous hike), so you can hike either way around it. I would suggest going clockwise. The end of the clock wise circle has you hiking up these somewhat slippery boulders (water going downhill)- there are railings and I never felt unsafe, but I wouldn't want to be walking down them. Most people I saw were going the same direction.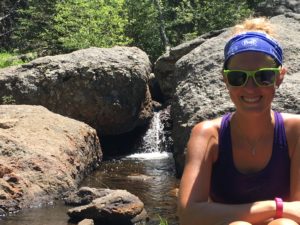 This was towards the end of the hike, right before the incline with the water and boulders.
There are beautiful rock formations around Sylvan Lake and the start/end of the trail, but once you get past this, you'll be walking up and down the hills and through the forest. It's absolutely beautiful!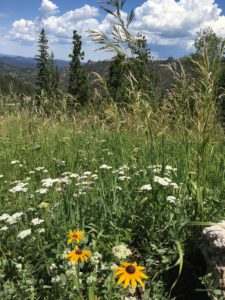 Make sure you bring enough water! I can't tell you the number of people I see hiking with only 16 ounces of water, and that's not nearly enough, especially since Custer is up at elevation. Make sure you bring several water bottles! I brought a Camelbak with me, and that was incredibly helpful!
If you want to add on a mile or so to your hike, once you close the loop of Sunday Gulch, you can walk the loop around Sylvan Lake. It was the perfect cool down, and the views are gorgeous!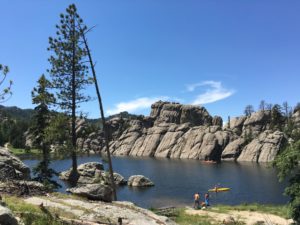 Sunday Gulch was definitely towards the top of my list in terms of hikes that we did this year, and I would definitely suggest checking the trail out! If you want more information on Sunday Gulch Trail, click here.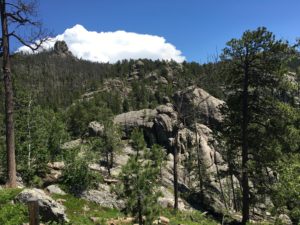 Now it's your turn to share! What do you look for in a hiking trail?
I first started seeing The Nightingale on Goodreads, and after reading the description, I added it to my "to reads" list, and went to put a hold on it at the library! I do a little happy dance every time a book becomes available, especially one that I was looking forward to!
The Nightingale is set in WWII France, with a few moments flashing forward to modern day. The story primarily follows two sisters: one who has a child and sends her husband off to war, and her sister who is reckless, but looking for a way to help with the war. The story looks at what it takes to survive, and to thrive, during war times, and the ways that those at home helped fight against the Nazis. Both sisters engaged in dangerous activities, albeit very different from one another. The story looks at family bonds, at love, at passion, at purpose.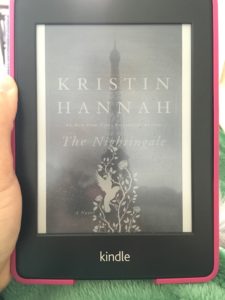 Here are a few quotes from the book:
"Men tell stories. Women get on with it. For us it was a shadow war. There were no parades for us when it was over, no medals or mentions in history books. We did what we had to during the war, and when it was over, we picked up the pieces and started our lives over."
"I know that grief, like regret, settles into our DNA and remains forever a part of us."
"She was crying for it all at last–for the pain and loss and fear and anger, for the war and what it had done to her and to all of them, for the knowledge of evil she could never shake, for the horror of where she'd been and what she'd done to survive."
In short, The Nightingale was one of the best books I've read in 2016. I cried several times, connecting so deeply to the characters that I felt that I could feel their emotions as they encountered various situations. I was inspired by their bravery, their passion, their pursuit of what they felt called to. I gave it 5 out of 5 stars on goodreads.
For more book reviews, check out my book reviews page or my goodreads.
Now it's your turn to share! Have you read The Nightingale yet? If so, what were your thoughts?
This past weekend was my birthday, and I'm still feeling so surprised and happy about all the fun that I had. I have to start by saying that Melissa far outdid herself in planning a full 60 hours of Birthday fun and surprises, and I'm so thankful for all that she did- it was far more than I could have ever dreamed for the day!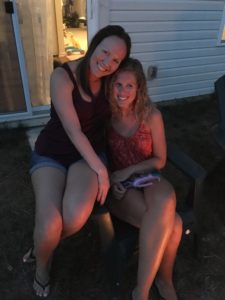 She made a snapchat filter for me for the weekend, which was so much fun!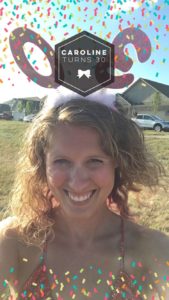 She also told me she made a picture slideshow of us the past two years, and we started to watch it. Then it switched into videos that my family had sent to her wishing me a happy birthday (since all my family members live in different parts of the country/world, they weren't with me for my birthday). I cried watching it, and it was the sweetest thing. She also made my favorite cake- angel food cake!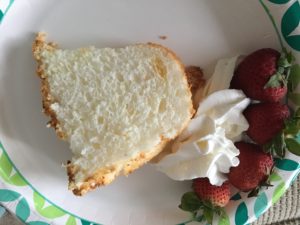 She, along with another friend, planned a surprise party for me the day after my Birthday. I was so surprised, and I loved having so many dear friends in the same room. It felt overwhelming and full of love.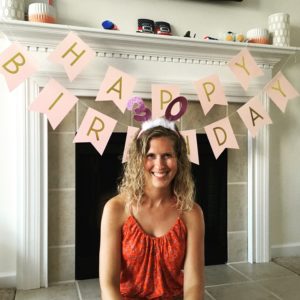 When I arrived on Friday, after we went to get our nails done, I saw that she had decorated her house with pink streamers and balloons, which was so fun! We enjoyed the Olympic opening ceremony- what a great start to Birthday weekend!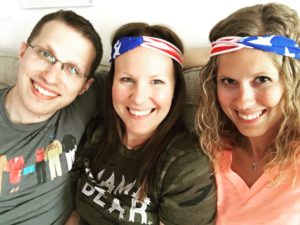 Saturday morning I woke up and did my 6th annual Birthday run- so fun!! I ran while the sun was rising, and reflected on the year. I took time to thank God for giving me such a fantastic year of life, and prayed for the year ahead.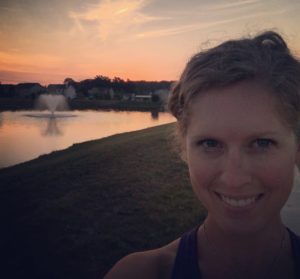 Then it was time for a day full of plans with Melissa! We drove all over Indy eating, going to a water park where we enjoyed playing on water slides and floating on a lazy river, drinking iced coffee, and reading a bit while watching the Olympics!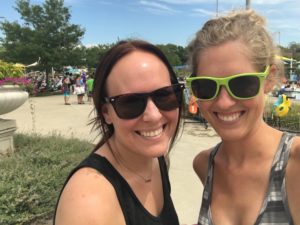 A big group of us went out for Mexican for dinner, and then came back to her house to enjoy my new birthday gift- a fire pit! I'm so excited to be able to have fires! We made s'mores and watched the sun set as we closed out the day!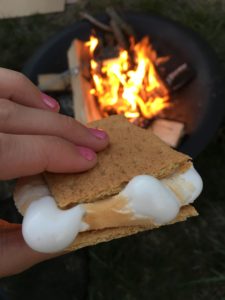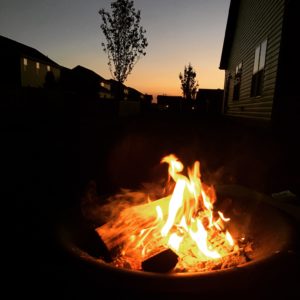 The day after my birthday we enjoyed a day of Starbucks, going on a walk, and enjoying more of the Olympics (swimming! gymnastics!).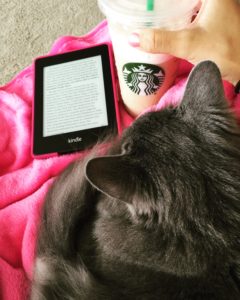 Then she told me she needed to run to Old Navy for something, and wanted me to come with her. Ok! When we arrived home I was greeted with a group of people screaming "surprise!" and enjoyed my surprise party.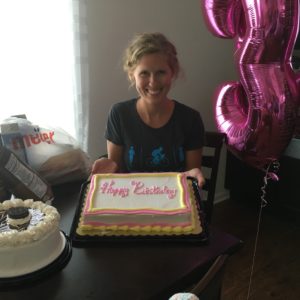 Seriously- what a most excellent birthday! My 16th birthday was absolutely wonderful, and that has been my favorite birthday so far, but this birthday absolutely beat that! 

I'm so thankful to be given another year of life. I'm thankful for all the sweet tweets, texts, phone calls, comments on instagram, etc… wishing me a happy birthday. I'm so thankful for all the love that I've received. I'm thankful for all that I've been given, and to have a job that I absolutely love.
What an amazing birthday!