I'm not sure how I first heard about It Ends With Us by Colleen Hoover, but I remember immediately putting it on my holds list (I had to wait over a month for it!) at the library. It finally arrived right before Thanksgiving, so this was one of the books that I read over Thanksgiving break.
It Ends With Us follows Lily Bloom as she processes her dad's death (and therefore her history and parents marriage as a result) and thinks about what that means for her life and her future in relationships. On the night of her dad's funeral, she meets Ryle, but doesn't think much of it. She runs into him a few more times before deciding to explore the relationship a bit more.
What comes next was shocking and unexpected, and taps into her past history. I don't want to share too much about what happens moving forward, but it made my heart ache. I think that It Ends With Us is an important story about the issues in life that, from the outside might appear black-and-white, but when you're in them are deeply complex and confusing.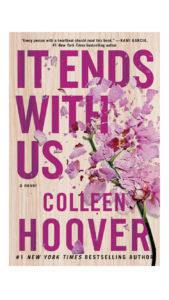 I felt drawn into the characters' stories right from the start. I felt their feelings, I felt the pain in their hearts, and I simply couldn't put the book down. The book explores important topics, and I think it's valuable to read. I wish I could give it to clients. It's haunting, it's beautiful, it's emotional.
Here are a few quotes that stood out to me from the story:
"All humans make mistakes. What determines a person's character aren't the mistakes we make. It's how we take those mistakes and turn them into lessons rather than excuses."
"There is no such thing as bad people. We're all just people who sometimes do bad things."
"Cycles exist because they are excruciating to break. It takes an astronomical amount of pain and courage to disrupt a familiar pattern. Sometimes it seems easier to just keep running in the same familiar circles, rather than facing the fear of jumping and possibly not landing on your feet."
I wish I could share with you my favorite paragraph from the book (towards the very end of it!) but it would give it away. I'll just say this- It Ends With Us pierced my heart and now, almost a week later as I type this, I can't let those sentences go. I've read and re-read them. It's powerful, and one of my favorites from 2016.
Now it's your turn to read! What's one book you've read in life that continues to stand out to you?
Thanksgiving has been a very typical holiday for me. I spent Thanksgiving in the house I grew up in all but one year (2014 I spent it at a friend's house with family). To me, Thanksgiving means going downtown to get donuts, go on a Thanksgiving day walk in my neighborhood, and sitting down in my dining room to eat.
This year I couldn't do any of that because my parents sold that house. There's no going back, and for me, that feels a little difficult to think about, especially during the holiday season.
SO, this year, we decided to do something totally different and went to one of our favorite places- Florida! It certainly didn't feel like Thanksgiving with walks on the beach and hours spent under the palm trees, but I enjoyed it. I love sunshine and palm trees and water but, it's not really Thanksgiving, you know? That being said, I thought I'd share some pictures of my totally different Thanksgiving!
As soon as I landed I went to Dunkin Donuts to get a Coconut Iced Coffee (it was in the 80's out!). I immediately took it out to the pool to enjoy.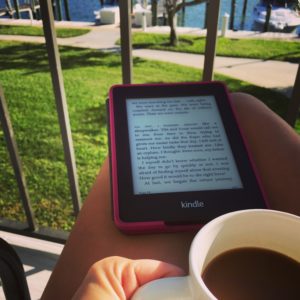 One of my favorite things is reading in the mornings before anyone else is awake. Especially when coffee is involved!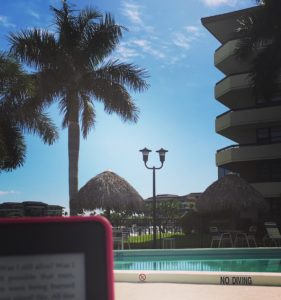 But reading by the pool every day is also great! I read four books while down there, but the two I enjoyed most where Night and It Ends With Us. I suppose both were a bit heavy for a fun break, but they were great.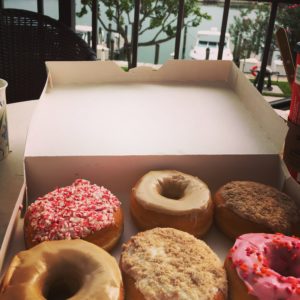 Thanksgiving morning we enjoyed donuts because I was raised to believe that donuts need to happen during every holiday.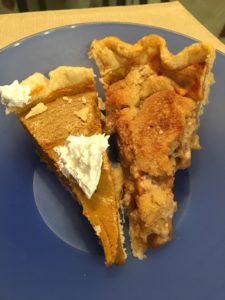 I was also raised to believe that you shouldn't have to pick just one type of pie on Thanksgiving.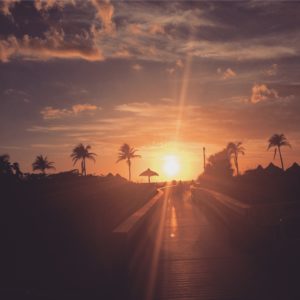 I took 2-4 mile barefoot walks on the beach each afternoon, and enjoyed sunsets on the beach each evening.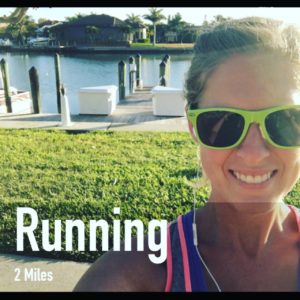 The last morning I was there I went on an early morning run, running along the boardwalk before running a bit on the sand (so tough!).
I ached to be home, waking up in my bedroom, cooking in my kitchen, and eating in my dining room, but I have to remember that my childhood home, while always important, is just a place. I'm thankful for new, happy memories of this Thanksgiving, for time with friends and family over break, for good food, for safety, and for reading.
Now it's your turn to share! What was your favorite part about break?
November has been absolutely gorgeous around here, with temps most days in the 70's and lots of sunshine! I can't complain about that 🙂 Today we have some occasional spitting snow, and I'm cuddled up under a blanket with a fire going, and decided to share another "Currently" post with all of you!
Currently drinking: Caramel Vanilla flavored black coffee. It's delicious!
Currently eating: Starbucks Gingerbread Loaf. I swung by to get coffee this morning and saw it sitting in the case and I just HAD to have it. I rarely get anything to eat from Starbucks, so this was a delicious treat!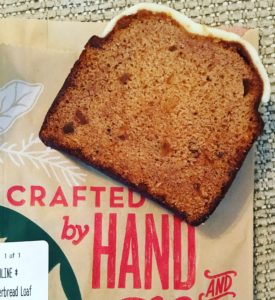 Currently listening to: Pentatonix Christmas songs! I absolutely love Pentatonix and their Christmas songs are some of my favorites for the season! I'm also listening to a few podcasts including Dear Book Nerd and What Should I Read Next?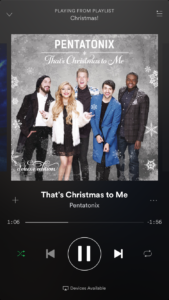 Currently Watching: Gilmore girls! I'm so excited for the new Gilmore Girls season coming out this week, and just HAD to get a little fix now 🙂 In reality show news, I'm loving Below Deck and Vanderpump Rules. So much drama.
Currently Reading: Robyn Carr's Virgin River Series, Kristin Hannah's "Between Sisters". I had 5 holds come up at once from the library so I'm trying to quickly get through a number of books! Good thing break is coming 🙂
Currently Smelling: My Mulled Apple Cider candle! I'm trying to use up the last of it before I transition to my Christmas Candles!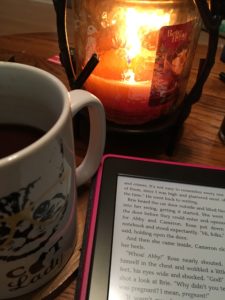 Currently Excited For:  THANKSGIVING BREAK! I'm excited to see my family and have a few days off of work.
Currently Wearing: OPI's Muir Muir On The Wall. I absolutely love this dark color with flecks of gold! I'm also wearing leggings and my puffy purple vest that is a staple all winter.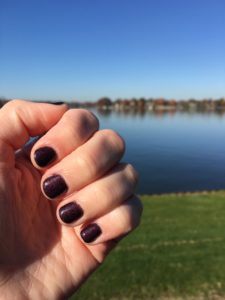 Currently Loving: The Pandemic Board Game! I can't get enough of it, and we're desperately trying to pass the game on hard. I'm also loving cozy Saturdays with blankets, coffee, and reading!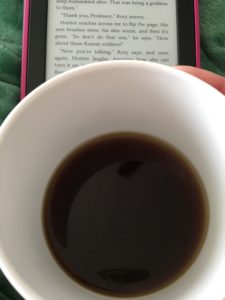 Now it's your turn to share! What are you currently loving right now? Are you a Gilmore Girls fan?
Disclaimer: I received a pair of xx2i Brazil1 sunglasses to review as part of being a BibRave Pro. Learn more about becoming a BibRave Pro (ambassador), and check out BibRave.com to review find and write race reviews! 
I love a good pair of sunglasses, especially when they are comfortable! I previously had reviewed the xx2i optics sunglasses, so I know that the company makes solid sunglasses. That made me all the more excited when these beauties showed up on my porch!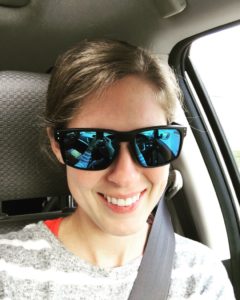 These are casual sunglasses, so I wouldn't wear them to run or bike (unless it was all I had and really needed them), but I've loved wearing them around on walks and doing yard work.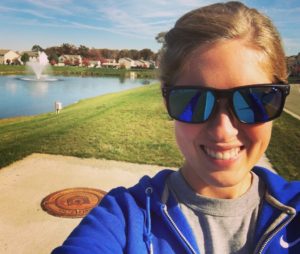 The first thing I noticed is the polarized lenses that use 8k optical technology, which allows for frame durability and lens clarity! I feel like these lenses don't "get in the way" like some sunglasses seem to! I also am really into polarized lenses for some reason.
The lenses come in an awesome, sturdy case as well, which makes it easy for me to throw the sunglasses on the seat of my car and know that they'll be safe.
I've worn these sunglasses on walks and raking, and they've stayed on my head nicely, and are really comfortable (no painful digging behind my ears or on the side of my head!).
There are some fun accents on them as well, which I've been loving!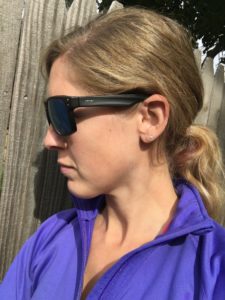 The one complaint about the Brazil1 sunglasses that I have is that the nose piece area is a little too big for me, so they do slide sideways back and forth a tiny bit when I move my head quickly. It's not too noticeable, but I was trying to take note of all sorts of little things as I was reviewing them. I could use sunglasses that are just a bit more narrow.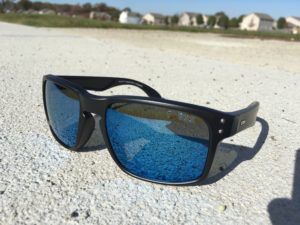 These sunglasses have been fun to try out as we've had an extra long and warm fall, and I've spent a lot more time outside than some falls.
The best thing about these sunglasses is there is a 365 day return policy and a lifetime frame and lens warranty! You can't complain about that, can you? 🙂
You can read more about the Brazil1 sunglasses here!
For 60% off your own pair of Brazil1 sunglasses, use code BRAZIL1 – valid until Tuesday November 22nd at midnight!
Now it's your turn to share! How have you been enjoying this beautiful fall? Do you scratch sunglass lens' easily?
I've previously talked about my love for goodreads and how it has impacted my reading. I made another addition to my reading that has really stepped up my reading game this year, and it has to do with the Public Library.
In my state there is a program where, for about $65 a year, you can purchase a card which allows you to get a library card at any public library in the state! I had never heard about it before, but Melissa had gotten one a month or two earlier and had told me about it! What a cool idea, right?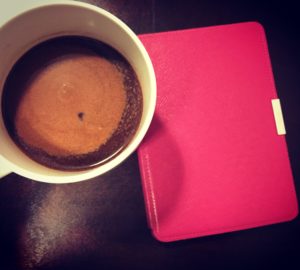 I live in an area where the public libraries are fine, but they are smaller so there were many books that I desired to read that just weren't options, or there would only be one copy of a kindle book, so I'd have to wait 6+ months for some books. No good.
With this new card, I now have library cards at multiple libraries in bigger cities so I can put holds in at the places that will get me the books the fastest. No waiting 6 months, and I have far more access to books.
With my kindle, I don't even have to go to the libraries that are a bit further away because I can put on holds and check out books from my couch!
I've LOVED it and has made reading an even more joyful and easy experience.
I know there are other states out there that have similar types of cards, so I wanted to share this with all of you and encourage you to ask your local public library to see if it is an option.
I don't love spending money, but that $65 feels so incredibly worth it! I think public libraries are such a cool option, and I feel good about putting a little money towards supporting them as well.
Now it's your turn to share! Tell me one thing that you love about reading! Do you regularly use the library?
Disclaimer: I received a SPIBELT to review as part of being a BibRave Pro. Learn more about becoming a BibRave Pro (ambassador), and check out BibRave.com to review find and write race reviews! 
Always be prepared, right? I'm someone who likes to be prepared for what I'm going to do, and SPIBelt definitely helps me do that!
When I first started running back in 2011, my dad went out and purchased for me my very first SPIBelt. I've used it multiple times a week since that time, but unfortunately it is on its last leg (and it went from pink to white after all the miles in the sunshine!). I've loved that thing, but when I had the opportunity to test out the SPIBelt Performance Series belt, I jumped on it immediately.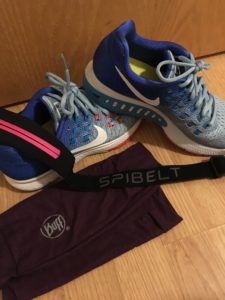 The SPIBelt comes in a variety of colors, and loving the color pink, I knew I needed to choose something with at least a bit of pink in it!
The SPIBelt is adjustable which is fantastic. Here are a few other notable facts about it:
Bounce-free
4 loops for energy gels (I haven't tried this out yet but I'm REALLY excited about this)
Weather-resistant pocket and zipper (NOT WATERPROOF or rain-proof!!! Just like a weather-resistant watch, it can withstand some light precipitation but don't wear it out in the pouring rain or let it get doused)
Fits larger phones like iPhone 6 Plus
Comfortable, soft elastic prevents chafing
Pocket expands to 8″ x 4″ x 2″
The SPIBelt is so comfy, and I've worn it while hiking, walking, and running, and I've barely even noticed that it's there.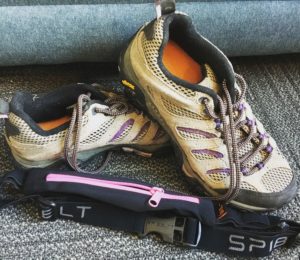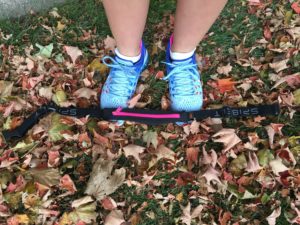 SPIBelt and fall running 🙂
Here's how you wear the SPIBelt: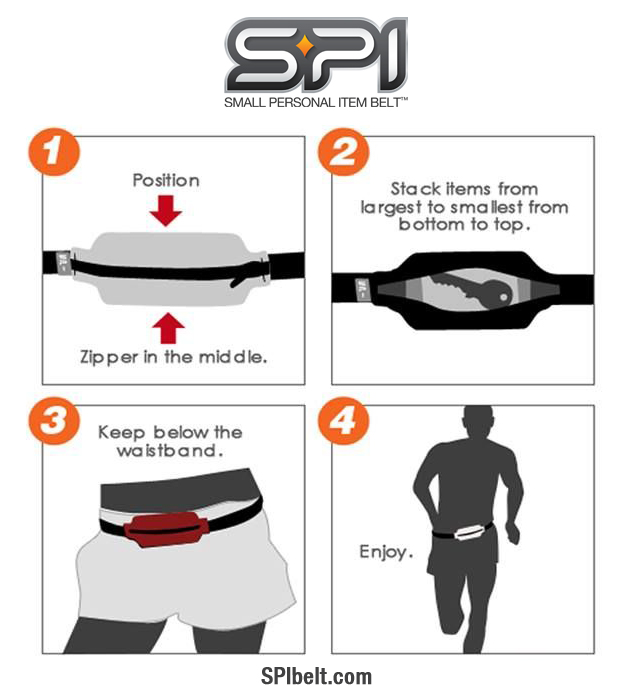 While running, I love to not only bring my phone, but I often have a dollar for an emergency, a key, food, and maybe some extra salt. That's a lot to carry, but the SPIBelt makes it so easy to carry everything you need without really noticing.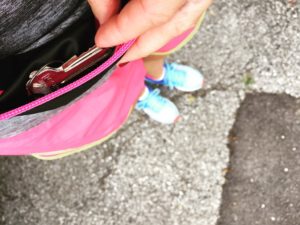 SPIBelt was my first essential running item, and five years into my running journey, it remains an essential workout item!
The best thing is that it's useful for other things as well, such as holding my phone while I mow the lawn!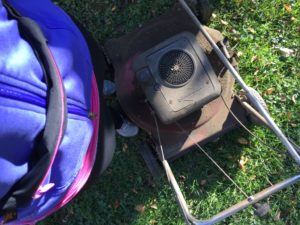 SPIBelt is awesome not only for running, but for all your active life/chores around the house sorts of needs. I'd definitely recommend it! To get 20% off your own SPIBelt, use code bibchat2016 until November 18th!
Now it's your turn to share! What would you carry in your SPIBelt while out on a run, bike ride, walk, or hike?
October is over (WHAT?! Wasn't it just July?) and with that, another month of reading is complete. October was especially exciting, as I crossed the 100 books read mark, which I didn't think would ever be possible for me! I'll give a quick summary or statement about each book, and at the bottom I'll give you the books I would most suggest you read from the month!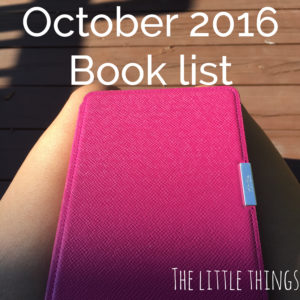 So with that, here's what I read in October:
First Comes Love: This book, by Emily Giffin, I rated a 3-3.5 stars on goodreads. I would be excited to sit down and read for the first half of the book, but couldn't remember anything about the book. Nothing really stood out or made it memorable. I felt that that sort of cued me in to the connectedness I felt to the characters. Once I hit the half way point things got better.
And there we have it- another month of reading complete. This brings my total for 2016 to 107 books, which I'm happy about! So what are my "must reads" from the month?
Surviving The Angel of Death
Free to Fall
Living With No Excuses (if you are interested in a story related to the military)
Now it's your turn to share! What books have you read recently? What book are you most looking forward to reading in the next month or two?
I'm naturally someone who is a bit risk-adverse. I prefer the known, the comfortable, and the safe (despite my love for hiking, the outdoors, and traveling!). We aren't called to a life of safety, of staying hidden, or not trying.
This was something I faced time and time again, especially the past 14 months, as my job has changed and I am much more in front, making decisions (But what if people judge me? But what if I'm misunderstood? What if they don't agree?). It takes courage to take risks.
At just the right time, I sat down on a very hot summer day in July to read Brene Brown's Daring Greatly (yes… I was a little behind, especially for being in the mental health field!). She starts her book off with a segment of Theodore Roosevelt's speech entitled Citizenship in the Republic. The words below have echoed in my heart and soul for months, so I wanted to share it here
It is not the critic who counts; not the man who points out how the strong man stumbles, or where the doer of deeds could have done them better.
The credit belongs to the man who is actually in the arena, whose face is marred by dust and sweat and blood; who strives valiantly; who errs, who comes short again and again, because there is no effort without error and shortcoming; but who does actually strive to do the deeds; who knows great enthusiasms, the great devotions; who spends himself in a worthy cause; who at the best knows in the end the triumph of high achievement, and who at the worst, if he fails, at least fails while daring greatly.
Daring greatly. Seriously, I get emotional every time I read this quote. So many of us don't even bother to walk into the arena because we are scared of the "but's" and "what if's" and risks that life has to hold. We forget that, at the very least, we can strive and fight and dare greatly.
Things might not always work out for us. Things may go poorly, people will judge us, we'll make mistakes, things won't go as planned. That's our humanness, and we can't get away from it. But we can show up to the arena, and we can fight. We can dare greatly.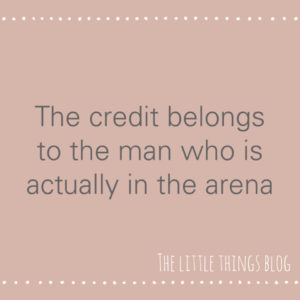 The people in my office have gotten used to me saying "I'm showing up to the arena today". I can't control how everything will go once I step into the arena, but I can show up, be present, and dare greatly. I find great relief, great solace, and great permission in the idea of showing up to the arena. It's scary to be sure, but it's worth it.
So let me invite you, in little and big ways, to show up to the arena. Let me invite you into valiant striving, the risk, the vulnerability, the fight. Let me invite you to dare greatly in your life, your work, your relationships… with yourself.
I'm showing up to the arena. I hope you'll join me there.
My soul craves hiking… craves the fresh air… craves the woods… craves nature. It fuels me in ways that very few things do. Since returning from South Dakota in the beginning of July, my soul has deeply longed for a hike.
I've longed to set off on a trail, not sure of what I'd see, and breathe deeply as I experienced as many aspects of nature as I could.
This past weekend I got what my soul craved, as I headed out on Friday afternoon for a long afternoon hike through the woods (although it certainly not large hills and mountains like out west!).
I felt giddy as I pulled out my hiking boots, having not been worn since a hike I got caught in hail in back in July). My heart leaped with excitement as I pulled into a State Park with a friend. We got a map (oh my gosh- it was lousy and we got turned around several times, which made for quite the adventure).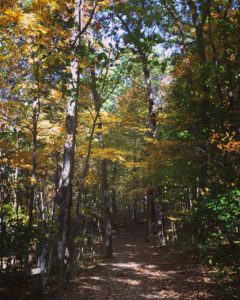 What we discovered were 5.6 miles of trails that went past rivers and streams, up little hills, and down into beautiful gold colored leaf valleys. We got stillness and quiet as we walked and talked… and caught up on life. We got beautiful fresh air that felt so wonderfully pure that I kept stopping to breathe deeply.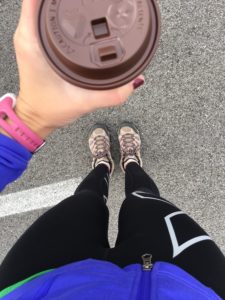 It was in the upper 50s and sunny, and while I felt warm, by the end of the hike my hands were REALLY chilly! There was a McDonalds right outside the park, and I couldn't help but stop to get some hot coffee (with some pumpkin flavor in it… because, fall. ).
The hike was so good for my soul, and I loved intentionally getting to interact with fall up close. I value slowing down and being present within myself, since it's so busy to get caught up in the stresses and to-do's of life. This hike was such a perfect end to a pretty bizarre last week.
(disclaimer: I'm reviewing the spibelt thanks to my partnership as a Bibrave Pro, and received this spibelt for free).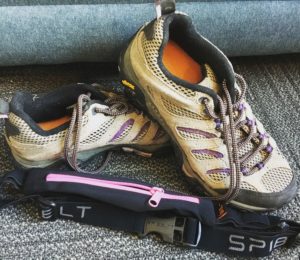 I also loved getting to try my spi belt out while on the trails too! It was such an easy way to carry my phone and car key, keeping my hands free to carry water. It's so comfy and I can't say enough good things about it so far! Stay tuned on that.
After the hike I was really hungry! A group of us went out to dinner and I got one of the most interesting burgers I've ever tried: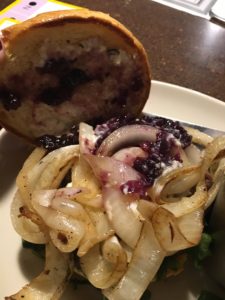 It has blueberry jam, feta cheese, and caramelized onion on it. It was surprisingly REALLY delicious!
Now it's your turn to share! Have you gone hiking recently? How are you slowing down to enjoy the fall? What's the most unique hamburger you've ever eaten?
Like I posted about last week, this month is Dysautonomia Awareness Month. Because of that, there are all sorts of extra videos and infographics that I'm seeing on facebook. I ran across this video that gives a basic description of what POTS is, and has some short little interview clips with doctors.
It's 4 minutes long, so it won't take much of your time. Please take a moment to watch, and pass it along to your friends. A lot of people are suffering with POTS, but because a lot of doctors have never heard of POTS (don't get me started on this… it is incredibly frustrating!), it often takes years and years of suffering with symptoms for people to finally be diagnosed. Increasing awareness might save your friends or family members from years of suffering without help.
Thank you for continuing to be supportive on my journey with POTS. As always, I appreciate your comments and support, as well as connecting with those of you who also have POTS.