Well, here we are… 52 weeks/ 1 full year post knee surgery. I still regularly get questions asking about my knee, so I figured one year post injury was a good time to update you all! If you're confused, head over to this post first where I talk about my original injury (and this post is an update on my injury). Ok- so where are things at today:
"Good-ish". haha.
Here are some of the things that I still can't do: touch my heel to my butt (which I can do with my other leg) (but my range of motion is probably around 96-97%), stand up normally off the floor (but I can from a position where I'm sitting in a chair), run, do squats/lungs, kneel on my knee, and walk around without feeling my knee.
Basically, I function a bit differently now than I did a year ago, and still have days where my knee is either uncomfortable or actually is in pain (even from things as simple as walking).
I'm thankful because there's been so much progress though. I'm biking again (I've gotten up to 30 minutes on my bike trainer), I'm pool running (since November!), I've hiked several days this fall/winter, been able to walk on the beach again, and even add in some lower body/leg work strength training workouts (with modifications as needed).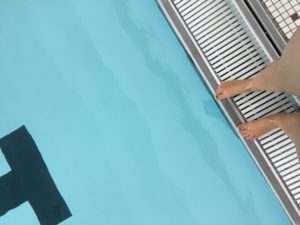 I'm thankful for those things since it allows me to move and stay healthy and enjoy nature. I sure miss my long bike rides and running though!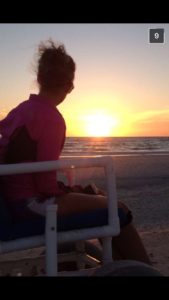 beach wheelchair last March (from snapchat- haha)
Spending almost 5 months on crutches this year taught me a whole lot (for longer distances such as airports and various other locations I was pushed in a wheel chair). I learned that most ramps are really steep for wheel chairs, even though we don't recognize it as we walk up them. I learned that you notice a lot more when you're forced to walk very very slowly. I learned that I'm stronger than I think and am perfectly capable of crutching myself over Mayan ruins and down dirty and very rocky and uneven roads in Mexico.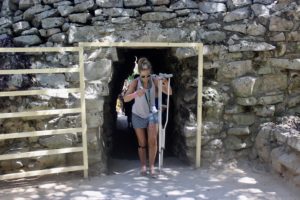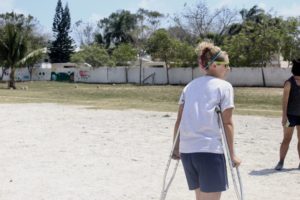 I learned that the world is full of good people who will offer to carry things for you and open doors for you when you have no free hands. I also learned that there are some people who will let the door slam in your face even when you don't have free hands to open it back up with. I learned that being able to get your own coffee should never be taken for granted. I still feel like it's almost magical every time I can go through a food line for myself or go get myself coffee without asking someone to do it for me. I had to be so very humbled and ask for help OVER and OVER and OVER again, which is honestly quite hard for me to do.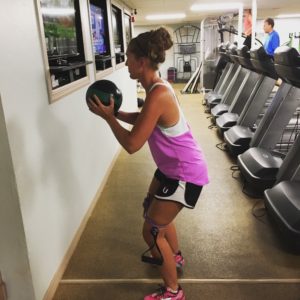 When a door slams in your face, you have two options: sit down or search for another window or a new door. Lifting has been my "window" this year, and has allowed a physical outlet for me that feels helpful. In general, I don't post pictures of lifting progress or body changes or anything like this, but after a lot of thought, I decided to post the one below in this post. I want to show that, in the face of setbacks and injuries, sometimes a new direction is needed, but that new direction can create good things in life too.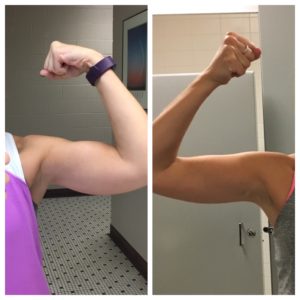 The picture on the left is from 2 weeks ago, and the picture on the right was about 3 weeks before I injured myself (and a few weeks after I started lifting). One bonus of not being able to do other forms of workouts- upper body strength!
Having POTS for the last 14 years has taught me a lot about going on in the face of physical and health issues, but this added to that learning. I wish this hadn't ever happened, of course, but am certainly thankful for those lessons I've learned.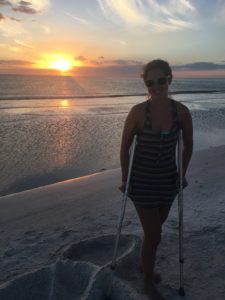 And let's face it- life is beautiful… sometimes we just have to more intentionally look for it.
Thanks to the Powersheets, I was thinking about my word for 2018 back in November, as I started to work through the powersheets prep at that time (there is a section that helps you identify your word for the coming year, based on an assessment of a number of things from the previous year). I had a number of good words in mind, and took Thanksgiving break away from normal life and work to marinate and pray on my word. Out came "reclaim"!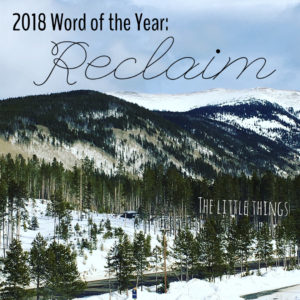 The background: over the past few years (as you might recall I got a huge promotion in 2015 which took away a lot of my extra free time) I've slowly lost a few of the things that feel important to me. Even the things that I didn't totally lose I wanted to strengthen and lean into more in the coming year than I had. Hence- reclaim!
There are things that feel like either critical fence posts on the road to being healthy or fence posts on the road to being more "me" that I either want to put in place or strengthen. So, here are a few of them (through the powersheets prep work I identified 9 goals that all tie back to "reclaim")-
I want to reclaim:
My home and space I inhabit (get rid of 500 items (this is after playing the minimalism game last year), find a place to set up digital storage for my family to access so I can scan and then get rid of some of the 11 boxes of family history items I have, do a digital clear out, and figure out a way to make the inside of my home feel a little more reflective of who I am)
My ability to run! I haven't run since the middle of February 2017 due to this knee injury, and I really want to run sometime in 2018. I've committed to even more leg strength workouts, pool running, and continued ice massage to hopefully make this possible.
Reclaim knowledge and understanding- I already read a lot, but this year I want to be more purposeful. I want to read at least 125 books, but I have numbers for how many books on race/books not written by a white person and numbers for how many mental health related books I want to read.
And reclaim workouts- including strength training! By November and December these things tend to fall aside, so I specifically wanted to start the year off well with this.
Other things I want to reclaim: health, healthy helping/impact on the world, my voice in specific contexts, more money saved, and more intentionality about what I eat.
I love having a specific word to meditate on and focus on throughout the year, and one month in and I feel pretty happy about the word "reclaim!" Now if only I could go on a run soon…
Now it's your turn to share! What's your word for 2018?
Another year and another month in reading. January is typically a really strong month of reading for me, as I tend to have just a bit more free time in my work schedule (less evening commitments). However, this month was a bit of a struggle to get a lot read (no idea why- I read every day but just read less than usual), so I clocked in with 12 books for the month.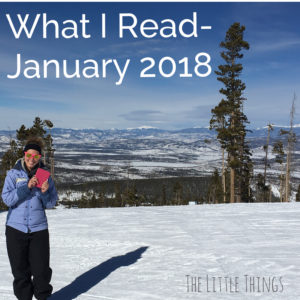 Here's what I read:
Why I Hate Green Beans (Ray):I wrote a post about this book here.  I laughed and repeatedly read sections aloud to my family members as I went through the book. 4/5 stars
Taking My Life Back: My Story of Faith, Determination, and Surviving the Boston Marathon Bombing (Gregory): I enjoyed this audiobook. I appreciate people who are willing to share moments of vulnerability and resiliency in their lives- I think we can learn something from each of them. This was great in audiobook form. 3/5 stars
Comfort & Joy (Hannah): Didn't hate it, but didn't love it- sort of weird. Too many storylines which were skimmed only on the surface for me. I love Hannah as an author, but this was my least favorite of her books I've read so far. 3/5 stars
Harry Potter & the Goblet of Fire (Rowling): This one (and book 7) is in my top two favorite books in this series, and I LOVED reading it again. There are so many great details not included in the movie. 5/5 stars
Winter Solstice (Winter #4) (Hilderbrand): I'd read the first three books last January, and enjoyed the final book in this series. The lives of the family members included in this series were fleshed out well in this book, and I may have cried a little bit as the book closed. I had a wide range of emotions and it looked me from the start. 4/5 stars
The Sound of Gravel: A Memoir (Wariner): This true autobiography was about a girl who great up in a community that engaged in polygamy. Time and time again abuse and heartache entered her life, and this story, was absolutely heartbreaking.The anguish that the author went through broke my heart, and the triumphs she had among the way were beautiful. 4/5 stars
Standing Strong (Giudice): This book was about Giudice's life post-prison, and about the life she is now leading as her husband serves his sentence in prison (in case you aren't aware of the Guidice's and their story- she is on the Real Housewives of New Jersey). It was interesting, but certainly not a great book. I enjoyed it though and didn't regret reading it. 2.5/5 stars
The Seven Husbands of Evelyn Hugo (Reid): Obsessed. This book hooked me from the start, and the writing constantly kept me wondering how it would end. I can't say enough about it. The characters were well written and developed, the story line was intriguing, and the last 10% was… quite surprising. I definitely recommend this one! 5/5 stars
Grace, Not Perfection: Embracing Simplicity, Celebrating Joy (Ley): Not too much to say about this- I liked it and found it to be relatable. 3/5 stars
And Then There Were None (Christie): My first Agatha Christie book! I'm not sure how it took so long for me to read one, but I found that I absolutely loved this one! There was a solid mystery involved (of course!), and the book kept me guessing the entire time (I never guessed who it was or why exactly what happened was happening- a mark of a good book!).
The Royal We (Cocks): I loved this book, which was basically a sort of fan fiction on Kate and William… and the Royal family. It was a fun read all about the monarchy and how it impacts relationships, and was hooked the entire way! 4/5 stars
The Crown: The Official Companion, Volume 1 (Lacey): I've loved watching The Crown on Netflix, and I enjoyed this companion book that went episode by episode. It talked through some of the differences between the netflix version and what occurred in reality, and gave some extra historical context. I appreciated it. 4/5 stars
If you read anything this month, check out the following: The Royal We and The Seven Husbands of Evelyn Hugo
Now it's your turn to share: What book are you most excited to read in the next few weeks? 
Disclosure: I received an advanced reader copy of this book as part of being on the Why I Hate Green Beans Launch Team. I was not compensated in any other way.
Why I Hate Green Beans. The title of the book immediately drew me in because it was unique (although I do like green beans alright… though they aren't my favorite). The book Why I Hate Green Beans, by Lincee Ray, comes out on February 6, 2018, and I had the pleasure of receiving an ARC copy of the book.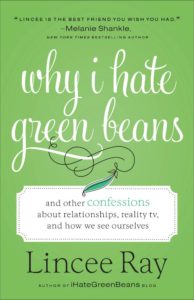 I LOVED IT and found myself laughing out loud as I read. I actually read it over Christmas, and several times found myself reading out loud to my family members. It's a book that I would've loved to read at the same time as other friends!
Lincee's Blog "Why I Hate Green Beans" became popular for her weekly reviews of The Bachelor episodes. Her comedic tone in the recaps drew people in, and her popularity grew rapidly. I remember hearing about her blog, but never went there to read it until I got her book. And now I read it weekly (yes- confession: I do watch The Bachelor). Her book tells various stories about her life, weaving a theme of insecurity throughout (but in a totally relatable and hilarious way!). You'll read stories about relationships, friendships, classic styles of past decades, and the rawness that comes from heartache. And of course you'll get a good amount of Bachelor humor thrown in there too!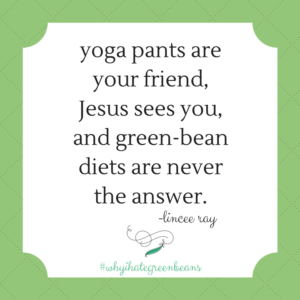 Humor, snark, and a bit of sarcasm. With some real life vulnerability and life lessons. That's the perfect mix for a book, right?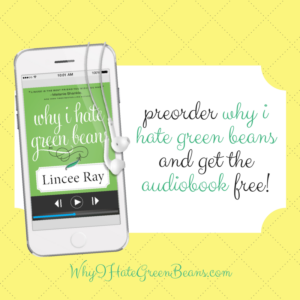 It comes out on February 6th (2018!). If you pre-order it, you'll get a FREE copy of the audiobook read by Lincee herself. You're guaranteed to laugh your way through it.
I love behavior change- so much so that I actually studied it for my thesis in grad school. This past fall I started seeing something called "Powersheets" online, so I went and hunted for more information. Through the Cultivate What Matters website, I found my answers! For their description of Powersheets, click here!
Basically, powersheets is a goal planner that walks you through an evaluation process of your life, has detailed action step planning, and then is broken down month by month for tending lists (monthly, weekly, and daily to do lists) to help move towards more intentional living and cultivating what matters most to your life.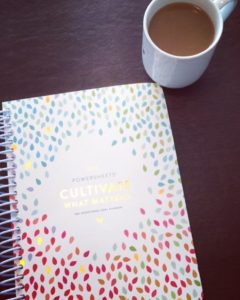 The fact is that most of us don't truly live life according to our values. We say we want something from our lives, we say that something matters, but it's HARD to make changes— so we don't. Powersheets pushes you to think through what you value and what you want out of your year, and then walks you through some ways to make that happen!
Through this I've identified 9 major goals for myself for the year, and have created action steps for each of these goals. Some of these steps are small, and some aren't. What I really like about Powersheets is that each season (spring, summer, and fall) there is an option to update or change goals as you continue to discover how to best live life according to your values.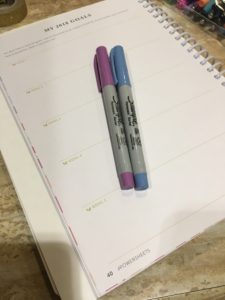 I'll be sharing a bit about powersheets throughout the year, so I just wanted to give a bit of information on it right off the bat in 2018!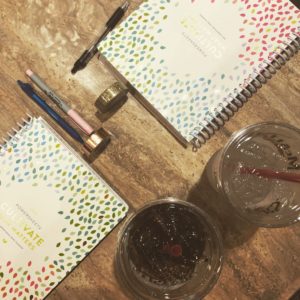 The other fun piece of this is that not only is there a great online community on Facebook and instagram, but a group of us from the area I live in have gotten together twice so far to talk through our powersheets. It's been great to have a group of people to bounce ideas off of and stay a bit accountable to.
Last year I did a top 10 books post, so I decided that I would do one again this year! I read 140 books in 2017, so I had a good amount to choose from (I read 140 books in total in 2016 too). I actually had a harder time choosing my top 10 this year. I think I liked books in general a little bit less than previous years, although I read a lot of books in the 3-3.5 out of 5 stars that I really enjoyed. Here are my top 10, in no particular order: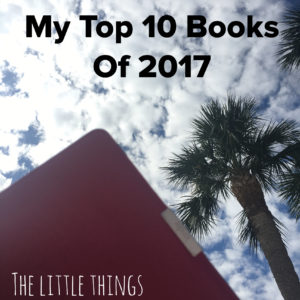 Healing the Fragmented Selves of Trauma Survivors (Janina Fisher): Unless you're a therapist or really interested in trauma treatment, this book probably won't interest you. However, as a counselor who is consistently trying to learn more about trauma and even better ways to treat trauma, I absolutely loved this. After finishing this I convinced a group of counselors to read it again so we could discuss it chapter by chapter, and I love the learning involved!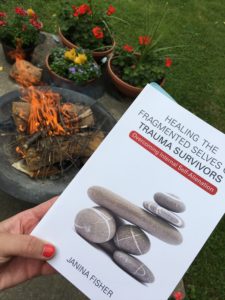 Saint Anything (Sarah Dessen): I wrote a post about Saint Anything here. Saint Anything follows Sydney, a high schooler who's life has been dramatically changed due to the choices of her brother. She is left to pick up the pieces in her own life, understanding that she has to live with his consequences. Underneath this is her own feelings of hurt, betrayal, fear, and guilt.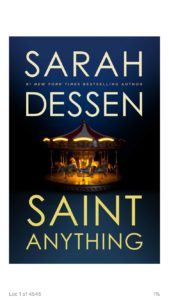 Born A Crime (Trevor Noah): I had heard multiple people recommend this book, so I was pretty excited to sit down and actually read this one. This is written by Noah, and it's his story of growing up in South Africa during apartheid. I didn't know anything about the author before I read this book, and I found his story to be incredibly interesting. I found myself feeling thankful for his vulnerability and what he shared. I also appreciated the moments he stepped away from his story and gave a few pages of history and context for what was happening within apartheid, and then placed his story in that context. A must read.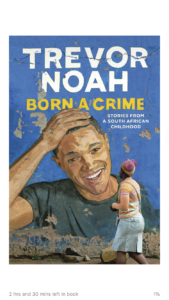 Slow Kingdom Coming (Annan): This book is all about how to do justice and healthy helping well. IT ROCKED MY WORLD and I absolutely loved it. I'm actually going to be using this in a class I teach coming up in a few months, and I'm so excited to read it through again.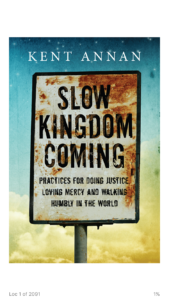 The Gifts of Imperfection: Let Go of Who You Think You're Supposed to Be and Embrace Who You Are (Brene Brown): This book was one of my absolute favorites from the month of February. Brene Brown also wrote the book Daring Greatly, and has such beautiful and truthful words to speak. This book she focuses on the idea of wholehearted living, and writes about several guideposts that people who live wholeheartedly share in common. Her books are written based off the research she has done, but she writes in such a beautiful way.
The Road Back to You (Ian Cron & Suzanne Stabile): I could write a whole post about this. This book is about the Enneagram, a 9 type personality that is rich with history. They talk through each of the types, and include steps for growth towards health for each type. I find that there is so much understanding and empathy that comes from understanding these 9 types! The enneagram is all about self-discovery and getting to a healthier place in life for ourselves, as well as understanding better the people in our lives. I'd definitely recommend this book!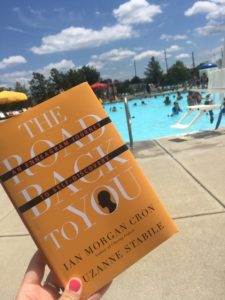 Winter Garden ( Kristin Hannah): I've read other books by this author and enjoyed them, but knew nothing about this book going into reading it. Short story: I adored it. The book goes in depth into the relationship between mother and daughter, of sisters, of family dynamics. It takes place in the present and in the past, and merges these two together. The end of the book made my heart ache so deeply and I wanted to cry for quite awhile. I'm not sure my heart has felt simultaneously so heavy and so wonderfully about the same story. I so appreciate the author's ability to take the reader to deep emotion as she walks them through the story.
The Handmaid's Tale (Margaret Atwood): I watched Handmaid's Tale on hulu this summer, so I was able to breeze through this book and fill in aspects from the show (or maybe- details from the show). I loved this book and was engaged from the start. I did find that some of the details in the middle part to drag a bit. Overall, I really enjoyed it, and would definitely encourage anyone to read it… especially if you enjoy the show.
Ender's Game (Orson Scott Card): My family read this book out loud when we got together in March, which made reading this extra fun. This is a book about Ender (just a child) who goes to a military type school and learns to play computer simulated war games. Through twists and turns he learns that he is to play a much bigger role in the world…
A Man Called Ove (Backman): I was so excited to read this one, as I've heard SO so much about this since the spring. This story follows Ove, a curmudgeon, and the relationships he has. The book bounces back and forth between present day and Ove's past, and the reader gets to know layer after layer of Ove's story. There was a warmth and beauty in seeing his story unfold.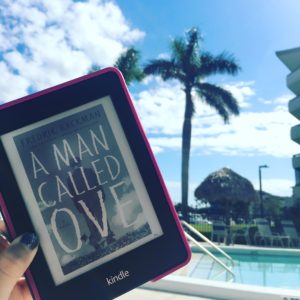 ok… a bonus one… because I couldn't JUST choose 10!
Little Fires Everywhere (Celeste Ng): Oh my, I loved this story!I didn't know what this book was about going into reading it, but had high expectations because I like the author- she did not disappoint! I loved the layers of family dynamics playing out throughout this story.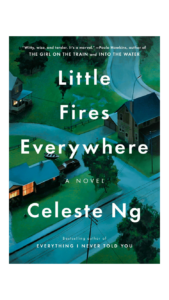 Honorable mentions go to At Home in the World by Tsh Oxendreider and Reading People by Anne Bogel- I LOVED both of these as well! So, those are my top 10 books (plus some extras!) from 2017!
Now it's your turn to share! What was one of your favorite books you read in 2017? What are you looking forward to reading in 2018?
Now that it's officially over a week into 2018, I figured I needed to get around to posting the books I read in December. In December I read 11 books, bringing my total for 2017 to 140 books!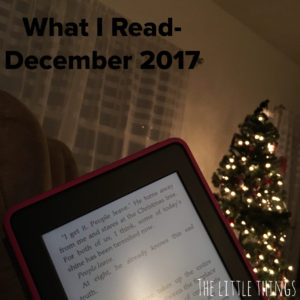 Here's what I read in December:
Making it Happen: Surrender Your Fear. Take the Leap. Live on Purpose (Casey): This book is written by the person who founded Cultivate What Matters (which produces the Powersheets!). This is Casey's personal story, along with little moments of wisdom on behavior change and intentional living. I listened to the audiobook, and several times throughout she would say "pause and journal/write/think about the following ____". If I hadn't been doing the powersheets prep already, I feel like this book would've been even more helpful. 4/5 stars
Grace (Eventually): Thoughts on Faith (Lamott): I love personal stories because I think we can learn so much by looking at life through the eyes of another. I enjoyed this (quick) audiobook. 3/5 stars
Private #1 (Brian): The story of a 15 year old going to a prestigious high school. It was quick and pretty good (although not as good as gossip girl!) 3/5 stars
Dashing Through The Snow (Macomber): This was a fun, quick story about a person who falls in love at Christmas. It was cheesy, of course, and definitely could've made a bit of a Hallmark movie. 3/5 stars
Little Fires Everywhere (Ng): Oh my, I loved this story!I didn't know what this book was about going into reading it, but had high expectations because I like the author- she did not disappoint! I loved the layers of family dynamics playing out throughout this story. 4.75 stars
Hillbilly Elegy: A Memoir of a Family and Culture in Crisis (Vance): 4 stars. Again, hearing life through another's perspective is so valuable, and I enjoyed this look into the lives of so many who live in the hills of Appalachia.
The Beautiful Struggle (Coates): 4 stars
The Uncommon Reader (Bennett): This was a fun novella about the Queen of England and her love of reading. While not a true story, I loved reading it none the less. 4 stars
Minimalism: Live a Meaningful Life (Millburn): I like the minimalists and enjoy listening to their podcast. I tend to be a little more balanced than the authors in my approach to life/minimalism/health. In my opinion, they can be a bit black and white at times. Minimalism looks different for everyone (which they acknowlede), so I appreciate hearing a bit of their own story. 3/5 stars
The Last Battle (Chronicles of Narnia #7) (Lewis): In 2014 I decided to read through this entire series, and only got through the first 3 or 4 books that year. This is the final one (and the only one I had left to read… ) so with only a week and a half until the end of the year, I forced myself to finish it. I wish I loved it more than I did.
Hello, Sunshine (Dave): This novel looked at the lives we so carefully curate and put online, and the things that happen when those things collide with the truth of our life. 3/5 stars
And with that, the calendar has changed and my book count has started over again. Stay turned for my favorite books throughout 2018!
Now it's your turn to share! What book are you most looking forward to reading in 2018?
While I haven't really talked about it on the blog, this year my "word of the year" was Create. This was a word that just kept nagging at me as I tried to push it aside to choose a better word. When "Create" wouldn't leave me alone, I decided to commit to it.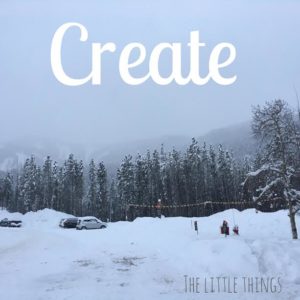 Last February I wrote the following about my idea for create: I desire to create new areas of health for myself (lean body bootcamp is a step to that). I desire to create new habits, to create space for new things, and to create some new programs at work. I want to give myself to be creative, think outside the box, to do things in ways that haven't been done before.
As it turned out, Create was a great word for me this year! Here are a few ways that "create" was woven throughout my year:
I created a strength training rhythm for myself. As it turns out, signing up for Lead Body Bootcamp at the end of 2016 was exactly what I needed to create a new lifting routine for myself. With my knee injury, that was the only real form of exercise I could do, so having created that rhythm from the start of this year ended up being critical.
I definitely created space in my house. This year, through playing the minimalism game (1.75 times- haha), I managed to get rid of 783 items from my house (as of 12/1/17)! Continuing to create space for myself has been a running theme, and will continue into 2018.
With work, I created new forms and new programs and ways of doing things. These things have felt so energizing throughout the year.
Speaking of work related things, this year I created my first graduation speech as well as created a book chapter! These things felt really good.
With creating, I wanted to create new ways of understanding myself, others, and the world. Two books in particular really impacted me: Healing the Fragmented Selves of Trauma Survivors  and The Road Back to You. Continuing to become better in treating trauma has been important to me. Learning about the enneagram and creating a framework for understanding myself and others has been so impactful and has also created new ways of interacting with clients and implementing therapy.
With "Create", an unexpected for this year was my knee injury. Especially in the spring, I had to create totally new patterns of living, including having to ask others for SO much help (even the smallest things like getting coffee for me). This was humbling but taught me a lot.
I started to create new ways of thinking about healthy helping when it comes to charity work. Through reading Slow Kingdom Coming, I was challenged to look at what it REALLY means to do justice, love mercy, and walk humbly. What does it mean to REALLY help a person or community (and not to just engage in something that feels good in the moment)? Creating some new foundations for understanding this has been fantastic (and hard!).
Over the last month, I've created some new patterns for goal settings with the 2018 Powersheets , which is an intentional goal planner. I've loved being able to look through 2017, assess what worked and what didn't, and look ahead to creating some new patterns in 2018.
I'm sure there are plenty of other things I created this year, but these are the things I thought of off the top of my head! It's been interesting to see how the word I chose in January has consistently played out through each of the years that I've done a "word of the year", especially in the ways that I couldn't have predicted.
Because of engaging in the Powersheets Prep Work over the past month, I actually already have my 2018 word of the year chosen, and I'm pretty excited for it!
Now it's your turn to share! Did you chose a word of the year for 2017? If so, what was it and how did you feel that it impacted your year?
Wow- it's officially December and all things Christmas! November was a fairly solid month for reading! This month I read 10  books, bringing my total for the year to 129. Here's what I read in November: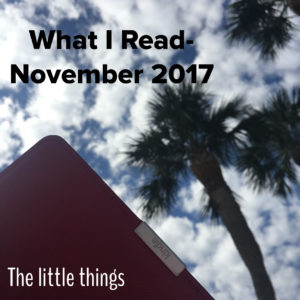 Eleanor Oliphant is Completely Fine (Honeyman): Eleanor Oliphant is a bit of an odd duck. She becomes friends with two individuals in an odd twist, and these friendships begin to shake up her rigid schedule. With this she starts to observe life differently, eventually putting together a greater understanding of her life. It started a bit slow but I was intrigued from the start. The journey of Eleanor is fantastically beautiful, and I loved the therapy storyline throughout the book. 4.5 stars
Down the Rabbit Hole: Curious Adventures and Cautionary Tales of a Former Playboy Bunny (Madison): I had been wanting to read this book for awhile, but I finally put a hold in for this book the day that Hefner passed away. Madison not only shares a good amount from her life before and after her life at the playboy mansion, but also shares a whole lot about her time in the mansion. It was pretty interesting. 3 stars
The Bright Hour: A Memoir of Living and Dying (Riggs): I appreciate anyone who gives such an open and vulnerable view of the most painful moments of life. The author beautifully shares her story. 4.5 stars
All I want is Everything- Gossip Girl #3 (von Ziegesar): Nothing notable here- just chugging away through the series while I'm waiting for other holds to come in.
Fitness Junkie (Sykes): This book follows one woman's journey to regain her career through increasingly ridiculous means. Eventually, through this process, she finds her true self after confronting the core of who she was. This was a fun book. Somewhere between 3 and 3.5 stars.
Mockingjay- The Hunger Games #3 (Collins): While this is my least favorite book in the series, I still love it.
Young Jane Young (Zevin): I love a good redemption story, a story where we get to watch the main character struggle and fight for what they need or believe in. 3 stars
The Sisters Chase (Healy): I love a good story that takes me on all sorts of twists and turns, and The Sisters Chase did just that! I felt ok about the ending but wanted a bit more from it than we got. A solid 3 stars.
A Man Called Ove (Backman): I was so excited to read this one, as I've heard SO so much about this since the spring. This story follows Ove, a curmudgeon. The book bounces back and forth between present day and Ove's past, and the reader gets to know layer after layer of Ove's story. There was a warmth and beauty in seeing his story unfold. A solid 4 stars.
Big Questions, Worthy Dreams: Mentoring Emerging Adults in Their Search for Meaning, Purpose, and Faith (Parks):  Overall I really enjoyed this book, although there were some parts that felt a bit dry. I've heard the author speak, and she is fantastic. If you don't spend much time with emerging adults, you'd likely not connect to this book, but if you are around emerging adults and/or mentoring positions or communities, this book holds great wisdom.  
If you read anything from this month, read A Man Called Ove and The Bright Hour.
Now it's your turn to share! What book did have you most enjoyed recently?
I love a good reading challenge, so as the calendar flipped from 2016 to 2017, I eagerly looked up Anne's Reading Challenge on Modern Mrs. Darcy to see what sort of reading and book fun I could have this year. Here is an update, with only a month and a half to go for the year.
A book you chose for the cover:
A book with a reputation for being un-put-down-able: **I think A Man Called Ove, which I started reading, then had to return, and have a hold in for again will likely be the book I list here for this category
A book set somewhere you've never been but would like to visit: The Year of Living Danishly: Uncovering the Secrets of the World's Happiest Country (Helen Russell)
A book you've already read: To Kill a Mockingbird (Harper Lee)– I hadn't read this one since high school, so it was fun to go back and read it again!
A juicy memoir: Kris Jenner… and all things Kardashian (Kris Jenner)
A book about books or reading:
A book in a genre you usually avoid: ** something science fiction will probably go here
A book you don't want to admit you're dying to read:
A book in the backlist of a new favorite author: Saint Anything (Sarah Dessen)
A book recommended by someone with great taste: At Home in the World (Tsh Oxenreider)
A book you were excited to buy or borrow but haven't read yet:
A book about a topic or subject you already love: Slow Kingdom Coming: Practices for Doing Justice, Loving Mercy, and Walking Humbly in the World (Kent Annan)
So that's where I'm at for the year! I'm pretty close, but struggling to find a book about books or reading that I want to read. Any suggestions?