Disclaimer: I received a buff to review as part of being a BibRave Pro. Learn more about becoming a BibRave Pro (ambassador), and check out BibRave.com to review find and write race reviews!
Buffs are something that I've been interested in trying over the past few years, primarily as a means of stopping so much sweat from getting in my eyes while running in the summer. However, I never actually took the leap to purchase it, so when I was given the opportunity to test one out from Bibrave, I immediately jumped at the chance! Since I don't wear hats (they make my head feel way too hot!), this seemed like the answer to my problems.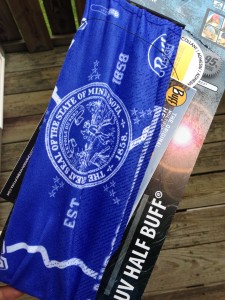 Buff USA has a crazy amount of designs and colors to choose from, and since I was feeling nostalgic for the long summer days I had growing up in Minnesota, I got the Minnesota Buff. I tried it out two days after I got it, and was SO excited to go on the run. I wasn't, however, so excited about the heat and humidity that existed that day! I guess it was the ideal weather to try out the buff, right?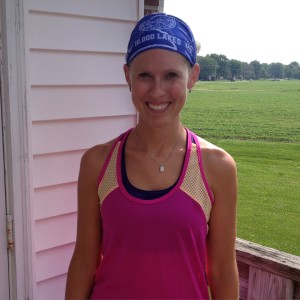 I ran a quick two miles that morning, and my immediate thought was "oh wow- I love how this buff is working out!", but I wanted to test it on longer runs as well!
Fast forward to the next week when I got out far too late for a run. I was sweating three minutes in as the sun beat down on me. Gross running weather, right? However, it gave me a great chance to try out the buff. 3 miles later my buff was definitely doing it's job, which I was glad about! Without the buff I would've been stuck rubbing sweat out of my eyes for the last mile or so, and who wants that on a run?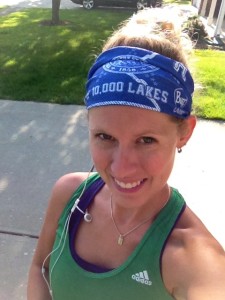 I love that I can fold the buff so that it's really wide or more narrow, depending on what my needs are for the run! I'm also really excited to try it out in the winter and see what it might be able to do for me then.
The one thing that bothers me just a little bit about the buff is that I feel like it suffocates my forehead a little bit. I think the benefits outweigh this, and I think it's something I'll get used to, but I wanted to mention that it is something that I have thought about. I wore it on a 5 mile run at the end of last week, and it worked wonderfully. I love that it blocks most harmful uv rays as well, making it an especially great product! I've slipped it down to protect my neck while outside as well.
I also found a bonus use for the buff: it's great to wear while moving during the hot and humid summer!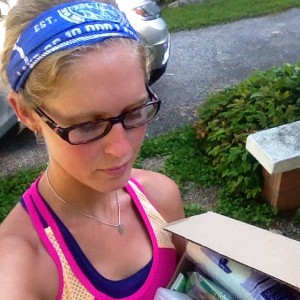 I would definitely recommend getting a buff for yourself, and honestly can't believe that it took me this long to get one! If you're interested in getting your own buff, you can check out their website here.
You can also find them the following places: Facebook, Twitter, and Instagram.
Now it's your turn to share! What's one of your favorite summer running products?