Happy summer time! May signals a change to my summer schedule (the last week of the month), so I'm enjoying a slower rhythm, more nights chilling on my back porch, and more time to read! I also spent the last week of the month in Florida (I had a work thing down there), so I had some extra time to read around the pool and on the beach! In May I read 15 books, bringing my total to 62 books this year (for interests sake, I went to see when I hit 62 books last year- I did on July 18th). At the end of the post I'll share my must read books from the month.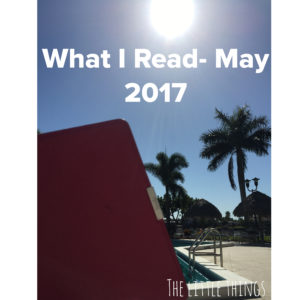 Here's what I read in May:
Somewhere Inside: One Sister's Captivity in North Korea and the Other's Fight to Bring Her Home (Laura & Lisa Ling): Last month I read a book by the other reporter who was imprisoned in North Korea, so this month I decided to read about the situation from the Ling sisters' perspectives. It was incredibly interesting, and was a really quick read.
At Home in the World: Reflections on Belonging While Wandering the Globe (Tsh Oxenreider): I really loved this book. The author's family packed up and went on an almost year long tour around the world, living in various countries. This was a delightful book, and I so enjoyed not only reading about various parts of the world, but also the lessons the author learned about herself along the way. 4/5 stars.
I Got This: To Gold and Beyond (Laurie Hernandez): This book was written by one of the gymnasts from the 2016 women's gymnastics team in Rio. This was an interesting, quick, and fun read, and I loved reading about her experiences in Rio and on Dancing With the Stars.
The Magician's Land (Lev Grossman): The third book in the Magician's series. It was interesting, and I appreciated some of the ways that he tied up the storylines.
The Best Yes: Making Wise Decisions in the Midst of Endless Demands (Lysa TerKeurst): I actually didn't even write anything about this book on goodreads, although I did give it 3/5 stars. There were some good takeaways sprinkled throughout.
This is How You Lose Her (Junot Diaz): I didn't prefer the style of writing within this series of short stories. Quite honestly, I also didn't love the main character at all, so it was hard for me to desire to know what came next for him or to root for him. 2/5 stars
Chasing Slow: Courage to Journey Off the Beaten Path (Erin Loechner): I listened to this via audiobook, and I enjoyed it. The author was open about her journey to "slow" and more intentional living, and I appreciated the ways that she acknowledged how she was changing without making it "all or nothing". 3.75/5 stars
Uninvited: Living Loved When You Feel Less Than, Left Out, and Lonely (Lysa TerKeurst): Again, she makes several good points throughout the book, but I still found myself a bit internally torn without words to put to why I was feeling that way. 3/5 stars
The Secrets of My Life (Caitlyn Jenner): This book was absolutely fascinating. I really enjoyed hearing more about her life growing up, the interactions with OJ Simpson (and how the whole trial played out within the family), his time with the Kardashians, and the candidness in talking about the transition.
Born A Crime: Stories From A South African Childhood (Trevor Noah): I didn't know anything about the author before I read this book, and I found his story to be incredibly interesting. I found myself feeling thankful for his vulnerability and what he shared. I also appreciated the moments he stepped away from his story and gave a few pages of history and context for what was happening within apartheid, and then placed his story in that context. A must read. 4.5/5 stars
Writings to Young Women from Laura Ingalls Wilder: On Wisdom and Virtues (Laura Ingalls Wilder): This was a random choice in books, but I really loved The Little House on the Prairie series. I wouldn't read it again, but there were moments that were slightly interesting.
Firefly Lane #1 (Kristin Hannah): i had a bit of a hard time initially getting into this book, but by about 30% through I couldn't put it down. There were a few moments that dragged, but otherwise I was hooked. I may have even cried a little bit at the end, which was especially awkward since I was reading it on the plane. 4/5 stars.
The Silver Chair (Chronicles of Narnia) (C.S. Lewis): I'm slowly making my way through the Chronicles of Narnia (I started in the late winter/early spring of 2014), and this is the 2nd to last one. I've still struggled with the fact that the entire series doesn't revolve around the 4 siblings, so every book has been a slight disappointment because of that.
What We Find (Sullivan's Crossing #1) (Robyn Carr): This story takes place out west, based at a family's store on a hiking trail. It was a fun story about careers, love and family.
The Rumor (Elin Hilderbrand): On vacation I love to read at least one book that takes place at a beach, and this trip this was the book! This book takes place on Nantucket, and actually has a quick reference to a book I read two years ago over Memorial Day (The Castaways). It was a fun, quick read.
Here are my "must reads" for the month: At Home In The World, Born a Crime, and Firefly Lane. All three are very different, so there's a nice balance there!
Now it's your turn to share! What book are you looking forward to reading this summer?
As you might recall, 13 weeks ago I hurt my knee and have been on crutches ever since. Yes. I've survived 13 weeks on crutches. So, I thought I'd give you all a quick update:
My knee IS getting better, albeit incredibly slowly. I've been icing and doing PT and compressing and elevating my heart out, and it's definitely been making a difference. I've worked hard and, with a lot of effort, can bend my knee to 90 degrees, so while that sounds like a little thing, it's definitely not! Like I said, it's not comfortable and I don't sit like that often- normally my leg is elevated and straight. The swelling has actually gotten a little bit worse, so that's not ideal.
Mentally I'm starting to feel a bit fussy about the whole thing. I've done pretty well about staying upbeat about the whole thing (even in Mexico), but honestly I'm getting a little tired. If I had a set number of weeks that I needed to get through to get to the other side, I could handle that more than I could with it just being an unknown number.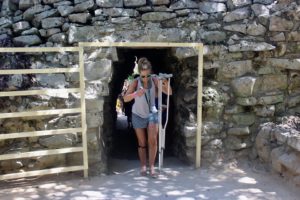 I'm struggling with not being able to really carry things for myself. With crutches you don't have hands you can use while walking, so I can't get myself food, can't get myself coffee, can't do very basic things for myself. At home I have to not use crutches sometimes, of course, but otherwise I have people doing a lot of things for me, which is nice.
I'm feeling frustrated that I can't go on walks, runs, or bike rides. I really can't work out much at all, except for doing some upper body lifting. For 13 weeks. I haven't gone that long without any exercise since… before I started exercising.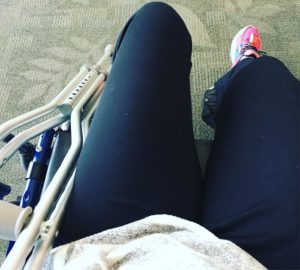 I'm really struggling with feeling comfortable sleeping. Every night I desperately want to sleep on my side, but I can't because my knee hurts too much to do that. I sleep on my back, every night, without moving, and with my knee elevated. Fussy. I give myself 2-3 minutes on my side just to get comfortable, but then my knee hurts so back to my back I go.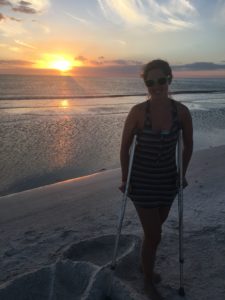 But really, I just am frustrated with not being able to live the normal rhythms of life. But when I get tempted to complain, I think about how much worse it could really be, and that helps to ground me. Frankly, despite my frustration, I can move and walk and get things done, and I don't want to take that for granted.
So, there's a quick little update on how my knee is doing.
Well, at the start of April I set out to play the Minimalism Game. The rules are simple: day 1, get rid of one item. day 2, get rid of two items, day 3, 3 items, etc… for the month. In my first post I wanted to get to about day 15, and I felt like that would be a success for me. Once I made it to day 15 and was going strong, I decided I would commit to 25 days. So, how did I end up doing?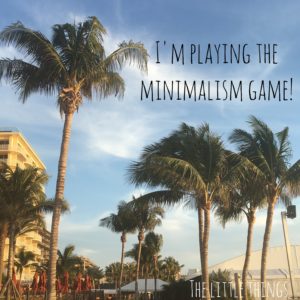 Well… I DID IT! I made it a full 30 days of playing the game, meaning I got rid of 465 items this month! WOAH. It sort of puts my "one item a day for a year" game to shame last year! Or, it got me warmed up, because I don't think I would've been able to play this game two or three years ago.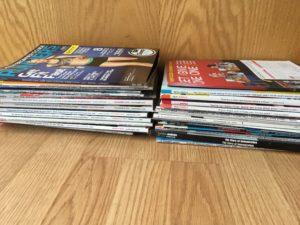 turns out I don't miss the 70+ magazines I tossed over the course of the month- yikes!
I've learned a few lessons over the last month:
1. I learned that there is a whole lot in my house that I don't even realize that I have. When I REALLY went looking for items (especially deep in the back of cupboards and drawers), I found so my items I had no idea that I had… and that I no longer needed.
2. I found that, while I still struggle to hold onto items because of the memories, I'm getting just a tiny bit better at releasing them… and I'll take that progress!
3. I realized that I really need to get a scanner so I can scan in some hard copies of pictures and documents and then get rid of them. I have 2-3 large boxes of pictures in my house, and I honestly don't really have space for those boxes. So, a scanner would be perfect!
4. Making it a game makes it way more fun and motivating than it otherwise would be. I'd heard that but honestly felt skeptical until I started playing the game.
5. People will often comment with "I don't think I could find that much in my house to get rid of." And you can smile to yourself because, except for the rare exception, of course they could. And then you'll remind yourself that you didn't think you could do it two weeks prior.
6. I realized that I feel more relaxed when I walk into my house at the end of the day.
7. I've realized just how much energy it takes to look at so much stuff, and how that raises my stress level a little bit… which just motivates me to continue to clean a bit.
8. I realized that I have a lot more that I can get rid of.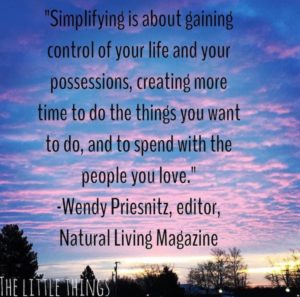 So where does that leave me today? Well, like I said, I still have more items that I want to get rid of! I have a bag set aside for me to start tossing items into, and I plan to play the game again in June or July. I don't think I'll play for the full month this time, but I'd like to play for at least 15 days. We'll see though- that's what I said last time!
Well, here we are in May. I went to Mexico at the end of the March and honestly, I had a pretty hard time adjusting back after the trip. I just wanted to read more about the work that is happening there, and ended up spending a lot of time that I would've been reading processing instead. That being said, I read 8 books this month, bringing my total for the year to 47 books.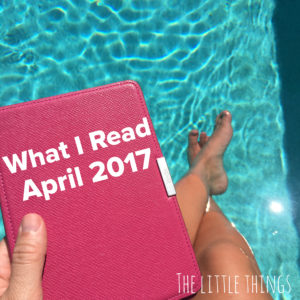 Here's what I read in April:
Grit (Angela Duckworth): This book is all about grit- perseverance and passion for long term goals. She talked about her research on grit and looked at how people develop more grit (and all about deliberate practice!). She also crossed the information on grit with the idea of growth mindsets (I talked all about the book Mindset here )- I loved this book and found it really interesting.
The Magician King (Lev Grossman): This was the 2nd book in The Magicians series. It was interesting and held my attention, but I don't have much to say about it. I'll definitely read the 3rd book in the series.
Sunrise Point and My Kind of Christmas (Robyn Carr): These were the final books in the Virgin River Series. There are 18 books (I started the series back in August of 2016), so it felt good to finally get through it!
Slow Kingdom Coming (Kent Annan): I could go on and on forever about this book. The subtitle of the book is "Practices for Doing Justice, Loving Mercy, and Walking Humbly in the World". This book explored 5 critical practices that need to be in place while helping, coming alongside another, and doing justice within the world. I highlighted so much in this book, and I just loved it. It felt beautiful and challenging and difficult and life-changing.
The World Is Bigger Now (Euna Lee): Several years ago, two US journalists were imprisoned and held in North Korea- this is the story written by one of those two journalists. It was fascinating.
Happily Ever After (Trista Sutter): Honestly, I was hoping that she would talk more about her time as the Bachelorette, but she really just hit on that story line a few times throughout the book. It wasn't that I didn't like the book, but I was hoping it would be so much more than it was.
Cold Tangerines (Shauna Niequist): I've read several books by this author, and style wise this book fits right in. She's open and vulnerable in her story telling, and makes me feel, as the reader, that I'm sitting in her living room chatting with her. In this book she explores some of the small things that make up an extraordinary life.
If you only read a few things from the month: Slow Kingdom Coming and Grit
Now it's your turn to share! What book have you loved lately? What book is next up on your "to read" list?
AGH. This year is flying by so quickly. As the leaves have shot out on the trees and the grass has turned green, I'm scratching my head wondering where the last two months of life have gone. So, with things moving quickly, I thought I'd squeeze in a "currently" post before the end of the month:
Currently Drinking: Bai Bubbles- a Costco find! I'm also drinking lots of water and a little bit of black coffee here and there.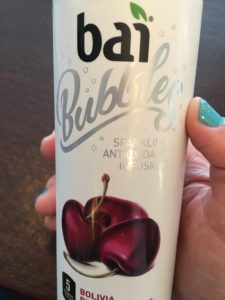 Currently Eating: lots of guacamole! Going to Mexico makes me crave all the things, so I got single serve containers of guacamole from CostCo and I've enjoyed eating them every day after work.
Currently listening to: The Road Back To You podcast (about the enneagram). I'm also listening to the song "Don't Let Me Down" by the Chainsmokers. We listened to it every day in the car on the way to our work sites in Mexico, so it has a lot of happy memories!
Currently Watching: Survivor! True confession: I watched the first two seasons and then didn't watch again until the spring of 2009. I've watched every season since. This season is Game Chargers, and pulls contestants from previous seasons. The game play has been SO GOOD because they are all returning players, and I've been loving it!
Another confession- I love Married at First Sight! Who else is excited that the new season just started?!
Currently Reading: I just finished the book "Slow Kingdom Coming" and it was SO so good. I'm currently reading Hidden Figures, Cold Tangerines (Shauna Niequist), and The Black Swan.
Currently Smelling: The lilacs blooming outside my back door (which is open right now!). It smells so good. I'm also smelling my mahogany coconut
Currently Excited for: Honestly- my knee getting better! I tore a tendon and have bursitis, and that has really limited my life. I'm looking forward to not sleeping on my back with my knee elevated, not walking around in a huge brace, not using crutches, being able to get myself coffee, and getting to go on walks again. Seriously- all really basic, but it's what I really really want right now.
Currently Wearing: pink shorts, a gray tank top, and cat slippers. haha. On my nails I'm wearing Essie's In the Cab-ana with sparkle glitter on top! I'm loving how warm it is today.
Currently Loving: Throwing things away as part of the Minimalism game! I'm also loving the kindness of those in my life who have stepped in to do the things I can't do for myself. I have co-workers who are mowing my lawn for me, stopping by my office most hours to get my coffee or water (it's a drag to be on crutches and not have any free hands!), and offering encouragement over these last 9 weeks. It's been mentally taxing at times for me, so their kindness has been appreciated!
Now it's your turn to share! What are some of your "currently" statements for the month?
As I mentioned earlier, in the month of April I'm playing The Minimalism Game! Since I've made it two weeks, I thought I'd type up a short little update on how it's going.
Although the game is written to last a month, I originally committed to 15 days days, meaning I was committing to 120 items. However, I left it open to continue for as many days as I felt that I could. I'm now on day 17, meaning that I've gotten rid of 153 items.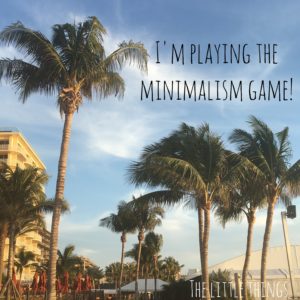 My house doesn't seem to look very different at all! It's amazing how many items we have hidden away in closets, on book shelves, and in drawers. I know that it is, however, making my life easier because it means less to dig through when I'm cooking or getting dressed in the morning.
I've found it fairly easy to get rid of items this month, probably because I haven't moved to more difficult items. For example, I went through a huge stack of magazines I had been putting aside in favor of reading (at the start of the year I decided to not subscribe to any magazines for the time being because it wasn't adding value to my life). I went through 54 magazines this past week, and it felt good to be able to release all of those things (and makes my book shelf SO much nicer to look at!).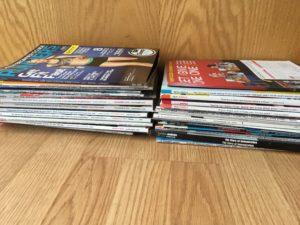 As I've started looking for items to get rid of, and as I continue to reflect on my time in Mexico, I realize more and more how I feel almost stressed from looking at the quantity of things in each room. This realization has made it a little easier to release things.
And now I'm rambling 🙂 I think I'm going to commit to 25 days of this game, and then I'll decide where I'm at at that point.
Is anyone else playing along with the minimalism game this month?
After two solid months of reading, March was a slow down month for me. I was out of town for 17 days of the month, and the days that I was there were either prepping for a trip, unpacking, or working extra to make up for the times I'm gone. All that to say, reading got set aside, especially for the 9 days I was out of the country. In March, I read 8 books (total for the year is 39 books). Here's what I read: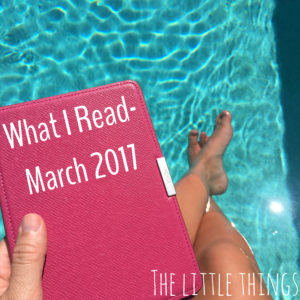 7: An Experimental Mutiny Against Excess (Jen Hatmaker): wow- this book feels really tough to write anything about because it was just so thought provoking. Hatmaker writes about her journey with excess, as she chose seven areas of life to address, each for one month (including food and clothing). It felt convicting and motivating.
The Mothers (Brit Bennett): I gave it 4 stars. It was well written, and spanned the lives of two friends over many years. The reader gets the inside look at how a secret impacts friendship and community of the span of years. It was great!
Ender's Game (Orson Scott Card): My family read this book out loud when we got together at the start of last month. This is a book about Ender (just a child) who goes to a military type school and learns to play computer simulated war games. Through twists and turns he learns that he is to play a much bigger role in the world…
The Memory Book (Lara Avery): This story is about a young girl who as a disease that is making her lose her memory. Because of this, she chooses to start writing a book of things to remember for herself. This book confronts questions of living well when faced with a devastating diagnosis, and looks at how this impacts family and friends. I loved it.
The Magicians (Lev Grossman): I watched the first season on Netflix, so I decided to read the series! I enjoyed this first book, but was glad that I had watched the series first, as it made the book feel easier to follow. It's like Hogwarts… except crazier.
The Subtle Art of Not Giving a F*ck: A Counterintuitive Approach to Living a Good Life (Mark Manson): This was interesting, and he definitely had some good stuff to say throughout.
Relentless Spirit: The Unconventional Raising of a Champion (Missy Franklin): I listened to the audiobook and really enjoyed it. There were multiple things I learned about Franklin's life, and especially appreciated how she talked about the disappointments and life lessons learned from Rio.
Redwood Bend (Virgin River Series: Robyn Carr): I'm still slowly making my way through the series- I think I'm close to being done. I hope I am! I want to finish the series but I'm starting to get bored with the books.
Now it's your turn to share! What are you looking forward to reading this month?
I've been on a journey to simplify and create space for the things that I really value or that add value to my life for quite some time. My first trip to Mexico in 2015 took a tiny little seed and really kicked it off, and it's sort of spiraled from there. In 2016 I got rid of an item a day for the year, but I think I actually ended up getting rid of 409 items. That felt good, of course, but it certainly didn't feel like enough… especially after the ridiculous number of boxes that were delivered to my house when my parents sold my childhood home. I feel like I'm drowning in stuff, and I don't like it.
The idea of doing the minimalism game hit in February I think, but walking through communities in Mexico really made me want to get rid of more things. So, this month, I'm playing the minimalism game!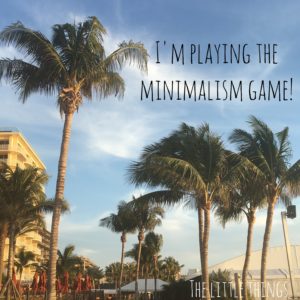 Ok- so what's the minimalism game? This is from The Minimalists. You get rid of one item the first time, two the second day, three third day, etc… through an entire month. Their rules are that you have to get the items out of your house by midnight that night. I'm mixing up the rules a bit:
First of all, I'm not set on doing it for a month. Maybe I will, but likely I won't, especially since this is a busy month for me and because I'm injured. I'm hoping to go about two weeks. I calculated it and if I play for 15 days, I'll be getting rid of 120 items. My rule is that I also don't have to have it out of the house by midnight. Again, because I'm injured, I need to make this more realistic, so I have a space in a room where I have a donate box. I'll deal with it at once instead of walking lots of extra steps.
I'm not going to post pictures every day of what I get rid of because that's boring and adds no value to anyone else, but I'll do a post at some point as I'm going along! If you want to play along with me, let me know!
Except for my post last week about my knee injury, it's been pretty quiet in my corner of the world (including instagram- my name is littlethingscaroline there!), but for a great reason: I got the opportunity to go to Mexico again this year! I see and experience so many beautiful and difficult things while there each year, and it always takes me some time to process. But, I wanted to share with you all a few pictures of a place I love so dearly. I haven't put many pictures on my computer yet, so these will have to suffice.  I was there volunteering, but at the work sites I was working, so the pictures I have are from the evenings or the one educational/fun day we had there.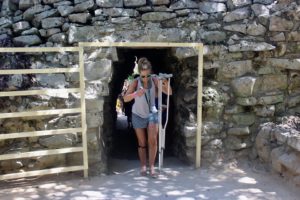 Climbing through the Mayan Ruins of Tulum. On crutches, unfortunately, because I partially tore a tendon in my knee.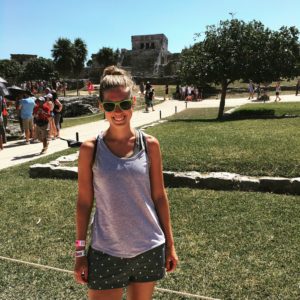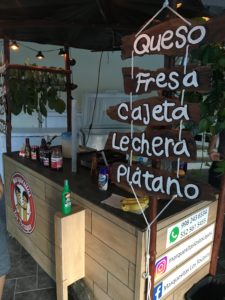 Dessert time one evening.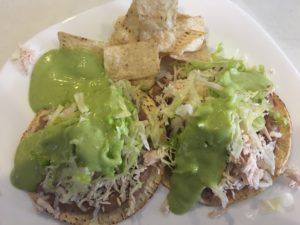 I look forward to this meal every year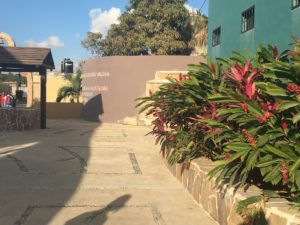 One of my favorite places.
Like I said, I learn so much every year as I spend time in the communities around Cancun, and feel so thankful for the tiny (VERY tiny) role that I get to have in working with vulnerable children in this area. Now off to process, sleep… and try to find guacamole that will come a little close to comparing to the guac there!
In recent blog and instagram posts I've mentioned that I injured my knee. (it's been just over 4 weeks now) So- I was outside "jogging" (I was not out on a run, but moving quickly on a side walk) and when my right foot hit the ground, I instantly felt a hot stabbing pain in what I described as inside my knee. I halted immediately for a second and then started to walk on. Something felt a little off, but it wasn't painful to walk so I figured I just had a weird little tweak.
Over the course of the next several hours it got a bit more sore, and by that evening I was slightly limping. By the next afternoon I had it wrapped in an ace bandage and definitely had a limp, and by the next morning it was getting swollen and I had a weird little bruise on my knee cap.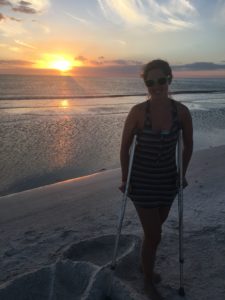 Since then my knee has gotten even more swollen and it's tough to put it straight or at a 90 degree angle. I was limping so badly that I finally gave in and got crutches (and now have to ask co-workers to get me things like water or coffee, which I don't prefer to do!).
Anyways- I finally succumbed to getting an MRI, and it turns out that I partially tore my petallar tendon (no surgery needed, and it looks like it's healing pretty well) and now have bursitis.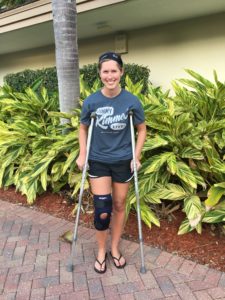 I'd heard of bursitis before but didn't know what it was. Apparently we have little fluid filled sacs in our joints called bursa, so bursitis is an inflammation of that fluid sac. And it is painful and definitely limits my mobility.
I'm doing PT exercises to work on my range of motion, but am also in a brace that helps to compress and reduce some of my knee swelling, as well as being on crutches. So, it turns out the little "tweak" is having all sorts of impact on me. Gross.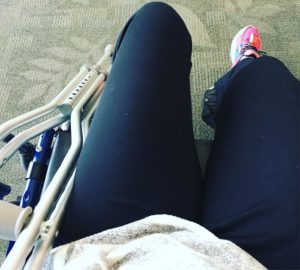 I'm feeling pretty frustrated. I got achilles tendinitis just over a year ago, so while I've had many good runs at 4 miles and under, I'm pretty frustrated that I can't seem to get above it right now. And, honestly, even more than that, I'm frustrated that I can't even walk normally or without pain.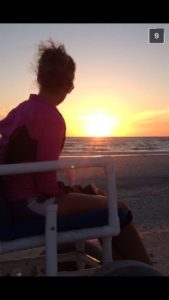 beach wheel chair and sunset
I'm thankful that I was able to go see my family for a week and really focus on resting it. I'm thankful they were able to get a wheel chair from a friend of theirs so I could still long distances at parks with them (we love our walks!) and I'm thankful that the beach had beach wheel chairs to rent (I tried using crutches on the beach and it just didn't work so well at all!). And I'm thankful that I don't need surgery!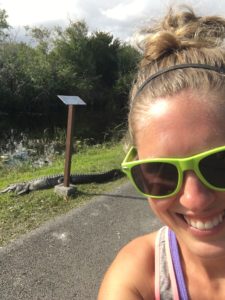 Oh- I'm also thankful I still got to hang out with the alligators in the wild 🙂