I've heard a lot about the author Sarah Dessen, so when someone suggested her book Saint Anything, I knew I needed to read it! Saint Anything follows Sydney, a high schooler who's life has been dramatically changed due to the choices of her brother. She is left to pick up the pieces in her own life, understanding that she has to live with his consequences. Underneath this is her own feelings of hurt, betrayal, fear, and guilt.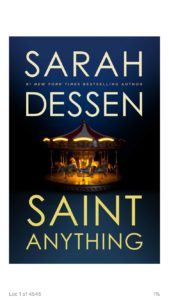 As a counselor, I loved some of the psychological processing that we get to see as Sydney and her parents walk through the results of her brother's choices. Things were a little slow at the beginning, but I was solidly hooked by about 40 or 50%, and I would definitely say that the book is worth reading.
Here are a few of my favorite quotes from the book:
"You only really fall apart in front of the people you know can piece you back together." 
"It didn't matter that I'd done none of those things. With shame, like horseshoes, proximity counts." 
"As I spoke, I realized I'd held these words in for so long and so tightly that I felt the space they left empty once released. It was vast enough that I could think of nothing to follow them."
"It was one thing to let these thoughts haunt the dark spaces of my mind, but another entirely to put them into the light, making them real."
Saint Anything is definitely worth a read, especially as you think through some of the things you might be holding onto in life. 4/5 stars.
*For other book reviews, check out my books/book reviews page.
Now it's your turn to share! Have you read anything by Sarah Dessen?
Happy Friday friends! This week I had every intention of painting my nails a non-orange color, but I just couldn't help myself. This week I once again painted my nails with Essie's tart deco polish!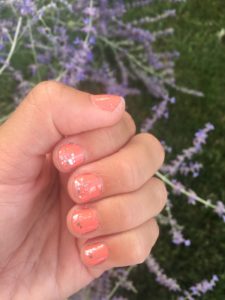 It's a love affair I just don't want to end (but I'm going to, as it feels so summer-y to me).
Here are a few random facts from my week:
1.  The summer of 2005 I met my friend Krista when we worked at a camp together. We spent the summer vacuuming, scrubbing toilets, and mopping floors, and we've been friends every since. I talk fairly regularly on the phone, but we often go several years without seeing each other. I got to see her this past weekend when she drove down to spend about 24 hours with me, and it was so good to see her again!
2. Nicey treat is… so good. This weekend was beautiful, and a friend in town means having to get nicey treat. They have all sorts of delicious flavors (mango ginger and pink lemonade are two of my favorites!)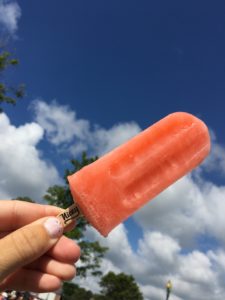 3. I've started purchasing kombucha in larger quantities… and now I'm wondering what it's like to try to make your own…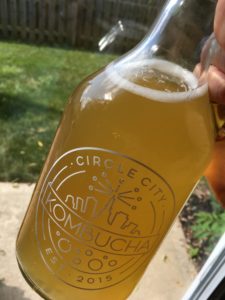 4. This candle- I've been burning it for the last week because it smells like sweet, delicious summer and I'm hoping onto summer for as long as possible.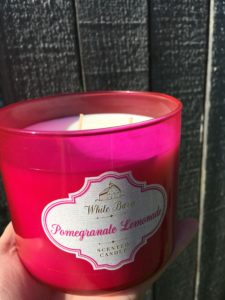 5. I had a fire with some co-workers one evening this past week, and it was so good to hang out for fun, and not during work. Does anyone else feel that way about their co-workers?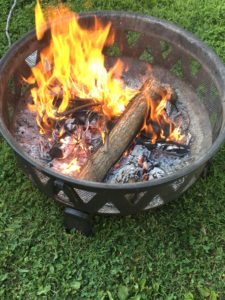 Now it's your turn to share! What's one random fact from your week? Do you like or make Kombucha?
Happy Friday! This week I'm wearing Essie's Fiji nail polish.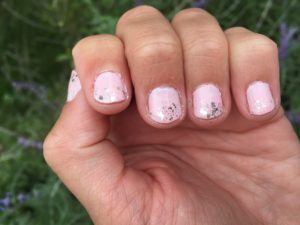 I really love this color, and wish I could wear it more (but I wish that about most of my colors). It's such a beautiful pastel color. If I didn't put glitter on top, I probably would do 3 coats instead of the 2 I've done in the picture above.
Now on to some random facts for the week:
Cicada shells are EVERYWHERE right now. I mean, they are all over my fences, trees, on my front porch, etc… They are kind of cool and kind of make my skin crawl… at the same time.
My co-workers took me out for a delicious birthday lunch. Look at how huge that chai is (and it was SO delicious!)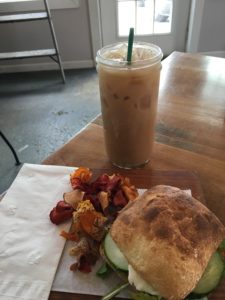 Last week we had a retreat at work, and spent the night out in the country. I love the property, the flowers… and all the animals running about. I came back to the house to grab a sweatshirt and had to wait until one of these buddies moved…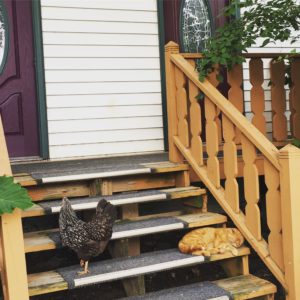 These flowers. I wish I had some sort of flower service that would drop a now little bouquet of flowers at work every other week. They just make my office feel extra cheery.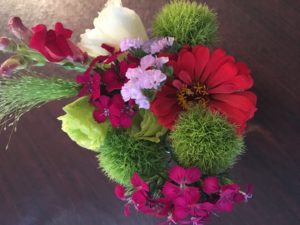 I have a whole inside joke about tater tots with a friend. So, for my birthday, he brought me two large containers of tater tots. I managed to eat almost all of them (insert all the emoji faces right here).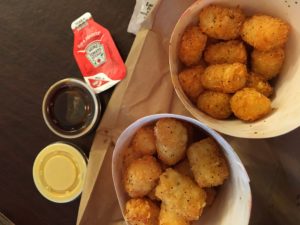 Now it's your turn to share! What's one random fact from your week?
August already?! SLOW DOWN SUMMER! This month I felt like I was *barely* reading anything, but I ended up reading 12 books this month. That brings my total for the year to 88 books.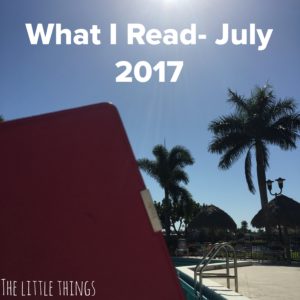 The Hopefuls (Jennifer Close): A book about 20-somethings engaging in the political process, both in D.C. and in Texas.
A Little Thing Called Life (Linda Thompson): Ok- this was so interesting. Thompson is Caitlyn (Bruce) Jenner's  (she refers to him as Bruce to delineate before and after transition) former wife. She also dated Elvis for several years, and I found those years of particular interest. This made for a great audiobook.
Wishful Drinking (Carrie Fisher): I've enjoyed listening to Fisher's audiobooks to learn more about her life. 3.5/5 stars
Luckiest Girl Alive (Jessica Knoll): This was really interesting. I actually started reading this book in the Fall of 2015, but that was a hectic time of my life so I set it aside. A bit of a mystery/very tame thriller, and it kept me hooked. 3.5/5 stars
Option B (Sheryl Sandberg): This is Sanberg's recent book, written after the sudden death of her husband. This book is about living meaningful in the option B, when it's not possible to have option A. When people talk about their grief journey and processing I feel like it's beneficial, and she did a great job in being vulnerable about what her journey was like. 4/5 stars
Between Heaven and The Real World (Steven Curtis Chapman): I listened to Chapman's music growing up, so I really enjoyed learning more about Chapman as a person. I especially appreciated the honesty and vulnerability expressed about his daughter's death.
Kris Jenner… and All Things Kardashian (Kris Jenner): haha- I sort of wish I didn't need to admit that I read this. That being said, Jenner's perspective on OJ's trial, as well as her friendship with Nicole, were fairly interesting. 3/5 stars
Healing the Fragmented Selves of Trauma Survivors (Janina Fisher): I read this slowly over the past 2 months, and I deeply enjoyed it. As a counselor, I'm consistently trying to read and explore new ways of doing things. I found this book fascinating and so helpful.
The Road Back to You (Ian Cron & Suzanne Stabile): I could write a whole post about this. This book is about the Enneagram, a 9 type personality that is rich with history. They talk through each of the types, and include steps for growth towards health for each type. I find that there is so much understanding and empathy that comes from understanding these 9 types!
The is How it Always Is (Laurie Frankel): A story about family secrets and the lengths that families go to hide them. I appreciated the "behind the scenes" wrestling the parents did about what was right in the "situation" (the secret), and I found the book well written. I enjoyed this.
Being White: The title of this book is slightly misleading, as this book is more about the privileges that come with being white, as well as the healthy process to get outside of one's self and engage with other cultures and races. Parts of it were pretty good, although this isn't the first book I'd recommend regarding race or privilege.
To Kill A  Mockingbird (Harper Lee): I've read this book twice before (once in middle school and once in high school), so I thought it was also time to read it again. I forgot just how good this book is, and I will definitely read it a 4th time…
If you are going to read anything from this month, I'd suggest the following: To Kill A Mockingbird, The Road Back to You, and Option B.
Now it's your turn to share! What's one book on your "to read" list? 
Happy Friday! This week I'm wearing Essie's Tart Deco with silver glitter on top.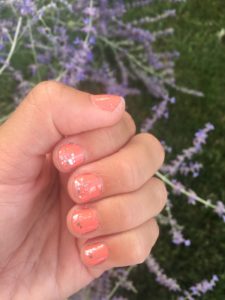 I really love this color, especially in June and July when I have a little sun on me. For the most part two coats covers my nails, but there are occasionally small spots that are a little see through. That's fine with glitter on top, but I'd probably do three coats if I didn't put any sparkle on top.
On to some facts for the week:
1. When I find this on sale, I like to snatch a few up! I love the lime flavor and the lemon ginger one the most.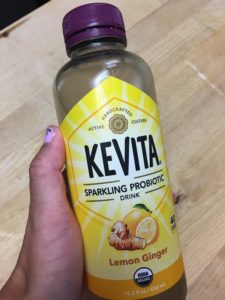 2. A friend's birthday was a few weeks ago, and she wanted to go paint pottery for her birthday. A group of us went, and I painted this little bud vase! I'm not artsy at all, but it was a lot of fun to paint, and I'm excited to use this over the summer and fall with flowers from my garden.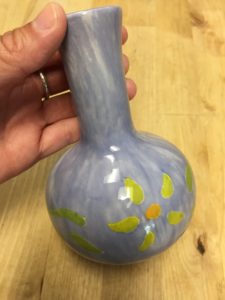 3. I haven't read To Kill A Mockingbird since high school, but on Monday I decided that I needed to read it again. I've been listening to the audiobook this week and have really been enjoying it.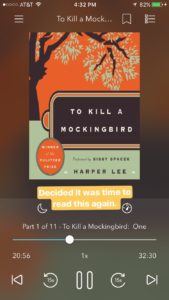 4. My new secretary started this week, and I've spent the week training her a bit, getting to know her, etc… My last one I worked with since 2009, so it was really really sad to see her go. I'm really excited about the one who just started this week, though, and am excited to have her as part of our team!
5. I've loved having fires the past few weeks, enjoying quiet and stillness. On Sunday I enjoyed a by myself fire while reading- so relaxing!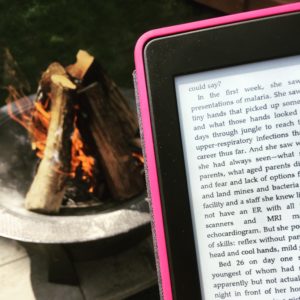 Now it's your turn to share! What's one random fact from your week?
Feeling positive about ourselves (or others, or our situation, or ____ (fill in the blank) can be difficult, right? In so many ways complaining, grumbling, or negative thoughts are what's natural, and they're what comes easily. However, we aren't victims to our own thoughts (even when it feels that way). I know I've said many times on this blog that words have meanings, so I want to give you a little tool today to help aid you in feeling positive and healthy towards yourself, others, or a particular situation you might find yourself in in life.
The 5:1 rule. John Gottman, a psychology professor, had a "love lab" at the University of Washington. There, he studied couples, following them over the course of many years. One of his findings was the 5:1 rule. In relationships, to feel positive and happy about the other person and the relationship as a whole, there needed to be 5 positive interactions for each negative interaction. 
Let that sink in for a minute! It's not a 1:1 or 2:1 ratio. Clearly, as humans, the negative has a much bigger impact on us than the positive, which is why we need so many more positive interactions to help balance our the negative interactions that we have.
So I'm going to take this a step further. While this rule was outlined for couples, let's expand it to ourselves, our relationships, and the situations in which we find ourselves. What if we allowed the 5:1 rule to play out in each of them as well?
When you're struggling with feeling positive about yourself, someone you have to interact regularly with, or a situation you're in (i.e. WINTER), you can choose to repeat positive or negative things to yourself. If you repeat the negative over and over, you're of course going to feel negative, but if you train your thoughts on the positive, then perhaps you'll find that your emotions might follow suit.
It's worth the risk of trying, right?
DO you remember when I used to do my weekly nail polish and friday facts posts each Friday? When I went back to search on my blog it appears the last time I did one was March of 2016! For whatever reason I just felt like doing one this week, so here goes!
This week I'm wearing a new-to-me color: Essie's baguette me not. (I put Essie's set in stones glitter on top– because life is better with sparkle)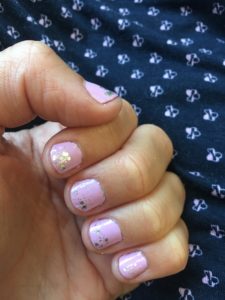 It's a nice lavender color. It went on really smoothly, and 2 coats was sufficient to cover it up. It's such a fun spring and summer color! And I realized that I accidentally matched my dress and nails this week- oops!
Ok- here are some Friday facts for the week!
My knee has been injured for 22 weeks now (UGH), but I'm finally to the point where I can swim comfortably. I need to write a full post on this but… I swam a mile earlier this week! It felt great to be able to get in a "longer workout" again, especially since the water feels so good on my knee.
I've added a few new plants to my yard this year, including these sunflowers and hydragenas. I can't stop with the flowers… and I don't want to. They feel good for my soul.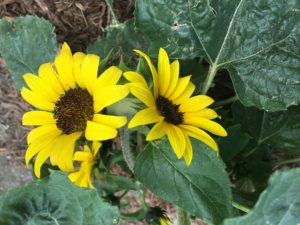 In mid-May I finally bought a Hydro Flask for myself, and I have been loving it all summer! It's super easy to take with me (and I'm a firm believer of keeping water on me most of the time, especially in the summer), and because it's insulated it keeps water cold for hours (seriously- the other night around 5 pm I put a bunch of ice and water in it, took it to a friend's house, came home and went to bed, and there was still ice in it in the morning!). I've been loving it!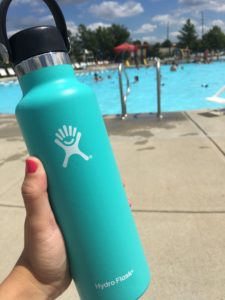 The key lime oreos that are out this summer- pure deliciousness!
I went into a meeting yesterday at work (it was 4 hours long), so I came prepared with snacks and all the fluids to stay hydrated. I may have been laughed at by almost everyone around the table… 🙂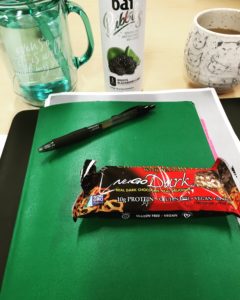 Now it's your turn to share! What's one fun fact from your week?
Happy Monday! I haven't done a "currently" post in awhile, and since I'm loving all things summer, I thought that I'd put one up!
Currently Drinking: SO much lemonade. I unfortunately get heartburn after drinking it more than 2-3 days in a row, but I can't stop because… summer. It's delicious.
Currently Eating: All the cherries. Since the third week of May I've eaten cherries 5-6 days a week, and I am enjoying them as much as possible as their season ends. I look forward to cherry season every year.
I'm also enjoying all the summer oreos- like these dunkin donuts mocha ones!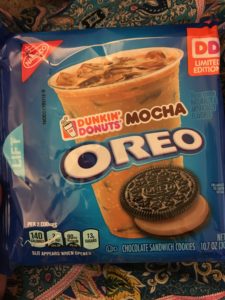 Currently listening to: Despacito because it's summer and such a fun song! I'm also listening to a whole lot of podcasts.
Currently Watching: Switched at Birth. I started watching the show on July 4th, and I've made it through the first season. I am really enjoying it so far.
Currently Reading: Lots of books! I'm currently rotating through a book on trauma, the book "Being White", the book "The Road Back to You" about the enneagram types of personality (there are 9), and "The Last Battle" which is the final book in the Chronicles of Narnia series by C. S. Lewis.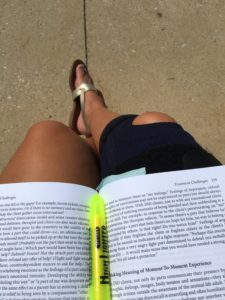 Currently Smelling: Love & Sunshine lotion from Bath & Body Works- it smells like delicious summer! I've also been burning the Bath & Body Works Midnight Blue Citrus candle.
Currently Excited for: Honestly I just consistently look forward to pool time. I'm looking forward to being able to bike outside, being able to run again, and to spend as much time as I can outside while it's still nice and warm!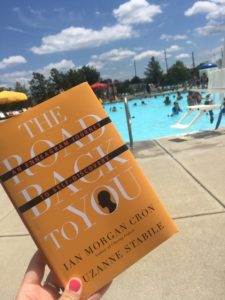 Currently Wearing: My knee brace- my ever present companion for the last 21 weeks. Dresses to work, work out clothes most of the rest of the time unless I'm at the pool! I love summer clothes.
Currently Loving: A more relaxed summer schedule. I crave June, July, and August (although I find all sorts of ways to enjoy the rest of the year) due to a lighter work load, extended daylight to spend time outside, and time with flowers. I'm also loving having a pool to go to this summer.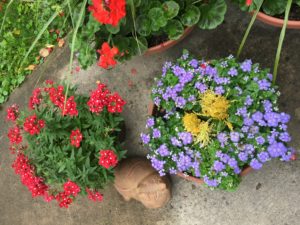 Now it's your turn to share! What are some of your "currently" statements for the month?
On July 10, 2014 I sat down in a chair and got my very first tattoo. I've spent three years thinking about the tattoo and explaining it to others. I've never regretted having the tattoo at all, and I love being able to share some of the story behind it (I tell the story of my it is well tattoo here). I find myself often staring at it, and it's become a solid and grounding reminder to myself in difficult moments.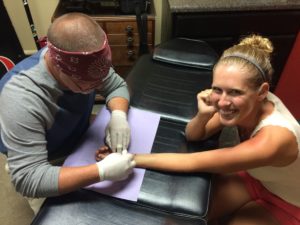 But recently, in the last few months, I've noticed something else emerge as well. This tattoo feels that it has become a part of me at a much deeper level. It feels that there would be something deeply missing from me without it, and I love it. The tattoo has slowly worked its way in to an increasingly more meaningful place in my life, integrating into the whole of who I am and what I'm about.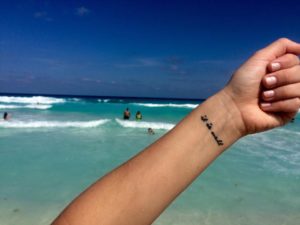 Tattoos have a cool way of doing that.
Now it's your turn to share! Do you have a tattoo? If so- what is it and what's the story behind it?
I love summer for so many reasons, including some extra time I have to read (and the time I have to read outdoors!). This month I read 14 books (I was at 62 books at the end of May), and have read 76 books so far for the year.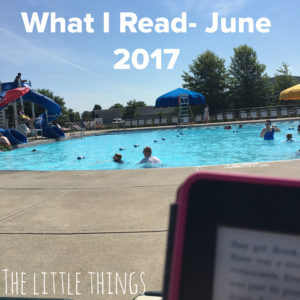 Here's what I read this month:
A Gentleman in Moscow (Towles): I was really excited to read this book book, and I was a bit disappointed. I wonder if reading this particular book would've been better than listening to the audiobook. I just felt sort of… bored… throughout it. However, there were some really beautifully written passages though. 3/5 stars
My Name is Lucy Barton (Strout): I really enjoyed this book. This is written as an autobiography but it's a fictional character, and I thought it was brilliantly done. This was a very quick read. 4/5 stars
10% Happier: How I Tamed the Voice in My Head, Reduced Stress Without Losing My Edge, and Found Self-Help That Actually Works (Harris): This book is written by a reporter who had a panic attack on Good Morning America. This story is his journey to find a sense of inner calm and joy in the middle of a fast paced and hectic career. 4/5 stars
Everything, Everything (Yoon): A book about a teenage girl who is allergic to almost everything, and is therefore stuck in her house. A family moves in next door, and she's confronted with life outside her house. Again, a quick read, and I really enjoyed it. 4/5 stars
Hidden Figures: The American Dream and the Untold Story of the Black Women Mathematicians Who Helped Win the Space Race (Shetterly): I have been REALLY really excited to read this book. I actually started reading this in April, but just couldn't get hooked. I felt like there was way too much unnecessary detail given that made it drag on a bit. So, I returned the book and requested the audiobook, and that definitely helped. Can you find yourself both inspired and bored by the same book? There were parts I found so absolutely fascinating and inspiring and interesting. It was a very interesting story before, and one I previously knew nothing about. 3.5/5 stars
Tears We Cannot Stop: A Sermon to White America (Dyson): The title is pretty self-explanatory. This book discusses various aspects of racism and inequality, and the author shares some of his own personal stories as well. Many good reflections, challenges, and truths throughout the book. I value his vulnerability in sharing parts of his own story throughout.
Pride Over Pity (Lowry): Written by a person who was on 16 and Pregnant is on Teen Mom 2. I thought her story was interesting, especially some of the things that happened that the show didn't show (or happened before she was on the show). 3/5 stars
The Year of Living Danishly: My Twelve Months Unearthing the Secrets of the World's Happiest Country (Russell): The author moves to Denmark for her husband's job, and this book is her account, month by month, of differences she notices and lessons she's learned about how the people in the "world's happiest country" lives. It was interesting… 3.5/5 stars
Measure of a Man: From Auschwitz Survivor to Presidents' Tailor (Greenfield): The title pretty well explains the book. I love stories of courage and resilience. It was inspiring how he took the horror he lived through and lived meaningfully afterwards. I listened to the audiobook and it was great. 4/5 stars
A Grace Revealed: How God Redeems the Story of Your Life (Sittser): Sittser lost his mom, wife, and daughter in a car accident, and wrote his story in his book A Grace Disguised (I really love that book). In this sort of "follow up" book, he talks through the aspects of a good story, overlaying that with his own life experiences. 4/5 stars
Gossip Girl #1 (Ziegesar):  I watched Gossip Girl two summers ago, and I had a real desire to watch it again this summer. But then I found that there was a Gossip Girl book series and jumped right in. I'm not sure how I would've liked the book without seeing the show first, but I enjoyed it.
Barefoot (Hilderbrand): I actually had started this book last summer and then abandoned it within the first twenty pages because I felt a bit bored by it. I decided to try again this summer, and I'm glad I did. This was a fun and quick read taking place on Nantucket, following the lives of two sisters and one of their friends. Their summer takes some unexpected turns, and the trio of girls has to do their best to deal with all that has unfolded. 3/5 stars
Love and First Sight (Sundquist): I listened to this on audiobook, and I couldn't force myself to stop listening. This follows the story of a high school boy who is blind and starts at a new school. It follows him as he confronts questions about his lack of ability to see, how he thinks about relationships, and what he wants out of his life. 4/5 stars
You Know You Love Me (Gossip Girl #2) (Ziegesar): This is the 2nd book from the gossip girl series. Fun and quick to listen to.
So that's what I read for the month. If you're going to read anything from this list, here's what I would suggest: Love and First Sight and Everything, Everything.
Now it's your turn to share! What book are you most looking forward to reading this summer?