Happy November! After a really lousy September of reading, October went a whole lot better, which I'm thankful for! In October I read 12 books, bringing my total for the year to 119 books. For perspective, I read 140 books last year, so I need to read 21 more books for the year to hit the number of books I read last year. Here's what I read in October: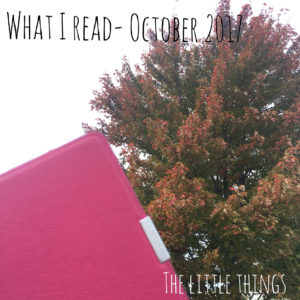 A Long Walk to Water (Park): This is two stories intersected. One storyline follows a girl in Sudan in 2008 and the other a boy in Sudan in 1985. It was fascinating and a very quick listen via audiobook. 4/5 stars.
The House on Olive Street (Carr): Started out interesting, quickly got boring, and didn't pick up again until about 70% of the way through. This story follows a group of writer friends as they process the loss of one of their friends. Through this they are each confronted with various aspects of their own lives as well. 3/5 stars.
Hallelujah Anyway: Rediscovering Mercy (Lamott):3/5 stars
Harry Potter and the Prisoner of Azkaban (Rowling): While this one isn't my favorite book in the series, I love that it picks up another layer of intensity to the story. 5/5 stars
Love & Gelato (Welch): This story follows a highschool girl who recently lost her mom to cancer, and is moved to an usual location to try to put her life back together. I enjoyed this book overall. 4/5 stars
Caroline: Little House, Revisted (Miller): I grew up on the Little House on the Prairie  series, so reading a story from Ma's perspective was absolutely fascinating. I found the first 25-30% slow and boring, but then it picked up. 3.5 or 3.75/5 stars
The Misadventures of Awkward Black Girl (Rae): This book was written by Issa Rae, and is a book about her personal adventures and life events. The style of this felt very similar to books like Mindy Kaling's "Is everyone hanging out without me?" and I really enjoyed it. 3.5 stars
Of Mess and Moxie: Wrangling Delight Out of This Wild and Glorious Life (Hatmaker): This book, by Hatmaker, has a very personal touch (many personal stories) just like many of her other books. I enjoyed this book on the mess and beauty of life. 4/5 stars
The Hunger Games & Catching Fire (Collins): I listen to these books each fall, and I absolutely love them. 5/5 for both.
Turtles All The Way Down (Green): This is John Green's (The Fault In Our Stars) new book. I enjoyed this book, but not as much as TFIOS or Looking for Alaska. Like his other books, this story follows several adolescents through a crazy adventure, love, and heartbreak. I appreciated that he included a story line that included mental illness and therapy, and he did that quite well. 4.5 stars
Spy Secrets That Can Save Your Life: A former CIA officer reveals safety and survival techniques to keep you and your family protected (Hanson): This book had some pretty interesting and useful pieces of advice, but I feel like it could've been quite condensed and it would've been just as good. 3/5 stars
So, if you only read a few things from this month, read the following: Turtles All The Way Down & The Hunger Games.
Now it's your turn to share! What have you read recently that you would recommend?
Wow- October is wrapping up and I can hardly believe how fast it went! It was a very warm October for us, so I think that's part of why it didn't really feel like fall. So, before the month ends, I thought I'd do a currently post.
Currently Drinking: Pumpkin Chai and Apple Spice Chai! I get the pumpkin chai at Starbucks, but the coffee shop at work has apple spice chai and it is absolutely amazing!
Currently Eating: Cake and ice cream cake and party food! This weekend I had two different birthdays to celebrate, which led to a whole lot of cake and celebration type of food (like 3 pieces of pizza for dinner one evening). The fact that I'm lactose intolerant maybe made this whole weekend slightly… uncomfortable… but well worth it. haha.
I also had dim sum on Sunday night to celebrate a few friends' birthdays, and it was SO wonderfully delicious.
Currently Listening To: Catching Fire! I really love the Hunger Games, so I allow myself to listen to the audiobooks every fall, and I'm really loving it!
Currently Watching: Grey's Anatomy and Survivor. Seriously- how have these shows been on for so many years? They are great shows to have on in the evenings as I'm getting things done. I'm also watching This is Us.
I may have watched a Hallmark Christmas movie last night too 🙂 No shame in my game.
Currently Reading: I just finished reading John Green's new book, "Turtles All The Way Down". I'm currently reading "Eleanor Oliphant is completely fine". This one sort of reminds me a bit of "The Rosie Project" and I'm really enjoying it.
Currently Smelling: My apple candle! It's so delicious.
I also got a diffuser in August, and I really wish that I had some fall scents for it. However, I've been loving the lavender oil as well as a "peace" blend in the evenings.
Currently Excited For: Thanksgiving break! It's only a few weeks away and I'm excited to see my family. The counseling center I work for is also hosting a "de-stress" week in a few weeks to teach emotional regulation skills and provide some fun, mindful sorts of activities. We haven't done a week like this before, so I'm pretty excited for it.
Currently Wearing: My giraffe outfit! Hey, I'm celebrating Halloween in comfort… by myself in my living room.
Currently Loving: I love that November is this fantastic blend of all things fall AND Christmas! I can burn an apple candle while watching Hallmark Christmas movies or drink peppermint hot chocolate while watching the leaves change. It's a great blend of two fun times of the year.
(sorry for not including pictures- they refused to upload for some reason)
Now it's your turn to share! What's one "currently" for your life right now?
There are so many struggles that come with living life with a chronic illness. For me, my particular chronic illness is POTS (Postural Orthostatic Tachycardia Syndrome), a dysautonima condition. This is an invisible illness, meaning that people don't actually see that there is something wrong with me. I've been diagnosed with it since 2003, so I've had a lot of years to figure out how I need to manage myself and my symptoms around me… but that doesn't mean it's easy.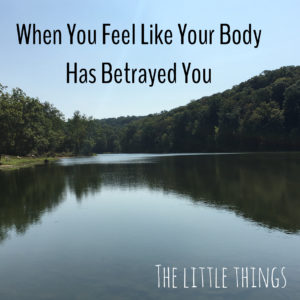 One of the things that I struggle with from time to time, and definitely hear from others with chronic illnesses as well, is that it feels that my body has betrayed me. It's not an unreasonable feeling to have, right? No matter what I do I have moments where I can barely stand up. No matter how kind I am to my body, how much I breathe through pain, there are moments where it feels overwhelmingly painful to even just lay on the couch. There are times each day that I am really dizzy, where it feels like sharp stabbing pain when I eat. I get injured while exercising fairly easy. And on and on. I can do my part, and yet it feels that my body betrays me time and time again. Or at least sometimes it feels that way.
So, if you feel that way too, I want you to know that it is normal to feel this way.
While I don't beat myself up for the moments I feel that way, I don't let myself stay there for very long, because I simply can't sink too deep into it… because it has consistently been my reality, and I want to continue to live meaningfully in the face of my illness. So here are a few of the things I do when I start feeling like my body has betrayed me:
I give myself permission to grieve: It's not helpful to feel shame for our emotions, and it is healthy to allow our self to experience normal emotions. So, I give myself a bit of time to be angry or to cry as needed. And I express love and self-compassion to that part of me that feels sad or grieved or broken.
Instead of hating my body, I try to focus on the way that my body serves me:I wrote a post a few years ago entitled "Dear Body… thank you" and in it explore a little bit about developing gratitude for your body. On the days I can barely walk without pain, I try to go inside myself and focus on the narrative of what my body is doing. I'm thankful that I can brush my teeth, that my feet can carry me forward one step at a time (or, for the times I can barely walk, to crawl), that my body can breathe on it's own, etc. The fact is that, even though my body doesn't operate optimally, there are still so many miraculous things about it, and I want to honor my body for those things too. This allows me to hold the positive and the negative together, without having to deny that one of them is true.
On days that my thoughts about myself and my body in light of my illness get a bit more negative, I may focus on the thought record: This post explains a bit more about the Thought Record and the ways that it is helpful for so many different experiences in life, including a chronic illness.
I breathe and "get back into myself". One thing I don't want to do is try to "separate me from myself". So, I sit on the floor and take deep breaths, or do gentle stretches, or do yoga, and focus on creating a safe place inside my body. It's so important that we know that we can give ourselves a space of safety. This also helps us to avoid fight-or-flight, because pain is often viewed by our body as a threat. The practice of creating a "safe and relaxed body"helps us to be in a more relaxed place where we can feel pain and avoid fight-or-flight.
This last step has been hugely impactful on my life, especially the last two years or so. It's been so helpful to recognize when I'm kicking into my sympathetic nervous system (the flight-or-flight system), and be able to do things that help kick me back into parasympathetic nervous system. Yes, this doesn't take the pain away, but it helps keep my brain engaged in it so I can handle the pain in the best way possible.
I slow down and take care: I put on compression sleeves, use a heating pad or ice packs, take an epsom salt bath, foam roll, dig knots out of my back with tennis balls, use biofreeze or peppermint essential oil, drink tea, etc… Things that help my body to relax a bit. This helps with pain and allows me to experience some self-compassion. I try to reinforce that I am giving myself these things because I care about myself and my body is worthy of being cared for.
These are, in part, why I think counseling is so beneficial for people who live with a chronic illness. It gives us space to verbalize things and teaches us skills that help us to manage pain, love our bodies, and get connected in with ourselves again.
Keep fighting, friends. I know it's hard to live with a chronic illness and I know the journey feels long. Know that you aren't alone in it.
For more posts on living with POTS and chronic illness, click here. 
Disclaimer: This post is not meant to take the place of a therapist or doctor. If you are experiencing anxiety or depression, please talk to your doctor or a local counselor. If you are experiencing suicidal thoughts or have a plan, please call 911, go to the hospital, or call your doctor or therapist. 
October is Dysautonomia Awareness Month. This month I'll be posting graphics around twitter and instagram a bit more than usual, as I continue to try to help people become aware of this category of illness. If you're new here, here's the link to all my POTS posts.

You can read more of my POTS journey here, and here,  but to summarize: I was diagnosed right before my senior year of high school after a long bout of a sinus infection. It really messed up my world for quite awhile, and while I've learned to manage symptoms (both with medication and lifestyle changes), it still impacts my life on an hourly basis.
A few other posts that might be helpful if you're trying to understand what it's like to live with POTS:
For those of you who have a family member or friend who might be recently diagnosed with POTS, here's a post for you all:
Happy October! Welcome to the month of plaid scarves, boots, and all things pumpkin 🙂 So- real talk here. September I think was the worst month of reading I've had since I started tracking month by month. With Hurricane Irma at the start of the month, it seemed to consume almost two weeks of my time, and my focus has felt scattered in the evenings since that time. Thankfully there's audiobooks, so I've been able to get a small amount of reading done through that means. This month I've only read 4 books, bringing my total to 107 books for the year.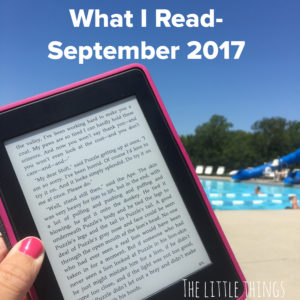 Here's what I read this month:
Red Rising (Brown): People rave about this, and even as I read it I felt like it was a bit of a mix between Harry Potter, Hunger Games, and Ender's Game- all books I love. However, I felt pretty ho-hum overall with this book, and gave it 3.5 out of 5 stars.
Who Thought This Was a Good Idea?: And Other Questions You Should Have Answers to When You Work in the White House (Mastromonaco): This book was written by someone who worked for President Obama for 10 years, following him from his time as a Senator into the White House. I found this book absolutely fascinating, and I really enjoyed reading it. I gave it 4/5 stars.
Harry Potter and the Chamber of Secrets (Rowling): This is the 2nd book in the Harry Potter Series, and I very much enjoyed listening to it.
The Little Book of Hygge: The Danish Way to Live Well (Wiking): I felt that this book could've been condensed into maybe a 15 minute audiobook, as it sort of repeated the aspects of Hygge over and over. That being said, there are some good ideas throughout.
So, hopefully next month is going to be a bit better for reading.
I'm not quite ready to sit down and type up some thoughts about Hurricane Irma, so I decided to do a currently post instead!
Currently Drinking: All the pumpkin things! Pumpkin iced coffee, pumpkin hot coffee, pumpkin chai- all the pumpkin.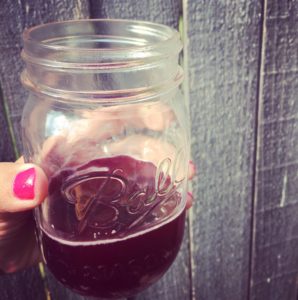 I'm also loving Farmer's Market Kombucha and don't know what I'm going to do without my daily fix in a few weeks once the Farmer's Market is done for the season.
Currently Eating: These apple pie oreos (they are amazing!)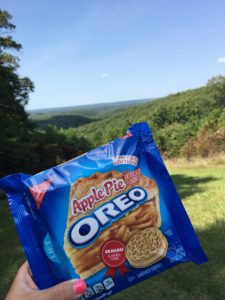 Also: ALL the fall foods. You can never have enough fall treats.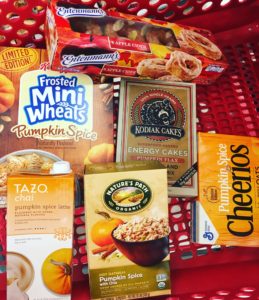 Currently Listening To: podcasts galore! Becca Tilley (Bachelor) just started a new podcast so I'm pretty excited about that one. I also decided to re-listen to the audiobooks of the Harry Potter Series, so I just finished listening to the Chamber of Secrets.
Currently Watching: Big Brother live feeds. The season finished on the 20th so I obviously typed this post before the end of the season, which means i'm probably a bit sad. I love Big Brother and I love watching the live feeds. I'm feeling so excited that they are doing Celebrity Big Brother in the US this winter though!  I'm also just watching Game of Thrones for the first time. I'm in the middle of season 2 and I've repeatedly thought "I'm not sure I can do this anymore…" just because some of the people are just so upsetting. But then I can't stop watching anyways….
Currently Reading: real talk here- my reading has been poor this month thanks to irma (extra minutes went to watching coverage and talking to my parents) and my brother coming to visit. I did just get Brene Brown's new book Braving the Wilderness in the mail, so I'm excited to start that one!
Currently Smelling: I got a diffuser last month and have been diffusing lavender oil multiple nights a week and I'm loving it! I also got a Macintosh Apple candle last week that smells so delicious.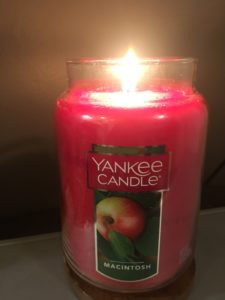 Currently Excited for: The Big Brother finale! I'm excited to see who will win 🙂 I'm really excited for normal TV programs to come back the next few weeks.
I'm not really excited about anything in particular- just enjoying the normal parts of my life.
Currently Wearing:  Still my knee brace- a constant since February 🙁
I'm honestly loving wearing dresses, shorts, and tank tops. Since I know that these items are going to be put away soon, I'm trying to enjoy them all as much as possible.
Currently Loving: That my brother came out to visit me. I wasn't able to go out west this summer to see him/go hiking, so when he said he had some time free and wanted to come out, I was really excited. We had a great time doing some low-key hiking (what my knee could handle), having fires, staying in an RV, and having some fun… all while Irma hit our home.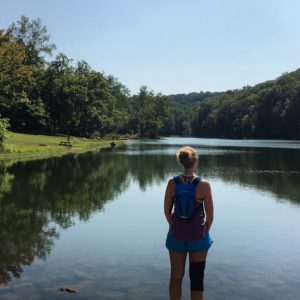 I'm loving all the fall things in my life right now as well (even the almost 90 degree weather we've had for most of the last week and a half!).
Now it's your turn to share! What's a currently from your life right now?
August has come and gone, and I'm back to my busier schedule. This month I read 14 books, bringing my total to 103 books for the year.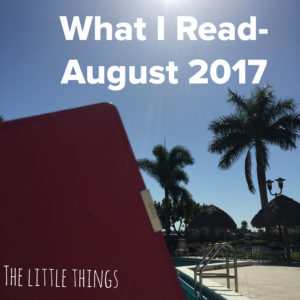 (as a side note- the pictures that I often use for the what I read pictures on these posts each month (except for the winter months) are taken in a location hit by Irma. Post coming next week)
Harry Potter and the Sorcerers Stone (J.K. Rowling): I've read all the books (back between 2003 and 2007) and have watched the book several times, but I thought it was time to read it again. Oh my- it was so good to here the story once again (I listened to the audiobook this time).
The Girl with Seven Names: A North Korean Defector's Story (Lee): I gave this book 4/5 stars- really interesting.
Toxic Charity: How Churches and Charities Hurt Those They Help (Lupton): This explores some of the tenets of doing charity in healthy ways, and explores how churches and charities can ensure that what they do is healthy for the communities in which they work. While this book had some solid gems in it, I'd suggest "Slow Kingdom Coming" or "When Helping Hurts" first on this topic.
You Can't Touch My Hair: And Other Things I Still Have to Explain (Robinson): This book had me laughing throughout, and the author used humor while discussing some deep, hard realities and truths. I appreciated the way that she shared and challenged readers. 4/5 stars.
Anne of Green Gables (Montgomery): What a classic! I haven't read these since middle school, so I figured it was time again. I forgot just how over the top some of the language Anne uses is though 🙂 I'm excited to keep reading the series though!
Saint Anything (Dessen):which I wrote a post about previously This book, , is all about a girl processing some major life circumstances, and her reactions, both healthy and unhealthy. I loved the psychology and family dynamics included in this.
The Shark Club (Taylor): 3.75 stars- I will admit that I really don't like sharks, but I found this book to be pretty interesting. Some parts of the story felt a little boring though. I don't know- it was fine but not something I would go out of my way to read again.
Choosing to See (Chapman): This book is about the death of Chapman's daughter almost 10 years ago. I appreciate anyone who is willing to be vulnerable about the most painful moments of their lives and talk about how they grieved, processed, and learned to live meaningfully.
Reading People: How Seeing the World through the Lens of Personality Changes Everything (Bogel):I wrote an entire post about Reading People here. If you're into personality tests, understanding yourself more, and are looking for an "ah ha" moment for your life, this one is for you!
Yes, My Accent is Real: and Some Other Things I Haven't Told You (Nayyar): I love Nayyar on Big Bang Theory, so I enjoyed hearing more about his life.
That Summer (Dessen): I've really enjoyed Dessen as an author, although I did not like this story as much as I liked Saint Anything. It's interesting to see how the character processes a summer that felt so meaningful years later, and what she realized was true and not true about that summer.
Maybe Not (Hoover): 3/5 stars– a very quick listen on audiobook. An interesting perspective on a character's past, but overall it felt pretty "meh".
The Handmaid's Tale (Atwood): I watched Handmaid's Tale on hulu last month, so I was able to breeze through this book and fill in aspects from the show (or maybe- details from the show). I loved this book and was engaged from the start. I did find that some of the details in the middle part to drag a bit. Overall, I really enjoyed it- 4.5 stars.
Summer Sisters (Blume): Somewhere between 2.5 and 3. I'm not sure- I just didn't really love it and don't have much to say about it.
If you're going to read anything from the month, read the following: Reading People, The Handmaid's Tale, and Saint Anything. 
Now it's your turn to share! What did you read this month?
These last two weeks have felt huge to me. I've given multiple talks, played lots of fun games, spent lots of time in the woods, worked outside, spent time with family, and did the normal life sorts of things.
But all of that got set aside with Irma. My thoughts are still spinning so I'll have a post up later (maybe next week?) with some of what my family has been through the last week.
Everyone is safe and well and that is what really matters. We're still waiting to figure out what has happened to the rest. A situation like this puts things in perspective.
I haven't forgotten 9/11 today, although I've thought about it a whole lot less than in previous years. Continuing to pray for those who's lives were changed that day.
Happy Friday and Happy September. I guess summer is officially over now, right? To get myself through summer ending, I like to get my nails done each year (it's just a little thing). I didn't get the nail polish color from the place I went, but here are my nails: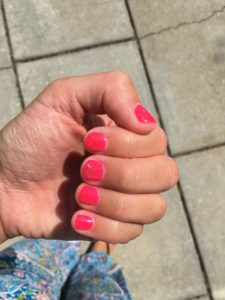 I just needed some extra brightness and glittery-ness these weeks, and this gel polish did the trick!
Here are some random facts from the week:
1. I went and got a massage this week- for multiple reasons. Mostly because I'm dancing the lines of a migraine and really don't want to get one. To me, especially as a counselor, self-care isn't optional, and so I try to force myself to make space and time for things like this.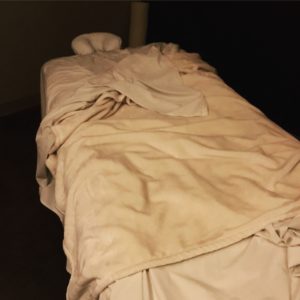 2. So as I was arriving for my massage I ran into a friend from grad school (who used to live for several years in my same apartment complex. – I walked my first 13.1 miles with her back in 2011) who I haven't seen for a little over a month. She was free the same time I was that day, so we ended up sitting outside and having a long lunch together. It was so fun.
3. This week I've been drinking blueberry kombucha, and it quickly became one of my favorites. It's delicious- and looks pretty too! Nothing like enjoying your beverage AND knowing it's awesome for your health.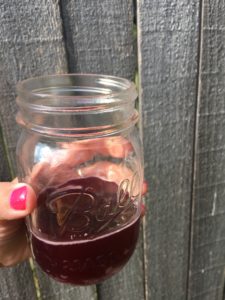 4. I adore fresh flowers (hence ALL the flower pots I have in my yard). I cut a few little blooms for the vase I painted, and smile every time I walk past it in my house.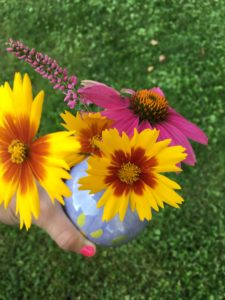 5. I know I've talked a good amount about Reading People on the blog. I originally received a digital copy, but I just got my physical copy in the mail this week, and the cover is absolutely gorgeous. It might be my favorite book cover ever.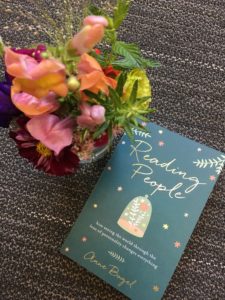 Now it's your turn to share! What's one random fact from your week? Do you drink Kombucha?
Disclaimer: I received a free copy of Reading People to read as part of being on the book launch team. (I'd also ordered a copy for myself before hearing about the launch team option!)
Ok, so let's talk about Reading People by Anne Bogel for a bit. You may recognize her name from the blog Modern Mrs. Darcy or her podcast "What Should I Read Next".  (I've followed both for quite awhile). When I first read about her new book, I skipped off to pre-order it, as I was sure I'd love it- it's all about personality!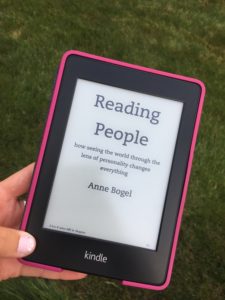 I love personality tests. I'm a counselor, so I'm probably prone to really liking them anyways (I even took a theories of personality class in college), but I REALLY like them. Not only are they fun, but they allow for so much. In one of the final pages of Reading People, Bogel says the following:
"I've found that personality insights help me see what changes are necessary, and how to carry them out. Learning more about personality has helped me make peace with the way I was made (even though some days I'd rather trade myself in for a different model). It has helped me understand the people I love, live with, and work with, and it has helped me accept the way they were made, which is to say, differently than me."
And that's the wonderful thing about personality tests. When we understand our personality types, we develop an understanding and self-compassion for why we think the way we do, why we respond the way we do, and why we interact with others the way we do. Even more than that, we develop an empathy for others in that we can understand a bit more about how they view the world and interact with it. I think understanding personality is powerful for growth and healthy within relationships.
In the book Reading People, Bogel walks through several different personality tests including Myers-Briggs, Strength Finder, and the Enneagram. She looks at ways each of these types views the world, areas that might lead to a lack of health, and even ways to get to a healthier spot.
I highlighted a LOT in this book, and I absolutely loved it. I already knew about each of the personality tests discussed in this book because of my job, but I still found gems throughout it. I'm definitely going to be keeping it at work to use with clients.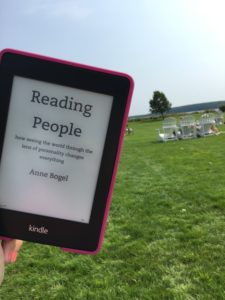 I also dragged the book with me up to Mackinac Island and enjoyed reading it next to the water!
Oh, and in case you're wondering: I'm an ESFJ, a 2 wing 3, and learner/maximizer/responsibility/harmony/individuation. If you don't know what you are-check out Reading People.
There's also a pre-sale bonus going on right now, so click this link to read about it! Reading People is hitting the shelves in September!
Now it's your turn to share! Do you know your Myers-Briggs, Strength Finder, Enneagram, or other personality type?