Disclaimer: I received a pair of  oofos flip flops to review as part of being a BibRave Pro. Learn more about becoming a BibRave Pro (ambassador), and check out BibRave.com to review find and write race reviews! 
Having feet that are in rough shape is nothing new to me. I grew up dancing, and have you ever seen the feet of someone who does pointe? YIKES! And now I run and bike and definitely get sore and achy muscles. I've spent the second half of my life searching for things that'll help my muscles and feet feel better and spring back so I can have another solid work out.
When I first heard of Oofos flip flops last summer, I knew I had to try them, so when I had the option of doing so this month, I jumped on the chance to do so.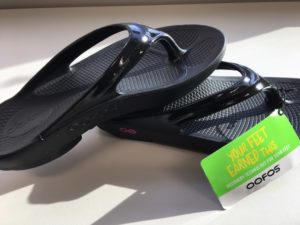 And then I hurt my knee. Cue very little walking and absolutely no biking or running for me. So, I can't tell you how oofos works after intense work outs.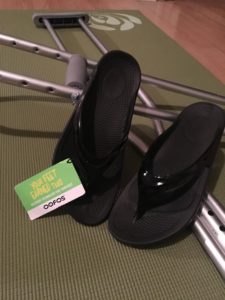 crutches and flip flops. Seems like a good combo, right?
Here's what I can tell you: My feet still feel tired right now, especially my left foot as it is bearing way more weight than it usually does (my right knee is the injured one!). Each night I get home from work I just want to be done walking around, but I obviously can't, and oofos has been amazing.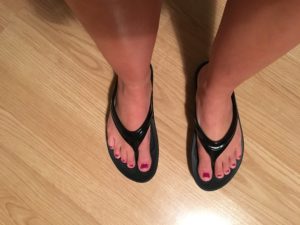 The first thing I noticed is the thickness of the sole. Look at it compared to my normal flip flop!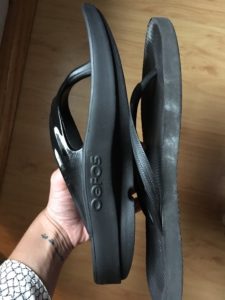 It's a big difference, isn't it?
When I put them on, I felt like my feet were getting hugged and like I was walking a bit on a cloud. I loved it! As I started walking around, I first noticed the great arch support that they have. I can guarantee that these guys are going to feel absolutely amazing to put on after runs (whenever I can get back to running!).
They have flip flops, sandals, and clogs that can all help with sore feet and recovery after runs. They also have the new "project pink" line of items. When items from this line (including my flip flops) are purchased, the company donates $10 to breast cancer research! I love buying products that also contribute to research, so the Project Pink line feels extra exciting to me!
You can learn more about oofos and their products here.
Disclaimer: I received coupons for free luvo meals to review as part of being a BibRave Pro. Learn more about becoming a BibRave Pro (ambassador), and check out BibRave.com to review find and write race reviews! 
My life could be defined as a bit unpredictable. I mean, I have a set schedule each week, but I'm on call all the time, so at any minute I drop what I'm doing to respond (I absolutely love my job and it feels like an honor to get to do it)! Sometimes I unexpectedly get home at 10 or 11 pm and haven't eaten dinner, and other times I get woken up by a phone ringing at 1 am and don't get to sleep again that night- because of that, things with meals can be a bit tough. That's where quick frozen meals come in to play.
But, a lot of freezer meals aren't that healthy or balanced, so I've tried to avoid them as much as possible… until now. Enter Luvo meals.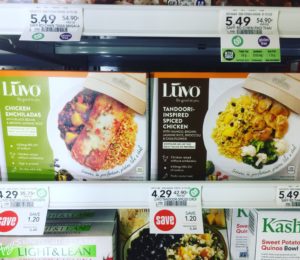 These meals are healthy and include a protein, grain, and are delicious. Here's a bit from their website: A full serving of fruits and veggies. Appropriate levels of sodium and sugar. High in fiber. Whole grains. Meats raised without antibiotics. That's the kind of talk that gets us excited. Meals made with ingredients your body needs and flavors your taste buds will marvel over.
Now that's something that I can get behind.
The meal that most stood out to me at the grocery store was the chicken mango meal that included whole grains, broccoli, and kale.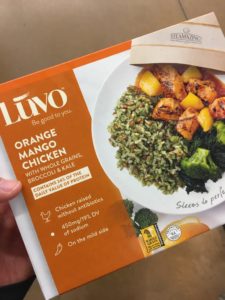 I opened the box up and found a pouch, which I put in the mircrowave for just over 5 minutes. After letting it sit for a minute I opened it up and slid the food out onto my plate! Easy!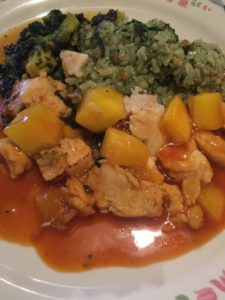 IT. WAS. DELICIOUS. I would be happy with that quality of meal if I had purchased it from a restaurant, so having it in the comfort of my own home (and the microwave) feels like a luxury! I will 100% be purchasing more of this meal in particular- a favorite!
Another meal that I really enjoyed was the Tandoori-inspired spiced chicken, which included mango, brown and jasmine rice, broccoli, and cauliflower – and 19g of protein! It kept me full for several hours which is fantastic.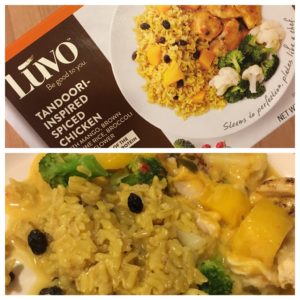 Some of the meals have milk in them, so with that I just take a lactose pill (if I haven't had much other lactose in the week).
The meals are $4.29. For everything you're getting, I feel like that's a pretty good deal, but I wouldn't do it every day. However, I will definitely be keeping these on hand for the last minute changes in my schedule or the nights I'm too tired to make dinner!
You can read more about Luvo and their products here.
Disclaimer: I received a UV reflective half buff to review as part of being a BibRave Pro. Learn more about becoming a BibRave Pro (ambassador), and check out BibRave.com to review find and write race reviews! 
Oh Buff- let me count the ways that I love you! Seriously- I now own 5 or 6 buff products, and I love each of them dearly (I lived in my Buff hood when I went to Colorado for several very cold days back in January!). So, when an option to try out a reflective uv half buff popped up, I was immediately in, jumping up and down.
Seriously. Actual squealing when I opened up the package and saw this: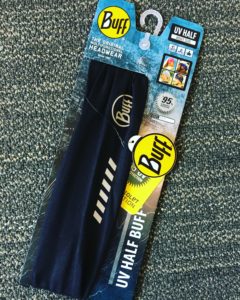 So pretty, right? The fabric is so fantastically comfy, does a great job at wicking sweat (I've worn my non-reflective uv half buff on all sorts of hikes, mountain climbs, runs, and bike rides), and protects from UV rays!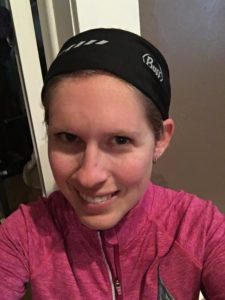 This buff is unique in that it has reflective strips on it, making you extra safe while you're out on the roads!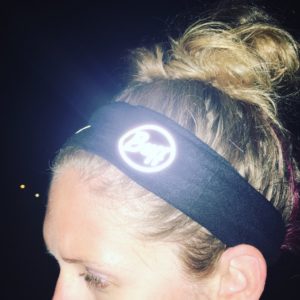 Did I mention that they are so comfy and stay in place really well? I even wear mine around the house just for fun!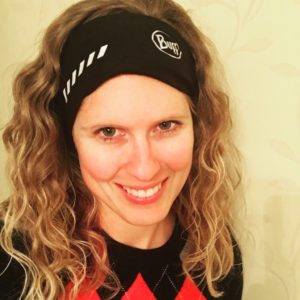 I haven't been able to work out in this one yet, as I partially tore my patella tendon (and now I have bursitis… grrr….) and am trying to rest it as much as possible, but wearing this Buff has helped me stay focused on rest so that I can get out and use it as soon as possible!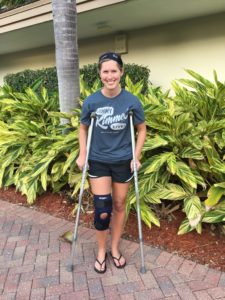 Knee brace and buff. haha.
If you want to learn more about the UV reflective half buff, click here.
February is traditionally one of the lower (or lowest) reading months of the year (only read 3 books last February!), even after accounting for having fewer days. It kicks off my first busy season of the year, so after the slow month of January I have far less time to read. That being said, I still try to read a bit before bed every night. In February I read 12 books (and am at 31 books for the year!).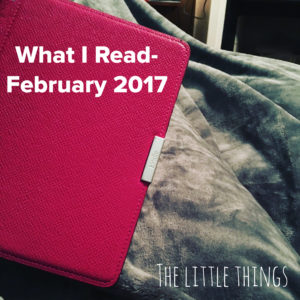 Here's what I read:
The Residence: Inside the Private World of the White House (Brower): I'm not sure where I learned about this book, but as soon as I read the description on goodreads, I was intrigued. This book interviews the staff of the White House throughout administrations including the Kennedys, Johnsons, Reagans, Clintons, Bushes, and Obamas. It was absolutely fascinating.
Winter Storms (Hilderbrand): This was book 3 in the Winter series (I read the first two books in January). The series takes place on Nantucket and follows the lives of a family who owns an inn (plus some of their friends). It resolved the story lines from the first two books and it was definitely a fun read during the winter.
Winter Garden (Hannah): I've read other books by this author and enjoyed them, but knew nothing about this book going into reading it. Short story: I adored it. The book goes in depth into the relationship between mother and daughter, of sisters, of family dynamics. It takes place in the present and in the past, and merges these two together. The end of the book made my heart ache so deeply and I wanted to cry for quite awhile. I'm not sure my heart has felt simultaneously so heavy and so wonderfully about the same story. I so appreciate the author's ability to take the reader to deep emotion as she walks them through the story.
Shockaholic (Fisher): Another book by Carrie Fisher, which was narrated by her in the audiobook version. She shared several interesting family stories throughout the book that I enjoyed hearing about. 3 out of 5 stars.
The Magnolia Story (Gaines): I've only watched a few episodes of HGTV's fixer upper, so I went into this book not really knowing much about them. I enjoyed the book and learning more about what lead them to one another and to their hit TV show.
The Perfect Letter (Harrison): This is written by Chris Harrison, host of the Bachelor, so I'm a little embarrassed to even say that I read this. It was an interesting story.
Pretty Happy: Healthy Ways To Love Your Body (Kate Hudson): I was really disappointed in this book, and gave it a 2 out of 5 stars. I loved some of the stuff she talked about at the beginning of the book, focusing on engaging with emotion and the idea of "being present in your body". It went downhill after the first 25% of the book.
Lean In: Women, Work, and the Will to Lead (Sandberg): I read this book 2 years ago, but decided to read it again since I got a new leadership position in the last year. She normalizes feelings that many women in the workplace experience, puts challenges to sit down at the table, and speaks so much truth.
Jacqueline Bouvier Kennedy Onassis: The Untold Story (Leaming): I have no idea what drew me to download this audiobook from the library, but I randomly did before a run and ended up really enjoying this book. I don't know much about Jackie, especially outside of her years as first lady, so I found this book about her life from birth to death especially fascinating.
Commonwealth (Patchett): Hmm. Not sure how I felt about it. Some parts seemed to drag endlessly on. Reading the description and hearing others' reviews of this, I assumed that I would absolutely love this book, but I didn't. Gave it a 3.75
I Know How She Does It (Vanderkam): A book about "how they do it" for women! It felt like a pretty realistic look at the ways that women can make time for relationships, leisure, etc…, offering multiple looks into ways that this is done. 3.5 out of 5 stars.
Hidden Summit (Carr): This is the next book in the Virgin River series that I've been slowly going through for the past several months. 3 stars- one of my least favorite of the series.
If you read anything from this month: Winter Garden and The Residence.
Now it's your turn to share! What are you reading currently?
Wow, February flew by. I'm sure the nice weather and weeks of sunshine and temperatures in the 50's and 60's have helped! February kicks off one of my busy seasons for the year, so I've worked a whole lot of extra hours in the evenings and on the weekends, but am intention to balance in some extra self-care moments too. Here are some "currently's" for the month!
Currently Drinking: Fika Latte! This is a latte with lavender, honey, and espresso and it's delicious! In Sweden, Fika suggests "to have coffee".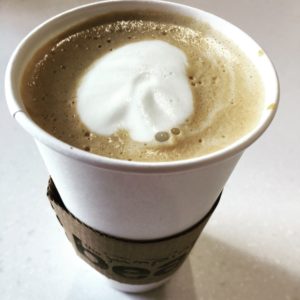 Currently Eating: CURRY! I have been increasingly obsessed with curry over the last year and a half or so, and just made it last week (and maybe ate it 4 dinners in a row).
Currently listening to: The Liturgist's Podcast (specifically the one on the enneagram).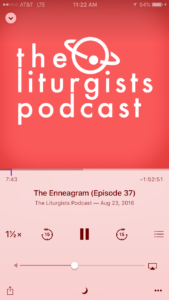 Currently Watching: While I'm typing this, I'm watching Hunted on CBS. I think it's interesting to see how people evade being captured (it's a reality show). I've also been pretty obsessed this month with watching Madam Secretary, which I finally just caught up with!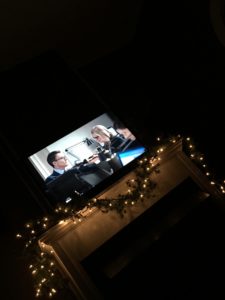 Currently Reading: I read so many things at the same time. I'm currently reading Lean In, A Grace Revealed, a book by Robyn Carr, and Carry On, Warrior.
Currently Smelling: My sparkling icicles scented candle from Bath and Body Works. It is pretty much my favorite candle ever… at least in the winter 🙂
Currently Excited for: A few presentations that I've done/am doing in a 10 day period. I actually enjoy public speaking for the most part (I hated it in college and broke out in hives during a few presentations!). These presentations are on all sorts of topics I feel passionately about, so they feel life giving. I'm also looking forward to getting to see my brother in the next few weeks (I haven't seen him since July 4th!).
Currently Wearing: Air Force Sweatpants, a knee brace, a plaid shirt, and cat slippers. haha. On my nails I'm wearing OPI's Lincoln Park After Dark with bronze glitter on top!
Currently Loving: The beautiful February we've had! I've had time to get some stuff done in the yard like picking up sticks that have fallen since I last raked in November, as well as cleaning up some extra leaves that have fallen throughout the winter.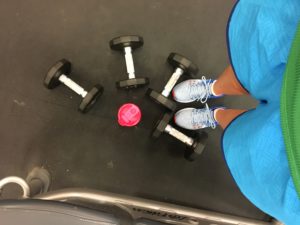 I'm also loving lifting weights since I did Lean Body Bootcamp (check out Trainer Paige's program!) in January and February.
Now it's your turn to share! What are some of your "currently" statements for the month?
The first week of February stands out in my mind. February 2004- I had spiraled over the past two and a half months from a cold to the flu to a sinus infection to multiple medications trying to heal (here's a post about that and another one here). I distinctly remember the start of February and thinking "another month and I still don't feel well". I got a headache turned migraine, and when the migraine went away the headache never did. My stomach hurt so badly after eating (like a knife stabbing into my stomach… and it often still feels like that by the way…), and I knew something was wrong. It was shortly after that that I went to the neurologist for the first time. From there, after a few months, a diagnosis that I had no clue about was uttered: You have postural orthostatic tachycardia syndrome.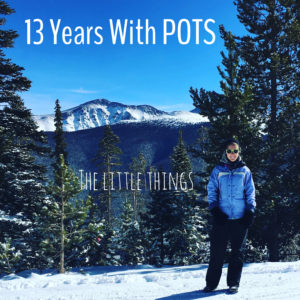 13 years ago I got a headache that has never gone away. 13 years of having a headache every minute of every day. No relief, but the good news is that your body really does adjust somewhat to pain. You learn to deal with it, you learn a new normal, and you learn what to give yourself to help manage. 13 and a half years ago it would have completely overwhelmed me to think about living every minute with a headache, of having two to three week long migraines, to feeling pain when I eat. These things would've felt unfathomable today.
So here I am, thirteen years later, and somehow I'm living with this thing I never heard of before 2004. Somehow I've managed to learn to not only live with pain, but embrace it as part of the life I'm building for myself.
I spend a lot of time thinking in the first two weeks of February about the life I had verses the life I now live with POTS. At times, when I stop to think about it, I feel so overwhelmed. I feel overwhelmed by what I've overcome, but I also, at moments, do feel a bit sad for myself. I'm sad that this is what normal is, and I'm sad that I don't even remember what it is like to wake up in the morning and feel ok. But I'm also a better person because of my diagnosis, and I recognize that too.
Other posts on POTS:
I am the face of chronic (invisible illness), Loss of energy with POTS, 10 years with POTS
Welcome to my first "What I Read" for 2017! Once again, I started the year off strong with a total of 19 books for the month, and I really enjoyed a lot of the books I've read. Make sure to check out the bottom of the post where I list the "must reads" from the month!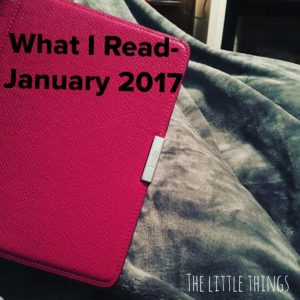 Here's what I read this month:
'Tis The Season, Wild Man Creek, Harvest Moon,  and Bring Me Home for Christmas (Robyn Carr): Through the last few months of 2016 I started the Virgin River series by Robyn Carr, and these books are part of that series as well.
This is Where You Belong: The Art and Science of Loving the Place You Live (Melody Warnick): This audiobook was a fantastic book about what makes a place a home, as well as how to engage meaningfully with a community in order to better love the place that you live. I really enjoyed this  one.
Frostbite (Richelle Mead): This is the 2nd book in the Vampire Academy Series. It's a fun, lighthearted series about vampires.
Winter Street and Winter Stroll (Elin Hilderbrand): These first two books in a series take place on two consecutive Christmases on Nantucket. The story follows a family who owns an inn on the island, and shares the trials and struggles of each extended family. I've loved the series so far!
Pondering Privilege: Toward a deeper understanding of whiteness, race, and faith (Jody Fernando): I absolutely loved this quick read. While the book was short and sweet, the author does an excellent job of discussing the idea of privilege, giving the reader lots of examples, as well as questions to ponder. She does a great job of presenting things in a manner that creates an openness to thinking about privilege instead of creating a defensiveness in the reader. I really enjoyed this one.
Losing Hope (Colleen Hoover): I read the book Hopeless in December, and this book is basically the same story as Hopeless except told from a different character's perspective. Of course there were some new details included that only that character would know, but the general story line was the same. Absolutely loved it!
Love Warrior (Glennon Doyle Melton): This book was a memoir by the author about her self-discovery and journey of love after a deeply difficult and painful moment in her marriage. In a very Brene Brown-esque style, the author challenges herself to be vulnerable and open as she tasks risks for love and relationship. The book felt very raw and very real, and I loved it.
Eligible: A Modern Retelling of Pride and Prejudice (Curtis Sittenfeld): There was a whole lot of pride and lot of prejudice in this modern version of the story! I laughed out loud several times listening to this audiobook.
The Sun Is Also a Star (Nicola Yoon): This story is about a young woman whose family is facing a status change with their immigration. As things change, she meets a boy… This is a story of love, of people from other countries, and of the desire to live dreams.
Becoming Wise: An Inquiry into the Mystery and Art of Living (Krista Tippett): The author hosts a show, On Being, on NPR (I listen to it via her podcast), so when I saw that she had a book, I immediately put it on hold. She interviews a series of people on the art of living in different realms. It was fascinating, and I learned a good amount!
Day (Elie Wiesel): This was the third book in the author's Night series. I enjoyed Night most of all, but enjoyed this third book a good bit too. He deals a bit with the nature of suffering, and how suffering in the past impacts our living in the present.
The Princess Diarist (Carrie Fisher): I put a hold in for this book on the day that Fisher passed away in 2016, and was quite excited to get the audiobook. Fisher read it, and it definitely felt a bit sad. I enjoyed all the stories she told about her time filming Star Wars, but wish she had talked a bit less about her relationship with Harrison Ford and a little more about some of the other aspects of filming.
Courage to Soar: A Body in Motion, a Life in Balance (Simone Biles): This autobiography by Biles (Olympic Gymnast) shares stories from growing up, how she came to live with her grandparents, and her journey to Rio. I loved it!
Strong Is the New Beautiful: Embrace your Natural Body, Eat Clean, and Harness Your Power (Linsey Vonn): This book is written by Olympic skiier Lindsey Vonn, and in it she not only shares all sorts of stories about becoming a skiier, her series of injuries, and winning Olympic medals, but also tells her journey of nutrition and balanced eating. I listened to this audiobook during a few workouts, and I enjoyed some of the stories within. It was quick  and I enjoyed it for what it was.
The Gifts of Imperfection: Let Go of Who You Think You're Supposed to Be and Embrace Who You Are (Brene Brown): This book was one of my absolute favorites this month. Brene Brown also wrote the book Daring Greatly, and has such beautiful and truthful words to speak. This book she focuses on the idea of wholehearted living, and writes about several guideposts that people who live wholeheartedly share in common. Her books are written based off the research she has done, but she writes in such a beautiful way.
If you read anything from the month: The Gifts of Imperfection, Love Warrior, and Pondering Privilege. 
Now it's your turn to share! What're you looking forward to reading in the next few weeks?
As you know, for several years I've chosen a "word of the year:
I try not to force myself to come up with a word. By December I start to think through what some of my goals or values are for the upcoming year- some things I intentionally want to make space for or focus on. From there I usually have a series of words that fit a lot of that, and then I just gave space for myself to let the words sit as the year comes to a close. By mid-January I have that word solidified.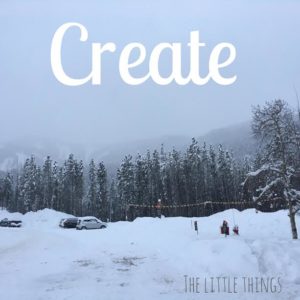 For 2017 my word is… create. I actually sort of didn't want that word, and tried my hardest to come up with other words, but my thoughts just kept cycling around to create, as it seemed to most encompass some of the things that I desire for the year.
On the job front, I am desiring to be creative in some of the ways I lead, creative in program development, and creative about solutions to some things that I identified in November and December. I desire to think outside the box to create.
I desire to create new areas of health for myself (lean body bootcamp is a step to that). I desire to create new habits, to create space for new things, and to create some new programs at work. I want to give myself to be creative, think outside the box, to do things in ways that haven't been done before.
Of course I like to think of each new word as a continuation of the things I've already focused on as well. Peace and Shalom didn't fall by the wayside as 2016 hit, and I am still on my quest to simplify as well…
For now, I'm letting some creative juices flow as I make space to think outside the box!
If you follow me on instagram (@littlethingscaroline) you already know this: I'm participating in a 6 week Lean Body Bootcamp (through Trainer Paige!). I thought I'd share just a bit more about what I'm doing.
First of all, here's what I'm not doing: My goal is NOT to lose weight! I'm not calorie counting, I'm not restricting calories or foods, and no foods are off limits.
Now that that's out of the way, here's what my desire is in participating in this bootcamp: I used to lift regularly as part of my half marathon training. I used to have a lifting partner (my brother before he moved!), but a few months after he moved away I started to slip off the lifting band wagon.
Then in the fall of 2015 I got a new job that kept me a whole lot busier, and also has a somewhat unpredictable schedule due to being on call. I still have managed to get in some good work outs between walking, biking, and running (with occasional pilates workouts!), but I've craved getting back to lifting a bit. The summer of 2016 I told myself I would start lifting again, since I had more time. By the end of summer, I hadn't gone once to the gym to lift.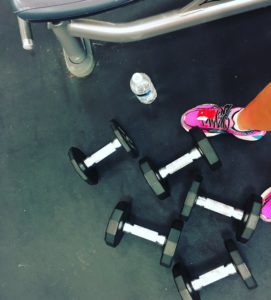 I knew that something needed to change. I've read Paige's blog and followed her on instagram for several years, but when I started watching her instagram stories I connected a bit more to her. I was intrigued by her lean body bootcamps, so I thought I'd give it a try!
When I was in Florida for Christmas, I signed up! We are starting week three now, and I have to say, it's been a bit tough. I went out and bought some weights for home (I can better complete work outs if I have the option of lifting at home vs the gym), and I'm ACHING! Woof. It would've been easier to not stop lifting! But, I've definitely gained a bit of muscle since the start of the program: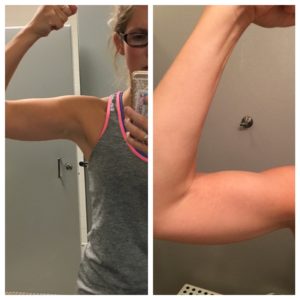 start of week 1 to the start of week 3
I'm also trying to increase my protein a bit and decrease my carbs a little bit (for people with POTS we are supposed to eat a lower sugar and carb diet). It's been tough to increase my protein some days (especially because I don't love meat!), but I'm getting a bit more used to it. I love having a trainer to bounce things off of, and I love the accountability of a group!
I'm so glad to be creating space to not only learn more about nutrition, but also to implement a lifting schedule once again!
Disclaimer: I received a box of Nugo nutrition protein bars to review as part of being a BibRave Pro. Learn more about becoming a BibRave Pro (ambassador), and check out BibRave.com to review find and write race reviews! 
I have a very real love of chocolate. Growing up, at the end of a meal we would each get a tiny piece of chocolate, and in that way my dad created a love of chocolate for most of his kids. I would eat chocolate several times a day if it was good for me 🙂 So, when I saw the option to try out Nugo Nutrition's Dark Chocolate bars, I immediately jumped at the chance!
I tried out 4 different flavors: dark chocolate sea salt pretzel, dark chocolate coconut, dark chocolate chocolate chip, and dark chocolate mint. OH MY GOSH. Don't make me choose a favorite, because they were all so amazing!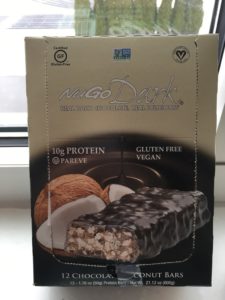 A box of samples (with several flavors of each bar) arrived at my door and I tore into it almost immediately. That evening I biked after work, so I ate half a bar between work and exercise. I had a good amount of energy and my legs turned over pretty easily! Success! I ate the other half after.
I traveled over Christmas to Florida, and enjoyed half a bar while watching the sunrise. I ran immediately following, and it sat well in my stomach and fueled me through the run!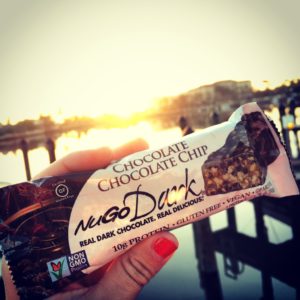 Right after New Years I went out to Colorado, and I dragged Nugo bars up a mountain to 11,000 feet in Winter Park. I sat outside in the snow enjoying a bar, and it keep me full for hours of outdoor winter fun!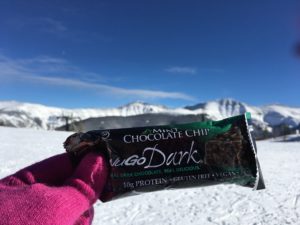 11,000 feet and a feels like below zero. The views though…
I've also been enjoying them in the afternoons at work. I often get hungry around 4 pm, so having part of a bar at that time is what I need to get my to dinner!
Here are a few facts about Nugo nutrition dark chocolate bars: They have 10 g of protein in it, have fiber, calcium, and iron. They have lots of great antioxidants from the dark chocolate and the bars are gluten free and vegan (this lactose intolerant girl is happy about that)! All wins in my book! Have I mentioned that they are absolutely delicious?!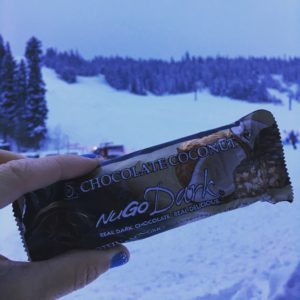 These bars held up wonderfully as I dragged them around the country (and up mountains!) and kept me full and powered me through workouts. I've been so happy to find out about these bars, and definitely plan on purchasing more. I also want to try out Nugo nutrition's slim bars, which have less sugar but more protein and fiber (I'm trying to increase my intake of protein right now- especially in the mornings!). To read more about the company and try out more of their products, check out their website!
Now it's your turn to share! What do you look for in a protein bar?